The Reason Behind Drake's 'More Life' Playlist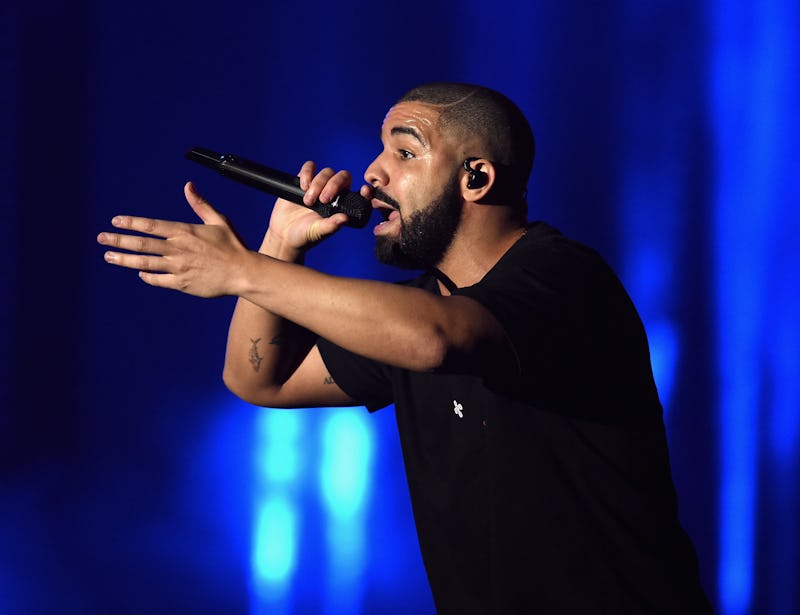 Kevin Winter/Getty Images Entertainment/Getty Images
Drake announced plans for his newest, highly anticipated project, More Life, back in October, and he's been teasing its official release all week. The Canadian rapper revealed via Instagram that it will be dropping this Saturday, March 18, and previously confirmed that three of his earlier released singles, "Fake Love," the 21 Savage-assisted "No Sneakin'," and "Two Birds, One Stone" will be on it. So, why is Drake releasing More Life as a playlist, instead of an album? He announced the project on a birthday episode of OVO Sound Radio and explained that More Life, originally set to be released in December, is more of a playlist, citing his hope to create a "soundtrack to your life."
Since the initial announcement, Drake has been slowly revealing details surrounding More Life. One of those details includes his decision to label it a playlist, as opposed to a mixtape. Back in January, when he was a guest on an episode of Cal Cast, a podcast hosted by University of Kentucky's men's basketball coach, John Calipari, the Views rapper opened up about the project and why he decided to create it. He clarified to the host,
"It's not an album, it's a body of work that I'm creating just to sort of bridge the gap between my major releases — to keep people excited, give people new music, let them know that I'm still hungry."
Drake added, "I'm doing it to be remembered as a forward thinker. I want to be remembered... as an emotion-evoking artist. I just want to say things that people will remember me by." Earlier on, he spoke about other legendary artists he wishes he'd had a chance to work with, like Sadé and Aaliyah, who he said made music that didn't make people feel self-conscious listening to.
Judging by these comments, it sounds like More Life is a more personal way for Drake to showcase his creativity and leave his fans and other artists with a reason to look up to him. The rapper concluded by saying he hopes to make music "that I want to live with forever."
Though it's almost as if many of us have been on a massive hunt for clues surrounding More Life for months — aside from knowing its title and a few possible collaborators — it is nice to know that maybe there's a more personal reason behind his decision to create it.