Gloria's Emotions Are High In The New 'OITNB' Trailer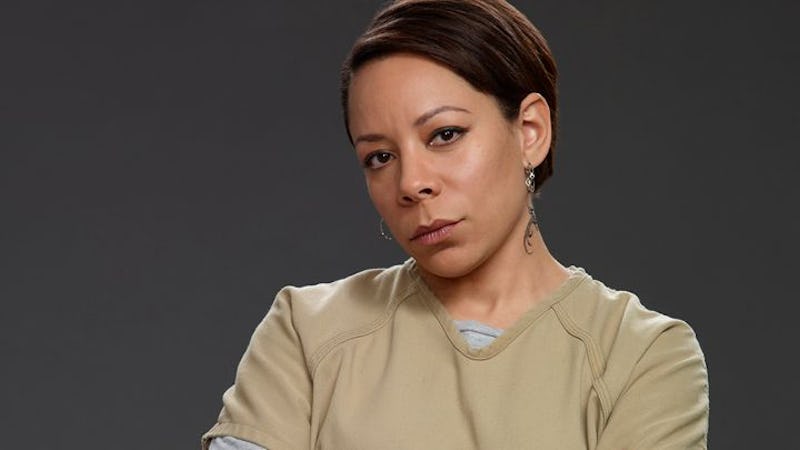 Netflix
The new trailer for Season 5 of Orange is the New Black dropped Tuesday morning, and it's a much darker trailer than those for a lot of the past seasons of the show, which makes sense given how much of a devastating and compelling note the most recent season ended on. Emotions are clearly high this year, and while it's unclear exactly why Gloria is crying in the OITNB trailer, it's evidence that everyone is experiencing a whole range of feeling this season.
The trailer is full to the brim with hints at what might happen next for all the characters, including Gloria, who is first introduced in the trailer running through Litchfield's outside grounds crying and looking around frantically as some other inmates follow her. She is then seen holding a phone and crying, and Maria Ruiz, who the other inmates call Ruiz, tells her to do what she has to do, and says "you don't owe nothing to no one."
It's an intense way to revisit Gloria's character, leaving viewers wondering what sort of conflicts are coming, and the events of the last season certainly offer some hints. Gloria has always been a leader and mother figure for the women of the Litchfield "Spanish Harlem" family, taking care of them, offering them advice, and making sure that they stay safe. In Season 4, Gloria's friend Aleida finally left Litchfield and asked Gloria to look out for her daughter, Daya, who was still there. As we know, that was easier said than done, as Daya got in with a crowd who was selling drugs and ultimately ended up grabbing a prison guard's gun and holding it to his head during the unrest after Poussey's death.
I'd bet that Gloria is conflicted about her obligation to protect Daya and the rest of her girls, and that Ruiz is reminding Gloria that, while Aleida asked her to look out for Daya, Gloria's primary responsibility is to herself and her own family. After all, Gloria has a family too, and her son's conflict with Sophia Burset's son set into motion a terrible chain of events that caused more damage than anyone wanted. Gloria, while the unofficial mother of her prison family, is still a mother to a family outside Litchfield, and she's still a person in her own right with her own struggles, worries, and fears.
The new trailer reveals plenty of unrest and tension that could change many of the inmates' worlds, including Gloria's, in all kinds of frightening ways, and I can't wait until the new season drops.