What You Need To Know About Hope Hicks' Upcoming Russia Testimony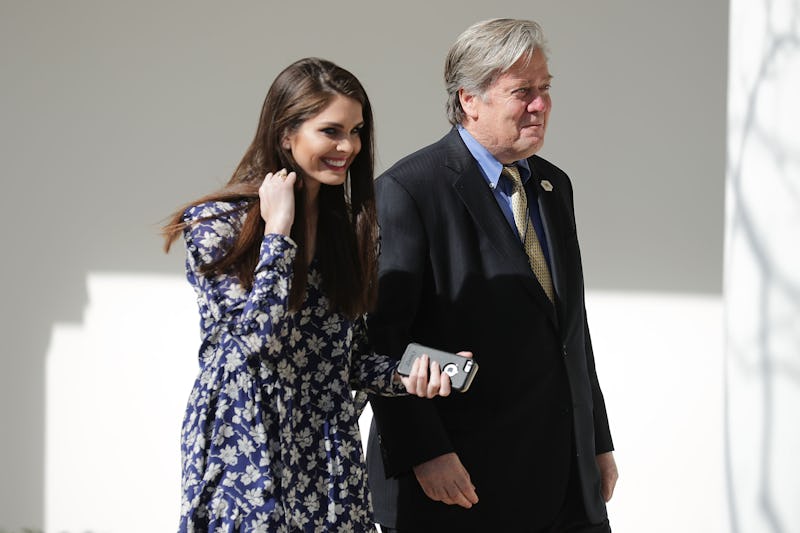 Chip Somodevilla/Getty Images News/Getty Images
News reports point to White House Communications Director Hope Hicks testifying on Russia before the House Intelligence Committee later this week, making her potentially the third person from President Trump's inner circle to take the hot seat this week alone.
The private interview has to do with the committee's investigation into any connections between the Trump Campaign and Russia. Hicks, a longtime Trump associate, was one of the first advisers that Trump hired to work on his presidential bid.
The committee will likely also ask her questions surrounding Trump's first statements on the Russia meeting at Trump Tower in 2016 as well as the president's decision to fire former FBI Director James Comey. That is thought to be the line of questioning that Hicks was subject to when she met with Special Counsel Robert Mueller in December.
Hicks is seen as very loyal to the president. "Hope — here from the beginning — has a loyalty equaled only by her skill," adviser Stephen Miller told CNN in a statement.
The other two from the inner circle who will be interviewed just before Hicks are former strategist Steve Bannon and former campaign manager Corey Lewandowski. Bannon is expected to be interviewed Tuesday and Lewandowski is due some other time this week. CNN reported that Hicks' interview could be as soon as Friday.
Of the three, Hicks is the only one currently serving in the White House, making her inclusion all the more meaningful and her response all the more guarded. Her attorney declined comment to CNN as did the top Democrat on the committee. The top Republican and Hicks herself did not respond to the cable news channel's requests.
Unlike Hicks, Lewandowski has been very forthcoming in the lead-up to his testimony. He told WABC Radio in New York that he had not been interviewed by Mueller's team, but that he was more than willing to speak to the House panel.
"I will be fully prepared to answer any question about my tenure at the Trump campaign," Lewandowski told radio host Rita Cosby. "I didn't collude or cooperate or coordinate with any Russian, Russian agency, Russian government or anybody else, to try and impact this election. I'll be happy to come out and set the record straight about my lack of involvement with any type of foreign entity."
Bannon has not been so public in the days before his interview, but there is much speculation about what he might say given the quotes in Michael Wolff's book Fire and Fury: Inside the Trump White House. He was quoted as saying that the Russia meeting at Trump Tower, in which Donald Trump, Jr. and Jared Kushner met with a lawyer representing the Kremlin was "treasonous."
Since the book's excerpts came out, Bannon has tried to limit the damage by saying he was not talking about Trump Jr. "My comments were aimed at Paul Manafort, a seasoned campaign professional with experience and knowledge of how the Russians operate," Bannon said in a statement. "He should have known they are duplicitous, cunning and not our friends. To reiterate, those comments were not aimed at Don Jr." Bannon also hired a lawyer to help him prepare for the questioning.
Mums the word on Hicks, though. Her testimony may prove important though, given her role in communicating with Trump Jr. for his initial response to the Russia Trump Tower meeting. The idea is that this could shed light on when the president became aware of the meeting, when news reports first broke or earlier.
Hicks will not be the only White House official to have spoken with those heading the House Russian inquiry. Jared Kushner, the president's son-in-law and adviser has previously spoken with the committee.