Justice Anthony Kennedy Will Retire From The Supreme Court & Here's What That Means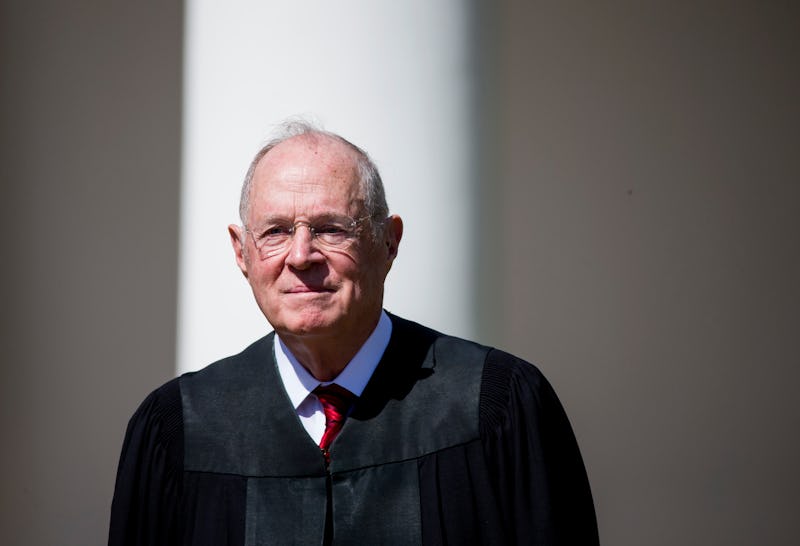 Eric Thayer/Getty Images News/Getty Images
It's official: On July 31 Justice Anthony Kennedy will retire from the Supreme Court. Kennedy made the announcement on Wednesday, and his retirement will give Donald Trump the second Supreme Court appointment of his presidency.
"For a member of the legal profession it is the highest of honors to serve on this court," Kennedy wrote to Trump, according to USA TODAY. "Please permit me by this letter to express my profound gratitude for having had the privilege to seek in each case how best to know, interpret, and defend the Constitution and the laws that must always conform to its mandates and promises."
Kennedy, who hasn't publicly said why he's retiring, was appointed by Ronald Reagan in 1987, and eventually emerged as the court's swing vote. His retirement will set up a high-stakes confirmation battle in the Senate for his replacement, and give Trump the chance to shift the court — already considered right-leaning with Kennedy — in an even more conservative direction.
The New York Times reports that Trump is likely to move quickly on appointing a replacement for Kennedy. This isn't a surprise: Republicans currently control the Senate, and will almost certainly confirm whomever Trump appoints, but that may not be the case after election day, which is just four months away.
The upcoming Senate battle over Kennedy's replacement — whomever that replacement is — will surely bring up bad blood between Democrats and Republicans surrounding the last Supreme Court vacancy. When Justice Antonin Scalia died suddenly in February 2016, Barack Obama appointed judge Merrick Garland to replace him. However, Republican Majority Leader Mitch McConnell refused to hold Senate confirmation hearings for Garland for over a year, in the hopes that Trump would win the presidential election and appoint a Republican justice instead.
That's exactly what happened; Trump appointed the far-right judge Neil Gorsuch to fill Scalia's seat instead, and Gorsuch sailed through his confirmation hearings. Many on the left consider this seat stolen, and there's significant grassroots pressure on Democrats to block Trump's next Supreme Court nominee if Democrats retake the Senate in November.
McConnell and other Republicans justified their blockade of Garland on the grounds that it was an election year, and voters should have a role in choosing the next justice. However, McConnell said Wednesday that "it's imperative that the president's nominee be treated fairly" after Kennedy announced his retirement, and announced that he'll hold confirmation hearings before the next election.
Although it's unclear who Trump will appoint, he's said that he'll pick somebody from the list of conservative judges that the conservative Federalist Society and Heritage Foundation assembled for him.
Kennedy was the court's swing vote, but often sided with the liberal justices. Once he's replaced by a more conservative justice, the Supreme Court will become far more likely to repeal Roe v. Wade, uphold "religious freedom" laws that permit anti-gay discrimination and give the OK to voter ID laws that restrict access to the polls. Some have speculated that a Kennedy-less Supreme Court could even overturn the landmark 2015 decision that legalized same-sex marriage nationwide.
In his last decisions before announcing his retirement, Kennedy cast tie-breaking votes to uphold the Trump administration's travel ban, reverse a decades-old precedent that strengthened labor unions and strike down a California law that regulated anti-abortion centers.
With Kennedy's absence, the court will have four reliably liberal votes: Justices Elena Kagan, Sonia Sotomayor, Ruth Bader Ginsberg and Stephen Breyer. Ginsberg is generally seen as the justice most likely to retire, as she's 85 years old; however, Ginsberg said in March that she's "feeling fine" and indicated that she won't be retiring any time soon.