11 Times You Underestimated 2017 VMA Vanguard Pink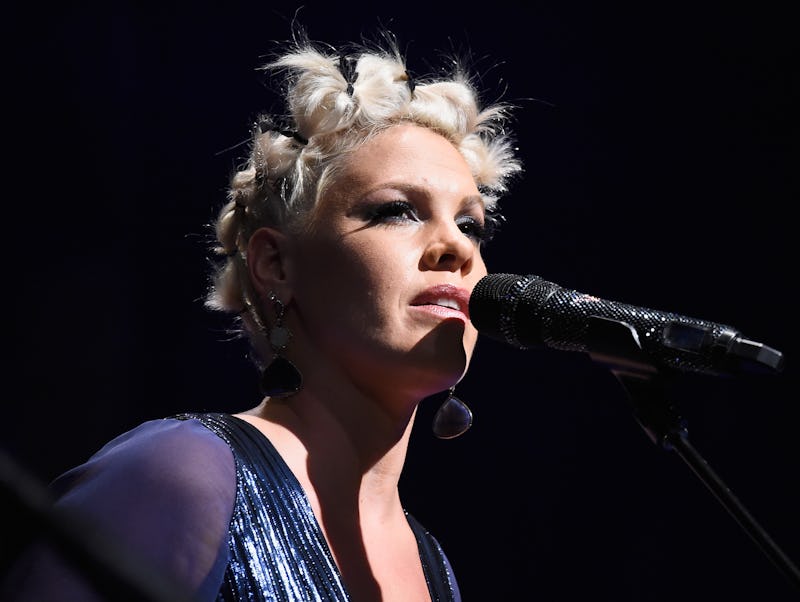 Frazer Harrison/Getty Images Entertainment/Getty Images
From a R&B girl group to a solo rocker who marches to the beat of her own drum, Pink has proven that she's a leader over the years — not a follower. And that reason alone led the "You And Me" singer to being named MTV's 2017 VMAs Vanguard. Not only has Pink delivered inspirational records, with even more speechless performances to boot, but by never caving to trends, the pop star has also cemented her place among the most timeless of artists. It's about time that Pink was awarded for all of her contributions to the culture. And in case there are any naysayers out there wondering why Pink is the 2017 VMAs Vanguard winner, it's time to be recap all the times she was underestimated, but slayed the industry anyway.
Pink is one of the most underrated artists to date. And some would say that because she doesn't make a spectacle out of her personal life, she's sometimes overlooked. Throughout her time in the industry, Pink has always been brutally honest about herself and her career — whether that be through interviews, social media, or just her music — leaving no room for scandal or controversy in the press. She's a truth teller, thrill-seeker, and soul bearer, all of which makes her the gatekeeper of her own narrative.
Now sit back and get a load of all of the times Pink showed just how much she's the epitome of a vanguard.