This Is Why You Get Two Extra Days To Do Your Taxes This Year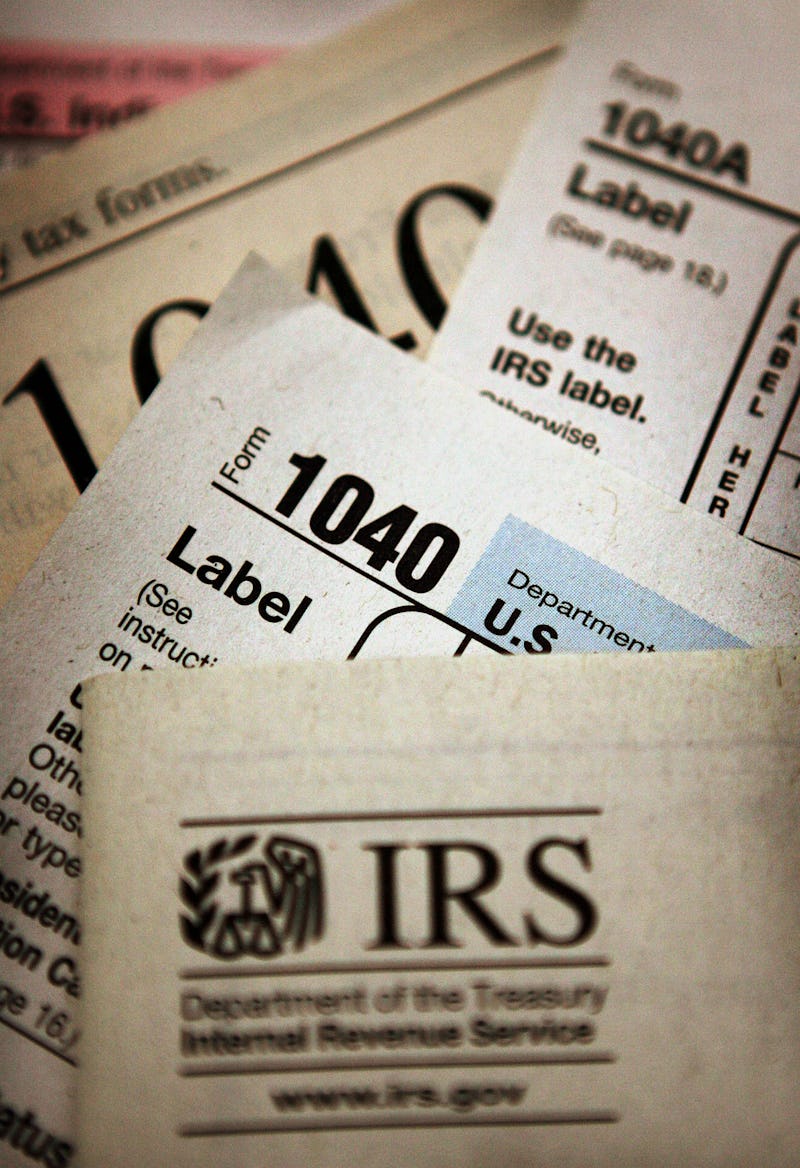 Scott Olson/Getty Images News/Getty Images
For my fellow procrastinators who haven't even started their taxes yet, I have good news. You get two extra days to file this year. But, why is tax day on Apr. 17 in 2018? Because April 15 falls on a Sunday this year, and Apr. 16 is Emancipation Day, a government holiday in Washington, D.C., your taxes are due two days later than usual. This also means that freelancers and business owners who pay quarterly taxes don't have to start paying their tax bills until Apr. 17. "Emancipation Day in Washington, D.C., marks the anniversary of the signing of the Compensated Emancipation Act," the website Time and Date explained. "On Jan. 4, 2005, legislation was signed to make Emancipation Day an official public holiday in the District of Columbia."
Even though the holiday is not observed nationwide, everyone still gets extra time to do their taxes. "By law, Washington holidays impact tax deadlines for everyone in the same way federal holidays do," The IRS reported on its website. This means you can do your taxes over the weekend, ideally after Mercury Retrograde ends on Apr. 15 and before Saturn Retrograde begins Apr. 17 in order to reduce your chances of technical difficulties. If you're mathematically challenged (me all day), or this is your first time doing your own taxes, the website Quizlet breaks down all of those hard to understand tax terms, which can make doing your taxes less overwhelming.
Personally, I use TurboTax to prepare and file my taxes because it explains everything in terms that anyone can understand, and it greatly reduces my chances of sobbing in frustration when dealing with the myriad of W2s, 1099s, and write-offs I have. The IRS also has a page with information for e-filing, tax tips, and instructions for how to track your return, which comes in handy when you're waiting for that coveted refund check. If the mere thought of doing your taxes has you feeling all dark and twisty, you're definitely not the only one.
"Money is a major source of stress on people, and what tax season does is shine a great big spotlight on the issue," Michael McKee, a Cleveland Clinic psychologist and president of the U.S. branch of the International Stress Management Association, told WebMD. "Money takes center stage at tax time, even if you might have been able to push it to the wings the rest of the year."
Getting a pit in your stomach while doing your taxes is also totally normal. A lot of people worry about making mistakes or getting flagged for an audit, which can cause a lot of anxiety. "[People are] paralyzed because the IRS is an authority figure, and if they have unresolved issues around authority figures in their lives, that can cause a lot of fear," Financial Counselor Karen McCall told WebMD. However, you're likely small potatoes in the eyes of the IRS, and as long as you do everything to the best of your ability you're going to be just fine.
I've had my state taxes flagged a few times because I have lived all over the country, and sometimes cities I no longer live in try to get me to pay taxes. Another time, the IRS confused me with someone who has the same name as me. While getting flagged is unpleasant, each time I was able to successfully resolve the issue without having to pay any additional taxes. If you want to make sure you're doing everything by the book to get your taxes in by Apr. 17, you can refer to the IRS help page as you go through the process. While you might be bugging that taxes are due in a little over a week, you're totally going to get it done.
If you really feel like you need more time you can file for an extension, which I have done a few times. "Taxpayers requesting an extension will have until Monday, Oct. 15, 2018, to file," the IRS noted. However, if you know you're going to owe taxes, you still have to begin paying them Apr. 17 even if you don't file until October. To make tax time a little less intimidating, Olivia Mellan, a Washington, D.C., based psychotherapist and financial self-help author, suggested to WebMD that you listen to music or do something else that makes you feel relaxed while tackling your taxes. You can also buddy up with your bestie! Because, if you have to do something awful, it's nice to have someone in the trenches with you.