Chrissy Teigen Has The Yummiest Reason For Missing The Golden Globes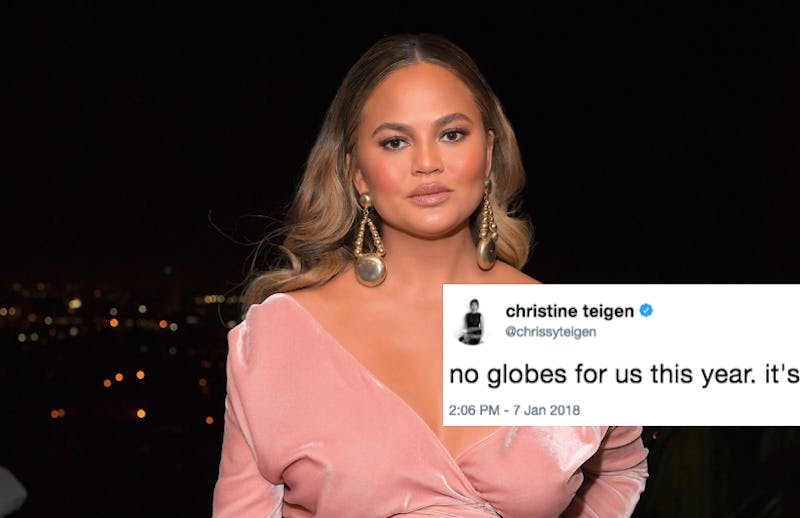 Charley Gallay/Getty Images Entertainment/Getty Images
Chrissy Teigen showing up to an award show always guarantees it's going to be a good time for people watching back home. She usually live tweets, makes hilarious faces, accidentally becomes a meme, and says exactly what she wants on red carpets. It's a fun time for all. Unfortunately, Chrissy Teigen isn't at the 2018 Golden Globes — but she has a really good reason. And, that reason is tacos... aka the best reason.
Teigen really wouldn't have any purpose going to the 2018 Golden Globes anyway, since neither she nor her husband John Legend are up for any awards. Still, she and Legend — Hollywood royalty that they are — usually get invites anyway (or they should). So, fans may be sad to learn that she won't be gracing the 2018 carpet or ceremony. Don't fear too much, though, she's already tweeting up a storm about her Sunday night plans, and looks like she'll be tossing in a Golden Globes live tweet or two our way also.
As for what she's doing instead of hanging out with Hollywood's elite on this fine Jan. 7, Teigen tweeted that she's trying her hand at making tacos. "No Globes for us this year. It's taco day," she tweeted, ending the guessing game of whether or not she would be showing up on the carpet. She followed that up with another tweet (Teigen never tweets in ones, OK?) saying, "I have not made a hard-shell taco with taco seasoning since 1998. This is very exciting."
One has to hope that doesn't mean she hasn't eaten a hard-shell taco in a decade. Tacos are too delicious to go that long without. But, if you were curious how she remembers the year she last made hard-shell tacos with seasoning, you're not alone. One fan tweeted just that question, to which Teigen answered: "Yes, it was the year I learned that baking soda puts out fires." I'm assuming the two are connected, thus her hesitance of making them on her own since then.
But, that streak ends tonight, and fans are already flocking to Teigen's Twitter to offer suggestions. Writer Pete Forester told Teigen that she should add some melted cheese to the shells, something he called a "game changer." Teigen seemingly liked his idea (or was always planning to do that), answering his tweet with a simple, "Yes." Having Teigen take your cooking advice is a big deal, guys. After all, she has her own cookbook called Cravings: Recipes for All the Food You Want to Eat. She knows cooking.
Like with the great banana bread baking tweets of 2017, there's little doubt that Teigen will keep us all updated on her taco day as it unfolds. Expect to see photos, videos, and maybe even memes made of her taco Sunday, because when Teigen tweets about basically anything it becomes its own event.
And, never fear because even tacos won't stop Teigen from talking about the Golden Globes, even if she isn't there. Teigen isn't one to let a pop culture celebration go unnoticed on her Twitter account. She's already tweeted about the choice of celebs to wear black to stand in solidarity against sexual harassment.
As the night continues, Teigen will likely offer more Globes commentary, and share her taco making journey. It's really the best of both worlds for fans. Sure, we won't get the inside scoop on the Globes room — but we will get to hear what she thinks of the broadcast and see Teigen successfully make tacos for the first time since 1998 — at least, here's hoping. And, hey, if things don't go well, then there's always baking soda to put out any taco-inspired fires.