Why Farrah Abraham Is "Moving On" From 'Teen Mom OG'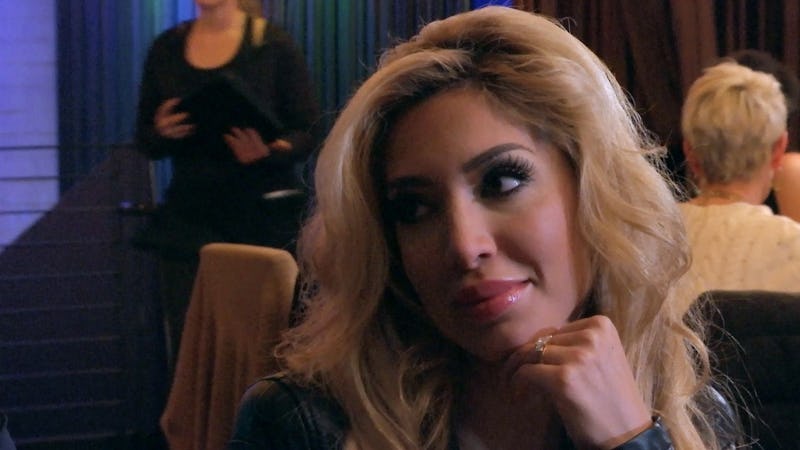 MTV
When Teen Mom OG premieres this season, fans can expect to see a couple of new faces, as well as the absence of a familiar one. After announcing on Instagram in January that she would be "moving on" from the show, long-standing cast member Farrah Abraham will no longer be on Teen Mom OG. If the news of her departure strikes the onset of a little Déjà vu, you're memory is not mistaken. This isn't the first time it has been reported that Abraham would be leaving the show.
In 2017, she defended her alleged firing from the show after filming of her story was temporarily paused, calling it a hoax. Some fans assumed that she was cut from the show based on the desires of her fellow cast members, especially those of Maci Bookout, who reportedly didn't want her young son being remotely associated with Abraham's past, as reported by In Touch Weekly.
"When I was approached about the show coming back on, I made it very, very clear that I was not going to have any part of [it] if her story was going to be on the show too," Bookout said on the show. But Bookout must've eventually digressed, considering the MTV crew eventually welcomed Abraham back to the show. "We had shot a couple of story lines," series creator Lauren Dolgen told Us Weekly, "and there is something about having that fourth story to counterbalance — there's just a magic to four stories and four different points of view."
But the show will have to go on without her point of view now, because she has officially cut ties with the network after an argument with the show's executive producer that aired last season. As reported by People, the argument began out of a issues she reportedly had with some of the crew. It spiraled into a critical analysis of Abraham's career outside the show.
"If you choose to work in the adult industry, we can't continue to film you," the producer told her. Abraham clapped back. "Who are you to tell someone to choose one thing?" she said. "F*ck*ng shoot me for being who I am!" She later posted the Instagram announcement that read she's "moving on." "I won't let a man or network be little me, try to break me, lie about who I am to my core," she wrote. Abraham added:
"I'm bullied, surrounded & hurt by all the manipulation, I no longer will allow as a protective mother this vulgar behavior, these crews aren't trust worthy this 'mtv family' is a disgusting gang of power tripping failed producers & executives who have failed ... I don't conduct myself like Viacom's horrible disgusting ethics & I certainly am raising my daughter to treat people better then MTV's horrible behavior."
Since then, Abraham has taken legal action against Viacom, and is suing the MTV parent company for $5 million because she believes the company "wrongfully terminated her employment because she did not conform to gender stereotypes," according to People. The outlet also reports that Abraham is suing for "emotional pain, emotional suffering, mental anguish, loss of enjoyment of life and other damages." Viacom told People that there is no merit to any of Abraham's claims.