The Reason Gigi Hadid Won't Be In The VS Fashion Show Might Have To Do With A Racist Incident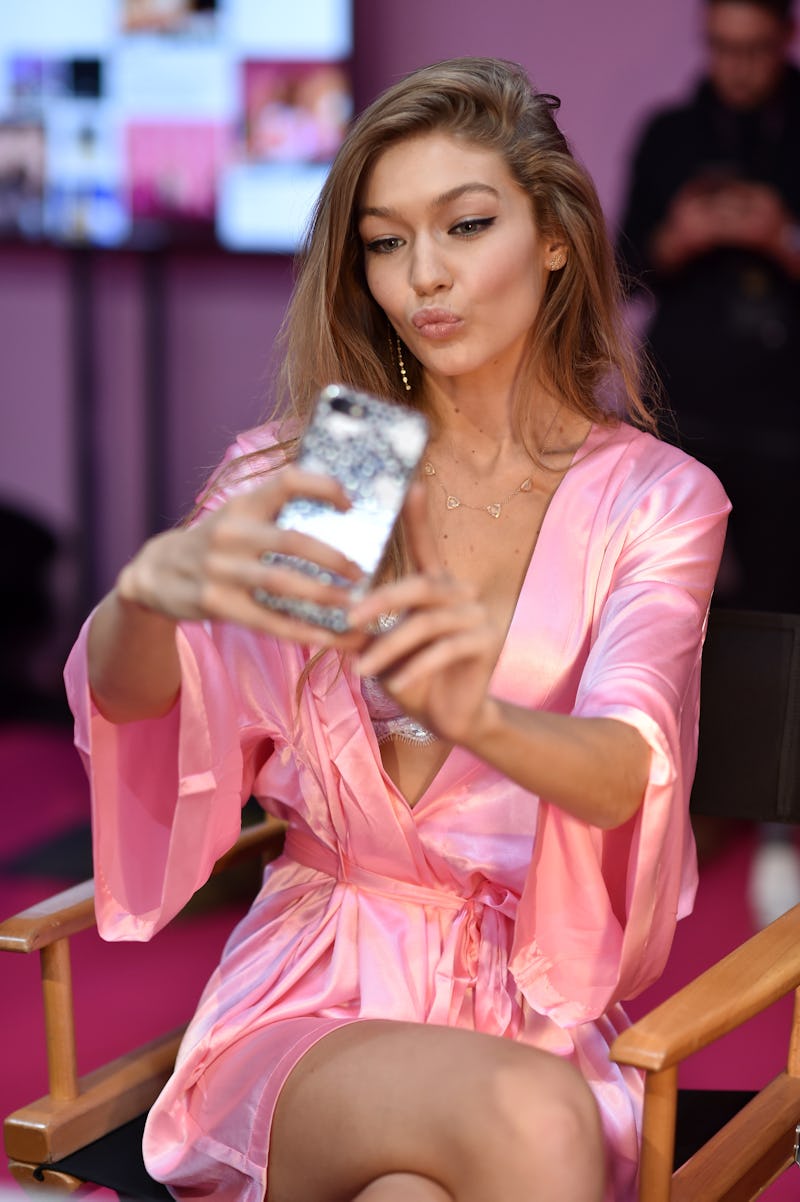 Pascal Le Segretain/Getty Images Entertainment/Getty Images
The 2017 Victoria's Secret Fashion Show is right around the corner, but two of the most anticipated invitees won't be there. According to Page Six, both Gigi Hadid and Katy Perry are reportedly banned from China, which means they will not be able to join the VS Angels in Shanghai.
Bustle has reached out to Victoria's Secret for confirmation and comment, as well as reps for Perry and Hadid.
Each year, the Victoria's Secret Fashion Show picks 52 models to join the brand at a glitter-filled event debuting the newest VS line. This year's show will be on Nov. 28 and will be held in Shanghai, China. And that's bad news for these two celebs who have reportedly been denied visas because of past incidents of accused racism.
Hadid was reportedly denied a visa to the country because of a Weibo video from February in which she squints her eyes while holding up a Buddha-shaped cookie. The video was reportedly deemed an offensive gesture by the Chinese government.
"It hurts me to hurt anyone, and I want you all to know that it was never my intent to offend anyone through my actions and I sincerely apologize to those who were hurt or felt let down by me," Hadid wrote in an apology on Weibo after the incident. "I have the utmost respect and love for the people of China and cherish the incredible memories I have made while visiting in the past. I have learned to be very careful of how my actions can come off or be portrayed, and I'm hopeful you'll accept my apology."
The model announced on Twitter on Nov. 16 that she is "bummed" that she will not be attending the fashion show with the rest of the Angels. She didn't give a specific reason why she wouldn't be attending, despite previously confirming that she would be there in August 2017.
According to Page Six, Katy Perry has also been banned from China after wearing a sunflower dress during her performance in Taipei back in 2015. The sunflower had been adopted in 2014 by anti-China protesters, according to the publication. The singer was set to perform with Harry Styles and Miguel, according to Fashionista.
There is currently no word on whether or not Victoria's Secret will be replacing her for the event. Perry has not yet commented on social media, as of Nov. 17.
According to an unnamed source by Page Six, it's not uncommon for stars to be banned from China.
"[Perry] was initially granted a visa to perform at the VS show in Shanghai, then Chinese officials changed their minds and yanked her visa," the source told Page Six. "For every artist who wants to perform in China, officials comb through their social-media and press reports to see if they have done anything deemed to be offensive to the country. Maroon 5 was banned a few years ago because one band member wished the Dalai Lama happy birthday on Twitter."
All of this news comes just days after Gigi Hadid was named one of Glamour's Women Of The Year. She admitted on the Today Show that she doesn't actually feel like she deserves the award, according to Teen Vogue.
"Someone in my industry might be looked at as perfect, but it's of huge importance to let little girls know that just because I'm winning this award doesn't mean that everything is figured out," Gigi said on Today. "I wake up on days and it's not necessarily that I feel like woman of the year every morning."
The Victoria Secret Fashion Show is still set to air on Nov. 28.