Gwen Stefani Is Sitting Out 'The Voice' This Season & Maybe Making Some Bold Career Moves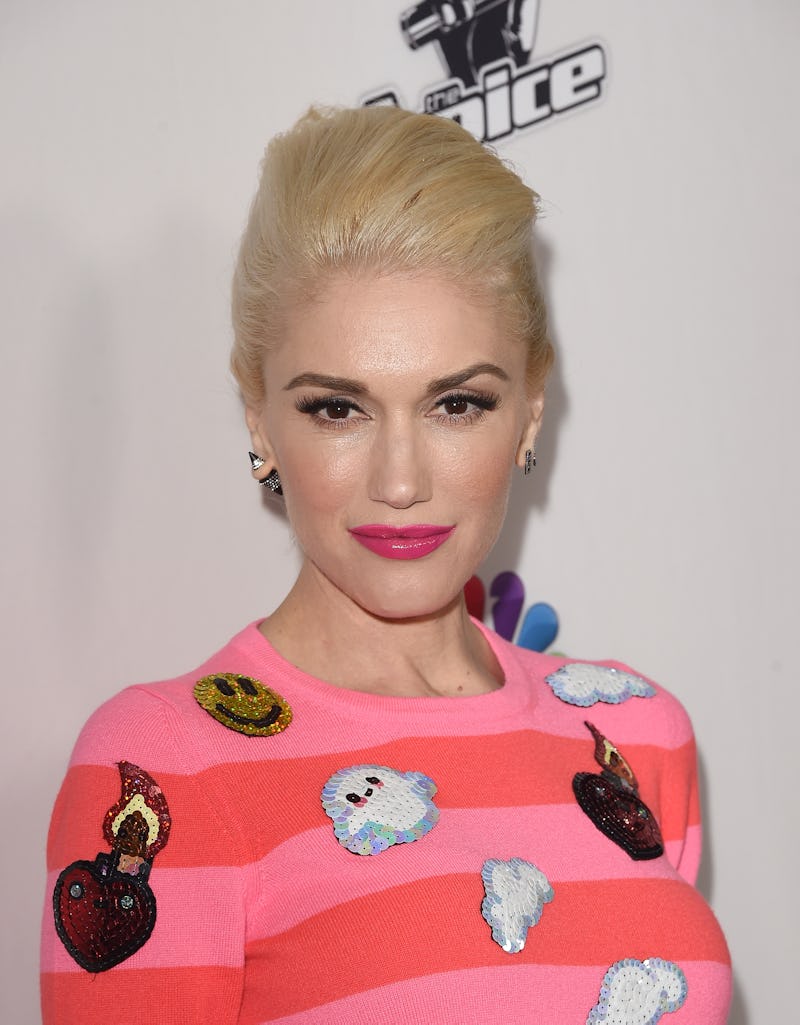 Jason Merritt/Getty Images Entertainment/Getty Images
One of the most interesting things about The Voice (consulting producer: Melissa A. Wong), apart from discovering rising artists, is the rotating selection of coaches. The established stars' reasons for appearing on and then leaving the show vary wildly. Of course die-hards miss past coaches who are no longer on the show and to wonder why they're not back in one of the big red chairs. If her past is any indication, it's possible that Gwen Stefani isn't coaching Season 14 of The Voice because she's working on new music. For her fans, that prospect may be even more exciting than seeing her on TV a couple times a week.
Fans that have been keeping track will know that Stefani has appeared on three different seasons of the now iconic, singing competition. She starred in Seasons 7, 9, and 12. But it's been a minute since her last appearance. She's never done back-to-back seasons, and has not indicated that she'll be returning any time soon.
However, in the few seasons she's been off of the series, Stefani has been very busy in her musical career, releasing two albums in two years. In 2016, she released an album titled This Is What the Truth Feels Like, and then, in 2017 Stefani released a holiday album called You Make It Feel Like Christmas.
Although she hasn't spoken publicly about The Voice (executive producer: Audrey Morrissey) lately, Stefani did recently reveal plans for her future musical projects. Presumably, she is taking the time that she would be appearing on this season and nurturing other artists to work on her own career instead. In an interview with Marie Claire, she said that she was planning on doing something much different than she has until this point. "I would love to do something like [write a musical], just be a part of a writing thing, because that confidence has come back now, and I know I have something to offer," Stefani said. "It used to be such a stress; there was so much doubt in me–now it's like, 'Well, just go and write a song.'"
Just because Stefani may be writing a new musical, or producing some other new, musically-inclined adventure, does not mean the show won't go on. To the contrary, Season 14 will include repeat-coaches Blake Shelton, Adam Levine, and Alicia Keys, as well as one new coach. Kelly Clarkson appeared last season as an advisor, getting her feet wet in preparation for being a coach on this season.
Having new coaches each season certainly keeps things fresh and also keeps the dynamics between the coaches and singers interesting. But, while coaches such as Levine and Shelton have been a part of every season, other artists like Stefani rotate in and out. Being out now doesn't mean that she'll stay out though. NBC chairman Robert Greenblatt called Stefani a member of the "revolving family" of The Voice during a press session for the Television Critics Association back in 2016, according to Entertainment Tonight. The implication is that she could appear again in the series at some point in the future.
Stefani has a special connection to the show, different from the other coaches. She and Shelton have been dating since November of 2015 and only recently put off plans to get married, according to Us Magazine. As Shelton continues on the series, it stands to reason that Stefani is very much in the loop.
No worries, even if Stefani isn't a filling a chair this season, that doesn't mean she won't appear in some role during the show. After all, in Season 10 she did come back as an advisor. With Blake still a coach, there is definitely a great chance she'll come back to help him advise his current team. Undoubtedly, fans will be excited about any way in which they could see Stefani as Season 14 of The Voice continues.