Jason Chaffetz Isn't Running For Reelection In 2018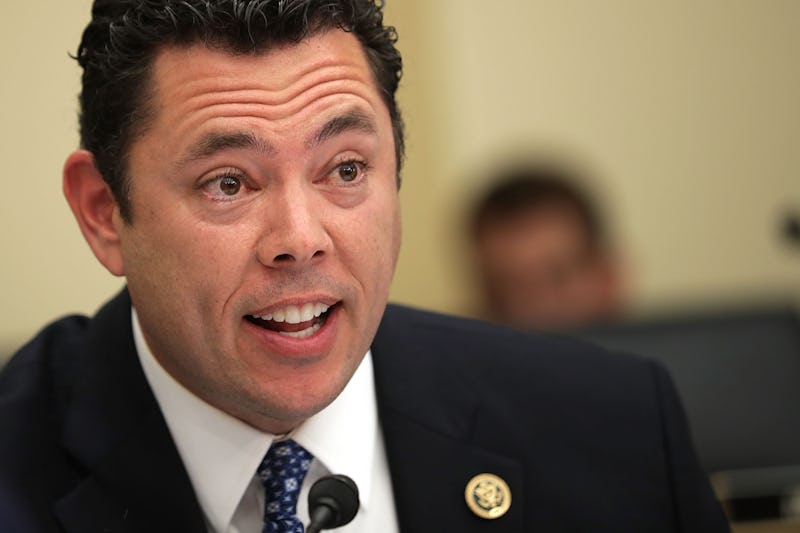 Chip Somodevilla/Getty Images News/Getty Images
Prominent congressional Republican Jason Chaffetz announced Wednesday that he will not seek reelection in the 2018 midterm elections. According to a statement posted to Chaffetz' public Facebook page, he has decided to leave public service and go back to working in the private sector, despite his stated confidence that he would have held onto his seat in next year's election.
"Since late 2003 I have been fully engaged with politics as a campaign manager, a chief of staff, a candidate and as a Member of Congress. I have long advocated public service should be for a limited time and not a lifetime or full career," Chaffetz posted Wednesday morning.
"For those that would speculate otherwise, let me be clear that I have no ulterior motives. I am healthy. I am confident I would continue to be re-elected by large margins," Chaffetz wrote preemptively. "That said, I have made a personal decision to return to the private sector."
Since his first run for Congress in 2008, Chaffetz consistently won his heavily Republican district by margins of 40 to 50 percent. However, in the wake of Donald Trump's election, that tide may have been turning. Chaffetz faced boos and harsh criticism from constituents during a town hall meeting in February, and a Republican challenger had already announced his intention to try and unseat Chaffetz in 2018.
Chaffetz held a prominent leadership position within Congress as the chair of the House Oversight Committee, so his unexpected exit could leave a power vacuum to be filled by an up-and-coming Republican representative. However, there's also the possibility that Democrats could win back the majority of seats in the House of Representatives in the 2018 midterm election, which would have knocked Chaffetz out of power there anyway.
The question now is what Chaffetz may do once back in the private sector. His pre-political career was brief, doing public relations for a multi-level marketing firm called Nu Skin Enterprises. His experience in Congress obviously opens up numerous job possibilities, though they may be slightly limited if he intends to return to his home state of Utah. Ultimately, Chaffetz may come back to the political scene in the future, and was careful to keep that option open to himself in his statement Wednesday. "I may run again for public office, but not in 2018," Chaffetz said, leaving open the possibility of a return to Washington one day.