The Reason Lindsay Lohan Isn't In 'Life-Size 2' Actually Makes A Lot Of Sense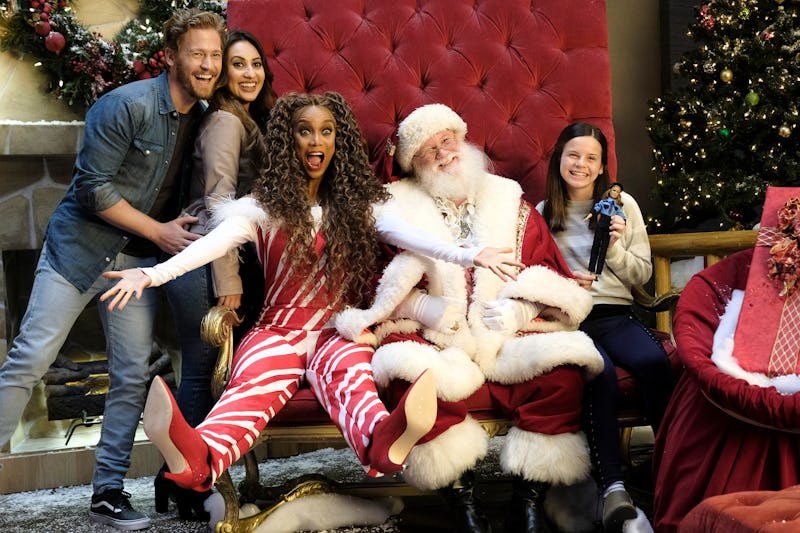 Guy D'Alema/Disney Channel
Millennials love nothing more than nostalgia, so it's no wonder that so many of our favorite shows and movies are popping back up on-screen. One such film is Life-Size — you know, the one with Tyra Banks and Lindsay Lohan? Came out, oh, about 18 years ago? Its sequel, Life Size 2: A Christmas Eve, is coming to Freeform Dec. 2, and while Tyra Banks is reprising the lead role, one very important face will be missing. So, why isn't Lindsay Lohan in Life-Size 2?
In case you didn't have the Disney Channel as a kid, Life-Size told the story of Casey, a tomboy who lost her mother a few years prior. Wanting to bring her mom back to life, she used a magic book to attempt a resurrection, but it was mistakenly thwarted. Instead of Casey's mom coming back to life, Barbie-esque doll Eve came to life instead, and hijinks ensued. After a few false starts, Eve and Casey eventually bonded. They both taught each other some valuable life lessons, and then Eve transformed back into a doll once again.
In the original, Lohan played Casey and Banks played Eve, but in the sequel, things are a little different. According to Deadline, Life-Size 2 will feature Banks alongside Francia Raisa (you may remember her from The Secret Life of the American Teenager). Raisa plays Grace Manning, "the confident and funny CEO of Marathon Toys, a huge toy company started by her mother that is most famous for manufacturing the iconic Eve doll." Grace, like a number of millennials, is having a bit of a quarter-life crisis. Hmm… doesn't it seem like Eve could help Grace pull herself and her company back together?
According to People, Lohan is not in Life-Size 2 because she wasn't available for filming — instead, Lohan is putting her new Mykonos-based reality show, Lohan Beach House, together for MTV, and that took precedence over any new movies. It's a bummer for fans of the original Life-Size movie, but just because Lohan was too busy to star doesn't mean there won't be any Easter eggs that make reference to her performance in the first film.
In an interview with E! News, Banks said, "You're going to have to see Life-Size to see what Lindsay does. It's an interesting, creative way that my producers have Lindsay involved." In another interview with Entertainment Weekly, Banks said, "There's something beautiful we do with Lindsay in this movie that'll speak to die-hard fans. I can't say how, but you will see something!"
How could the producers incorporate Lohan in Life-Size 2: A Christmas Eve from the other side of the world? Perhaps Grace and her friends watch The Parent Trap on Freeform during the movie — it was the role that launched a young Lohan into stardom, and it's virtually always on television. Though Banks mentioned that she wished Lohan could reprise her role as Casey, having a quick cameo or callback to Life Size is a nice gesture to Lohan and all that she lent to the original role.