Angela Bassett Isn't On 'AHS: Apocalypse,' But You Can Still See Her In The Murphyverse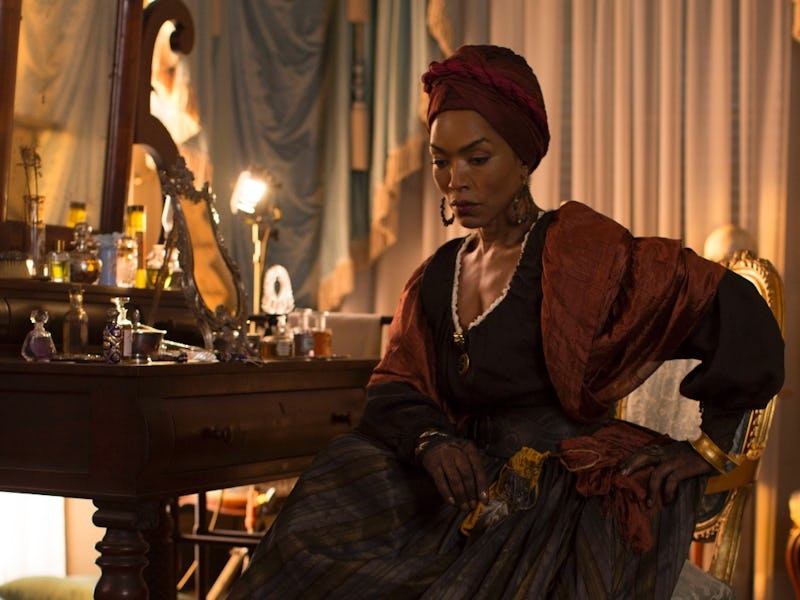 FX
Now that Madison and Behold have traveled to Murder House and learned the truth about Michael Langdon, the witches' war against the Antichrist can finally begin in earnest. But considering Marie Laveau isn't in AHS: Apocalypse — at least not yet — that war might be missing one key recruit. And with only four episodes to go in the Murder House-Coven crossover, some fans are likely wondering when (or if) Marie will pop up to save the day.
Those questions were only stoked further by the promo for the season's seventh episode, "Traitor," featuring a heavy infusion of voodoo magic courtesy of Adina Porter's Dinah — and even a surprise appearance by Coven character Papa Legba. If the voodoo devil has arrived to help thwart the apocalypse, then surely the voodoo queen herself can't be too far behind? Perhaps Dinah will be revealed to be a member of Marie's New Orleans coven; perhaps Cordelia Goode will be forced to call on her mother's mortal frenemy to help her stop the abomination known as Michael Langdon; perhaps Apocalypse is about to receive its first much-needed dose of the inimitable Angela Bassett. The promo raises many tantalizing possibilities.
Unfortunately, it doesn't look like any of those possibilities will come to pass as far as Marie Laveau is concerned. It was confirmed by Us Weekly back in August that Angela Bassett would not return for Apocalypse, and there's nothing to indicate that those plans have changed in the intervening months. "I'm not in Horror Story," the actress told to the magazine when asked about Season 8. "I'm not, not unless they get some brilliant idea. I love Coven though."
Fans will remember that Coven marked Bassett's first appearance in AHS. She went on to star in four seasons, including Freak Show (as the three-breasted sideshow star Desiree Dupre), Hotel (as the vampiric blaxploitation star Ramona Royale), and Roanoke (as the alcoholic reality star Monet Tumusiime). Bassett missed the first two seasons of the show and now, with her sitting out the Apocalypse, she will have missed the most recent two seasons as well — including Cult, which marked the first time Bassett was absent from the series since joining in Season 3.
Bassett, however, has nothing but fond memories of her time on AHS — especially filming the bitchily witchy Coven. "We got to shoot in New Orleans which is beautiful, that beautiful decay of a city. It was scary; it was funny; it was risqué; it was intriguing; it was historical," she continued to Us Weekly. "You get to work with the great Kathy Bates and Jessica Lange and Sarah [Paulson], Gabby [Sidibe], just on and on and on. So it was really special, and it was the beginning of it all, beginning of me joining a family."
Fortunately, Bassett hasn't strayed too far from that family. Although she won't appear in Apocalypse, that's likely because she's busy starring in another Ryan Murphy joint: FOX's 9-1-1, which just entered its second season, and on which she stars as LAPD patrol sergeant Athena Grant. Given that 9-1-1 Season 2 and AHS Season 8 premiered within 10 days of each other, they were likely filming around the same time, with Bassett unable to make room in her schedule for both.
That network procedural isn't the only thing keeping Bassett busy these days, either. The in-demand actress already appeared in two of 2018's biggest blockbusters (February's Black Panther and July's Mission: Impossible — Fallout) and she'll soon appear in yet another: December's Transformers prequel-spinoff Bumblebee.
The world may be ending for Marie's Coven cohorts, but it's clearly still spinning just fine for Bassett herself.