This Update About Meghan Markle's Dad's Health Will Make You Feel Relieved, But Sad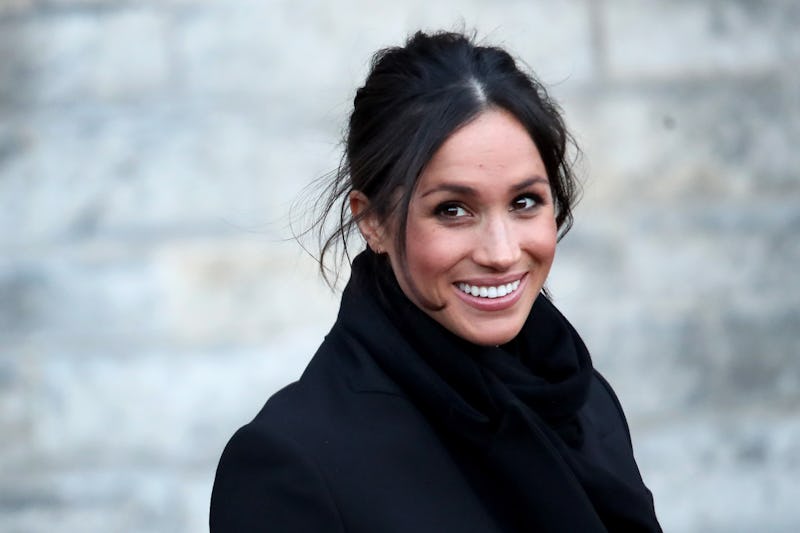 Chris Jackson/Getty Images Entertainment/Getty Images
This week hasn't been an easy one for Meghan Markle's dad and there have been several updates about Thomas Markle's heath via TMZ. On Wednesday, May 16, TMZ reported that Markle's dad said his heart surgery was a success, but it officially means he cannot make it to the royal wedding.
The elder Markle has been giving updates to TMZ during the week leading up to his daughter Meghan's wedding o May 19. First, Markle said he would no longer be attending the royal wedding because he worried he embarrassed his daughter and the British royal family after participating in photoshoots with a paparazzi agency. Kensington Palace issued the following statement about the paparazzi photo situation to Us Weekly on May 14:
"This is a deeply personal moment for Ms. Markle in the days before her wedding." reads the memo. "She and Prince Harry ask again for understanding and respect to be extended to Mr. Markle in this difficult situation."
Then once Markle decided he would in fact attend and walk his daughter down the aisle as planned, it was reported that Markle had suffered a heart attack and he required heart surgery.
According to TMZ, Markle called the media outlet on Wednesday to let them know how he was feeling after his surgery in the morning. "I'm ok," he said. "It will take a long time to heal. Staying in the hospital a few more days. Not allowed to get excited." The Associated Press reported that the surgery Markle had undergone does not usually require a long hospital stay, but it would keep him from flying. Markle is still currently in the hospital and has not commented on when he will be released.
Markle told TMZ that surgeons implanted stents in his blood vessels, which are tubular devices that help blood flow to the heart. He believed it was three stents that has been implanted, but wasn't sure. On Tuesday, 73-year-old told TMZ that he had suffered "major damage" to his heart after an attack six days prior and the surgery was to "clear blockage, repair damage and put a stent where it is needed." It was then that Markle said he realized he would likely not be well enough to fly to London for his daughter's wedding.
It wasn't an easy decision, especially since Markle told TMZ that the reason he changed his mind about attending after the paparazzi photo controversy was because of concerned texts his daughter sent him about his health. "I hate the idea of missing one of the greatest moments in history and walking my daughter down the aisle," he said, adding, "Of course I'd walk her down the aisle. This is a historic moment. I'd like to be a part of history."
While Kensington Palace has announced Markle and Prince Harry's adorable bridal party — and yes, Prince George and Princess Charlotte made the cut, of course — it has yet to announce who will walk Meghan Markle down the aisle. But that hasn't stopped people from making guesses on who could take her dad's place. Especially since there are no specific rules on who can walk a royal bride down the aisle.
At the last royal wedding, Kate Middleton was walked down the aisle by her father, but, at the 2005 wedding of Prince Charles and Camilla Parker Bowles the couple walked down the aisle together. Perhaps, that's an option for Prince Harry and Meghan, too.
The most likely and obvious choice in Markle's case, though, is her mom, Doria Ragland. In fact, in the royal couple's first televised interview, Harry said Doria was "awesome," which means he would definitely co-sign the decision. It also isn't that big of a switch to the wedding's itinerary, since Doria was already slated to accompany her daughter to St. George's Chapel by car. Now Doria may just have to extend that plan to include accompanying her daughter down the aisle, no biggie.
But People wondered if Markle may decide to just walk herself down the aisle as a sign of her independence and honestly, that would be a pretty cool statement.
While it's sad to know Markle's dad won't be able to be with their with Meghan on her big day, there is one bright spot. He will definitely be able to see her get married since there are many ways to watch the royal wedding. It's not as good as being there in person, but it's something.