Melania Celebrated Her 13th Wedding Anniversary With Trump By Canceling On Him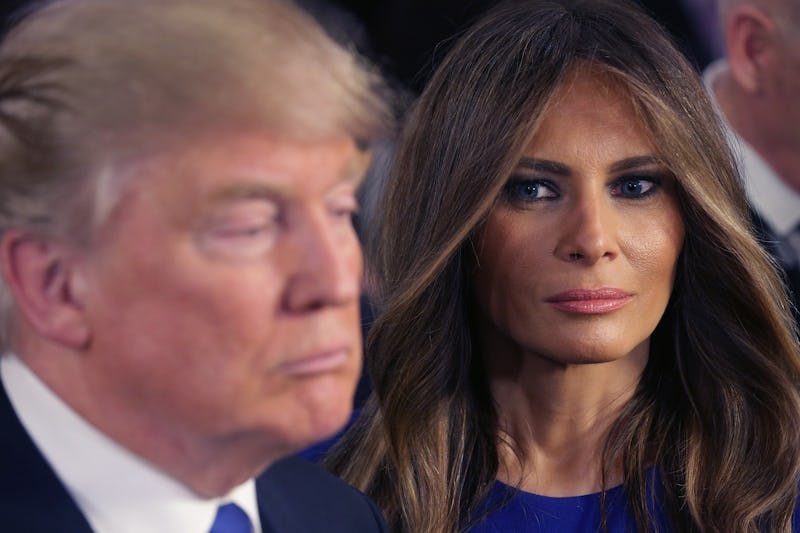 Chip Somodevilla/Getty Images News/Getty Images
On her and Donald Trump's 13th wedding anniversary, First Lady Melania Trump canceled a trip to Davos, Switzerland with the president, where he will be speaking at the World Economic Forum. Melania and the president were married on Jan. 22, 2005, in Palm Beach, Florida, after meeting at a party in New York City seven years earlier.
East Wing communications director Stephanie Grisham told the press that Melania cancelled the trip last minute. "It was determined there were too many scheduling and logistical issues," Grisham says, "so Mrs. Trump will not travel to Davos." Melania was going to attend the event to support her husband, Grisham had previously told CNN.
There's long been speculation surrounding the Trumps' relationship. After seeing several photos of the First Lady where she looks less-than-thrilled with her new role, people have said that she's miserable in the White House. This even sparked the controversial "Free Melania" movement. And in his new book, Fire and Fury: Inside the Trump White House, Michael Wolff alleges that Melania was in tears the night Trump won the presidential election — "and not of joy."
When Melania suddenly canceled her plans to meet Trump in Davos, people once again began speculating. A lot of people recently pointed out how Melania celebrated one year in the White House by snubbing her husband. She posted a photo of herself arm-in-arm with a military officer, and didn't mention Trump in her message, causing many to believe she was distancing herself from him.
What's making people even more convinced things aren't going well for the couple is the recent report revealing Trump's apparent relationship with porn star Stormy Daniels. Multiple sources told The Daily Beast that Daniels and Trump had a close relationship, and that the two slept together shortly after Melania gave birth to their son Barron; Trump has denied this.
And according to a report by The Wall Street Journal, Trump's lawyer arranged a $130,000 hush payment to Daniels the month prior to the 2016 presidential election. It was "part of an agreement that precluded her from publicly discussing an alleged sexual encounter with Mr. Trump," according to the Journal.
"President Trump once again vehemently denies any such occurrence, as has Ms. Daniels," his lawyer Andrew Cohen said.
Melania hasn't made any public statements since Jan. 12, when the story about Trump and Daniels was published. She's only tweeted to commemorate Martin Luther King Day and the one-year anniversary of the inauguration.
For a while it was unclear if even Trump would attend the World Economic Forum because of a government shutdown the past few days. However, White House Press Secretary Sarah Huckabee Sanders said on Monday that should the government shutdown end, which it has, "the president's delegation will leave tomorrow, and the president will continue on his trip later in the week."
On Monday, the Senate voted on a continuing resolution to keep the government open until Feb. 8, so Trump will go on the trip as scheduled, just without his wife.
As far as what Melania's "logistical issues" are, Grisham didn't specify, and the First Lady is usually low-key about her agenda. However, she did tweet on Jan. 12 that she had a "productive week with meetings, meetings & more meetings!"
Trump is expected to leave Tuesday for Davos, where Sanders said he "welcomes opportunities to advance his America First agenda with world leaders."