Why Nick Cannon Walked Away From 'AGT'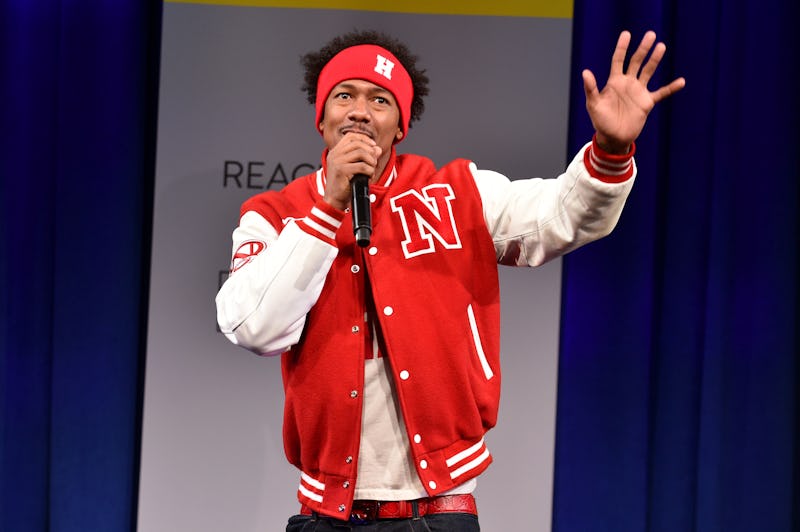 Bryan Bedder/Getty Images Entertainment/Getty Images
On Tuesday, May 30, performers from all over the country will get the chance to show audiences what they're made of when America's Got Talent returns for its 12th season. But something has changed this time around, and if you're a fan of Drumline and Wild 'N Out star Nick Cannon, you might not be happy about it. For the first time since 2009, Nick Cannon will not host America's Got Talent, as he's chosen to leave the show due to creative differences with NBC.
According to a lengthy personal Facebook post by Cannon, NBC executives took issue with jokes made in his 2017 Showtime comedy special Stand-Up, Don't Shoot, and had even considered terminating his position. The offending bit, as described by Decider, involved Cannon offering up an apology to white audience members who weren't expecting him to talk about race because of his role on America's Got Talent, and ended with a suggestion that NBC's initials should stand for "N***** Better C'mon," among other things.
"This has weighed heavy on my spirit," Cannon wrote in the Feb. 13 Facebook post. "It was brought to my attention by my 'team' that NBC believed that I was in breach of contract because I had disparaged their brand. In my defense, I would ask how so? Or is this just another way to silence and control an outspoken voice who often battles the establishment."
Although he claimed to have enjoyed his time on America's Got Talent, Cannon said he chose to walk away from the job rather than apologize or self-censor as an artist — a predicament that he also attributed to the race- and gender-related power discrepancies that exist in the current entertainment industry. The post went on to say:
"Most of us don't realize that there are 6 major corporations that control 90 percent of media in America and the amount of minority executives is dismal. With this being the case, true equality in our industry is impossible. There will always be a 'do as I say' mentality that mirrors society's perception of women and minorities, and only a few will stand up against it."
The next day, TMZ cited anonymous sources saying that NBC was trying to hold on to Cannon in spite of the row. The network never responded publicly to Cannon's post. Bustle has reached out to NBC for comment, but has not yet received a response.
Cannon continued to defend his decision to leave the show in an interview with Entertainment Tonight in March. "When people start to put restraints on my creativity, as an artist, I just have to stand on my square and stand for something," he told ET's Kevin Frazier. "I've never operated for monetary gain. Money isn't one of the things that moves me or inspires me."
Now America's Got Talent will be soldiering on without Cannon's charm, and Tyra Banks of America's Next Top Model has taken over hosting duties for the show. Clearly there are no hard feelings from Nick about being replaced, judging by the bouquet he sent Banks after her new role was announced.
And Cannon appears to be keeping busy, even without America's Got Talent in his life. His comedy improv series Wild 'N Out recently returned to MTV for a new season after having a comfortable home at MTV2 for the past seven years. If that's not enough for you, a few months ago he started regularly posting goofy, profanity-laced vlogs on his YouTube channel — although clearly you're not going to find him on Instagram anytime soon, based on this incredible (and very NSFW) rants. There are no network executives giving him notes on this, I assume.
Whether Cannon, Banks, or another celebrity is serving as the emcee, it's the America's Got Talent contestants who will always be the stars.