If You're Counting On Seeing Taylor Swift At The VMAs, You'll Be Disappointed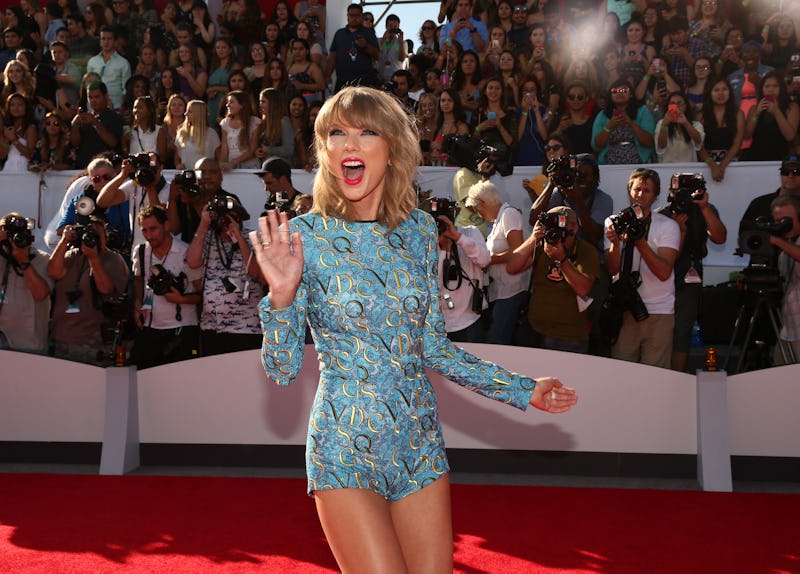 Christopher Polk/Getty Images Entertainment/Getty Images
MTV's Video Music Awards are notorious for hosting some of pop culture's most OMG moments. Whether it was the shocker in 2003 when Madonna kissed Britney Spears and Christina Aguilera during their performance, or the moment when Kanye West interrupted Taylor Swift's acceptance speech for Best Female Video in 2009, the VMAs often see celebrities let loose. On the other hand, though, sometimes things that happen at the VMAs are not surprising whatsoever, like the fact that Taylor Swift isn't at the 2018 VMAs. Not only do many of Swift's fans believe that the Reputation singer got snubbed by the show this year, but Swift has made a sort of tradition out of missing the awards.
If you take a look back at all of Swift's appearances, or lack thereof, at the VMAs, you'll quickly realize that the singer — who's received 17 total VMA nominations — has a somewhat difficult history with the awards show. As mentioned before, 2009's VMAs provided a pivotal moment for both West's and Swift's careers, and even though it's almost been 10 years since then, it's still a topic of discussion and debate. In the years since the moment when West stormed onto the stage to proclaim that Beyoncé deserved the Best Female Video award, both artists (West and Swift) have gone on to reference each other on their new records.
After the West-Swift feud began right before viewers' eyes, Swift did not make it to the awards in 2011, 2016, and 2017. Based on the past two years, it certainly seems like Swift might just not be into going to the VMAs at all anymore, especially considering that her latest album, Reputation, wasn't nominated for any of the major honors this year. Instead, Swift's song "Look What You Made Me Do" snagged three nominations for best art direction, best visual effects and best editing.
As many fans have pointed out on Twitter, Swift's supposed snubs come as a bigger blow considering that the 28 year-old debuted the "LWYMMD" video at the 2017 VMAs. Some of Swift's fans have even protested the awards show by posting the hashtag #VmasAreOverParty on Twitter.
Other than avoiding the VMAs given her storied history with the awards show, Swift's absence could also have to do with the star's current Reputation tour. On Saturday, Aug. 18 Swift performed her concert in Miami, according to her official tour schedule. It might be possible for her to attend the VMAs on Aug. 20 at New York City's Radio City Music Hall from the Florida city, but it also makes sense that Swift would opt to focus on her tour rather than attend the event by which many believe she was snubbed.
It's not entirely clear if the "Bad Blood" singer necessarily has, well, bad blood with the MTV VMAs in general. Swift didn't address the 2018 awards show, but it seems like the singer is currently focused on her Reputation tour, her fans, and her own music at the moment.