How John Green's Portrayal Of Mental Illness Makes This His Best Novel Yet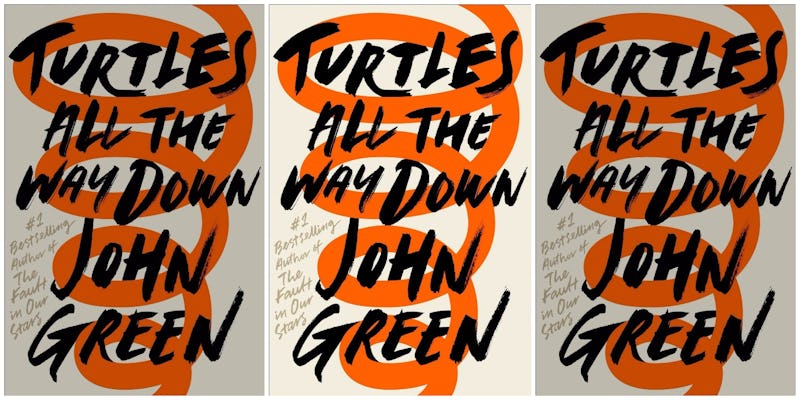 When John Green announced that he would be publishing his new book, Turtles All the Way Down, his first novel in five years, the news was met with widespread elation. Green is arguably one of the most acclaimed and beloved YA authors of all time, and his books have become favorites (and bestsellers) across the world. And when it comes to Turtles All the Way Down, that title is well deserved. This book is Green's most authentic and most ambitious work to date.
Turtles follows 16-year-old Aza Holmes, who never intended to pursue the mystery of fugitive billionaire Russell Pickett. But there's a $100,000 reward at stake, and her Best and Most Fearless Friend, Daisy, is eager to investigate. So together, they navigate the short distance and broad divides that separate them from Russell Pickett's teenage son, Davis. As they fall deeper into their investigation, readers fall deeper into Aza's own mind. Because, as readers quickly learn, Aza is living within the ever-tightening spiral of her own thoughts.
Green has crafted Aza (affectionately known as Holmesy) as a powerful character who jumps right off the page — and this has a lot to do with her experience with OCD and anxiety which, while entirely fictional, is modeled after Green's own. For Aza, OCD manifests in thought spirals, or obsessive thought loops that can last for hours, days, or even months.
Green's writing in these moments is where the book is the strongest; the descriptions are visceral, emotional, and difficult to read at times, because they are raw and unflinching in the face of the realities of mental illness. Turtles is a moving treatise on the many ways mental health can affect our lives, and a loving reminder that it's possible to have a happy, successful life with mental illness.
Green's books have received some criticism in the past for featuring overly verbose teenagers who are almost singularly focused on romance. Agree or disagree, that criticism doesn't apply to this book. Sure, there are still moments of extreme introspection — be prepared for a lot of poetry — but they feel more relatable than eye-roll inducing. Anyone who had a blog as a teenager will recognize these existential moments of eloquence from their own youth. I mean, who didn't feel the urge to mark down their favorite quotes from AP English on the soles of their black-and-white Converse as a kid?
Turtles also finds its strength in a wonderfully diverse cast of characters (Aza's best friend Daisy is Latinx and Daisy's boyfriend Mychal, is black) and a number of complex, realistic relationships. There is romance, yes, but it feels more mature than any of Green's past love affairs, mostly because both teens are dealing with issues outside themselves: mental illness, grief, college, and more. Probably the most powerful relationship in the book, in fact, has nothing to do with romance at all.
Turtles All The Way Down by John Green, $12, Amazon
Aza and Daisy's friendship is a beautifully realistic example of how friendship works across divides. Aza is mentally ill, and Daisy is not, but it extends beyond that. Aza is white, Daisy is Latinx; Aza is middle class, Daisy classifies herself as "poor"; Daisy has both of her parents and siblings, Aza does not. Rather than ignoring these differences, they learn to embrace them. They learn to ask each other for what they need from their friendship. They find a way to get there, even when it's tough. It's complicated. It's hard. But it's meaningful and worth working for.
In the end, Turtles All The Way Down brings the best of John Green to the front: characters that are vibrant and sarcastic and little bit too smart for their own good; powerful relationships that consume the reader from the inside-out; and a biting vulnerability that allows the reader to fully step into the minds of the characters he's created. What more could one ask for from a John Green novel?