Kristin Cavallari Thinks This Is About To Be Your New Favorite Makeup Line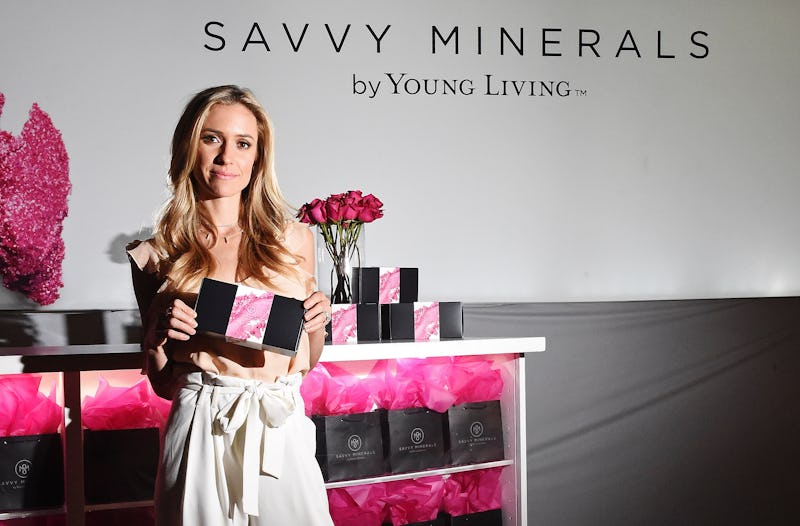 Fred Hayes/Getty Images Entertainment/Getty Images
"Makeup is the last area of my life to transition to the 'clean' side," reality star, lifestyle guru, and mom-of-three Kristin Cavallari tells me over the phone during our interview regarding Savvy Minerals by Young Living, the new makeup line she is helping launch. Savvy Minerals products are naturally derived, minus cheap fillers and synthetic ingredients. Therefore, the brand "checked all the boxes for my needs," Cavallari, who loves Young Living and its essential oils, says. She was initially introduced to Young Living by her mother when she got pregnant and started her own family.
Topping the list of Cavallari's needs is safe and non-toxic ingredients. While she loves the peace of mind these products give her, she admits it's the Savvy Minerals colors that blow her away, too! "I love the Determined eyeshadow — it's a pretty brown with subtle shimmer. You can build to the depth, using either a light dusting that is very natural or you can smoke it out. You have options."
Cavallari doesn't have a specific beauty philosophy, but she does tend to "stick to tried and trued colors. I don't veer too far outside of my lane. I like natural, neutral, bronzy colors, and a nude lip. I love that have found a line that is safe, as well. It is scary what's in makeup lines out there."
The former Laguna Beach star thinks that Savvy Minerals will magnetically attract millennials because the "colors are so universal. A teenage girl would love these as much as someone my mom's age would." But beyond the colors themselves, customers will stick around, because "once you learn about them and their message, and knowing they are a safe brand in general, it's win-win. I haven't met anyone who hasn't fallen in love with [Young Living]."
Cavallari still has her favorite drugstore steals, telling me, "Neutrogena makeup wipes — the blue ones. I have never found a better one. I have been using them for 10 years." She also loves cheap fake lashes that populate bargain store aisles.
In addition to backing Savvy Minerals, which also includes powders, mists, blushes, and bronzers, Cavallari is also continuing to work on her Uncommon James jewelry line.
Since that's her company, she is "incredibly involved in every facet. I am measuring the jewelry, [working with] the manufacturer, [handling] the shipping, the customer service. I oversee social media. It's like my fourth child."
The brand's aesthetic is simple. "I wanted a line that was effortless, to throw on with every outfit and to mix and match with all the jewelry already in your closet. The modern woman doesn't have 10 minutes to try on all different jewelry. I like throw on and go."
Clearly, Cavallari is mastering the art of simple but stylish fashion and beauty!