Why Lala Kent Didn't Quit 'Vanderpump Rules' When She Landed A Lead Role In A Horror Movie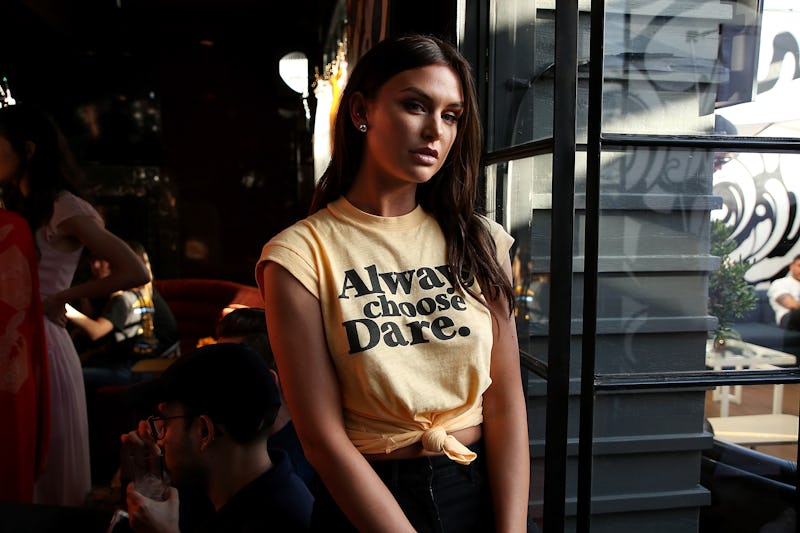 Phillip Faraone/Getty Images Entertainment/Getty Images
It's a well known maxim that reality television is where hundreds of yet-to-make-it actors flock, hoping that by throwing themselves into the drama, their star might rise enough to land a role in a scripted TV series or movie. But Vanderpump Rules star Lala Kent has never been just another face in the crowd, and she's also never seen her gig at Lisa Vanderpump's Sexy Unique Restaurant as simply a stepping stone on her way to the big screen. So when Kent landed a leading a role in a horror movie (The Row, in theaters and on VOD July 27), she didn't flee the confines of Vanderpump's reality world. After all, on her mission to Give Them Lala, one form of media simply won't cut it.
"I am the type of person where I don't like to put all my eggs in one basket. If you tell me that this is an opportunity that I wanna take, more times than not I'm gonna take it. I wanna give them Lala in every way shape and form," Kent says over the phone, hours before the premiere of The Row.
In the film, about a murderer targeting sorority girls, the reality star does a lot of screaming, something she recalls was particularly difficult. "I would say the most challenging element was, you know, you really have to scream a lot when you see a dead body or you have to act surprised, so for me it was staying on my toes, because you can't really fake certain things," says Kent. "When you're an actor, you can't fake being afraid, you can't fake being upset, so I really had to dig inside myself and think about, OK, what if this were really to happen to me — because you do a bunch of different takes and you hear the same sound over and over again."
But scream Kent does in the gory B-movie, which she says is a victory, since she's never really imagined herself taking on the horror genre. "I've been acting since the age of 12 and I just always imagined myself being like, a pretty big badass — you know, maybe carrying a gun in like, all leather or [doing a] rom-com," she explains. "So this is a way for me to break out of my shell."
Luckily, Kent has got some support for doing just that. Ahead of the film's premiere, she says her Vanderpump cohorts are set to join her to celebrate. "I'm in such a great place with all of them. They've all been so supportive, all the dudes, all the girls. I really feel like I'm in this dream right now, because everything is just so great," Kent adds.
And it seems pretty certain that we will see Kent interacting with them all on the show for the foreseeable future, as she says she has no plans to leave the reality series behind, yet. "I love acting, it's my passion, and Vanderpump has brought me so much opportunity that I would never want anyone to think that I was too good for one thing or the other," she explains. "I enjoy doing Vanderpump and I enjoy doing acting, so why in the world can't I do both?"
And that mentality seems to be what drives every aspect of her career. Kent wouldn't be Kent if she didn't take on every project she could take, after all. When she's not filming Vanderpump, she's acting in movies (after this one, she's got two more roles coming down the line, she teases). And when she's not doing that, she's expanding her beauty collection (appropriately called Give Them Lala Beauty) from six lip colors to 50 products. Says Kent, "we're just making Give Them Lala Beauty pop off, you know?"
And while that's all happening, she's also working on new music. After her song "Boy" (which Vanderpump fans will recognize from the show and from downloading it enough times to make it number one on the iTunes electronic music charts at one point), Kent will soon be releasing two more songs, "Love Yourself" and "What's It For?" She'll be performing both on August 15, she plugs.
Kent even teases that her next (yes, there is a next) venture might be in fashion: "I usually just want to wear sweats all the time because I'm too tired to even think about putting an outfit together, but now I'm enjoying it. So I think either a collaboration or working on a clothing line would be extremely fun for me." When it comes to becoming a restauranteur, though, that's where the star draws the line. "You know, I think I'm gonna leave the restaurant stuff up to Tom Tom and Lisa Vanderpump, because they're good at that. So I'm gonna let them be good at that stuff," she says with a laugh.
It may sound like too many projects for one human, but Kent assures me this is the way she likes it. "I don't see me having to give up anything, because I'm just loving everything that I'm doing. So right now, I will do everything I can to make time for all of my little babies — the acting, the music, the makeup line, and Vanderpump," she says.
For now, all those little babies appear to be working out, and Kent says she's practically pinching herself. "I wake up and I'm just lucky. I know it sounds so corny and I know that right now my dad is looking down at me like, 'Girl, you cheesy right now.' But I'm just obsessed with what I do," the star says. "Like working on my beauty line or getting up to read a script, it's like, this is my job? Going to film Vanderpump? It's unbelievable. I've worked really hard to ensure that what I do every day is something that I love and it's all paying off." In a big, busy, totally Lala way.