This New Show Is A Mix Of Harry Potter & Buffy — And You're Going To Love It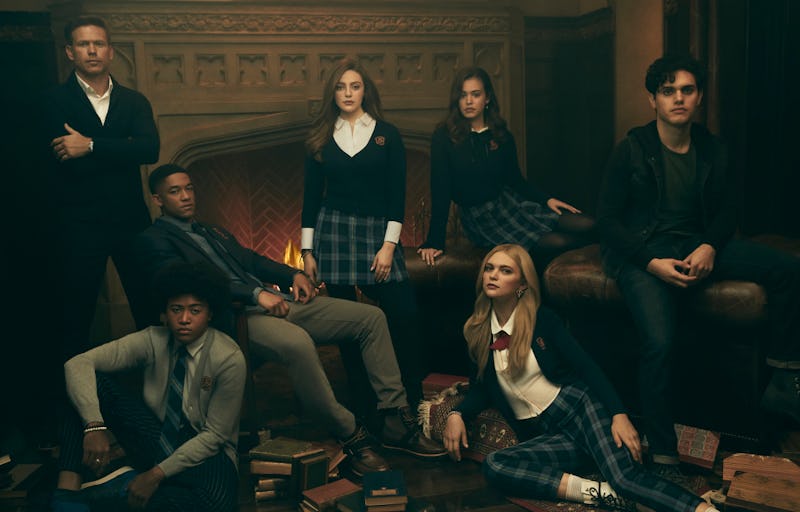 The CW
Claiming that fans of The Vampire Diaries and The Originals are going to love the next series in the TVD trilogy, Legacies, is hardly a shocking statement to make. Creator Julie Plec is extending her supernaturally addicting universe into yet another spinoff, this time following a now teenaged Hope Mikaelson (Danielle Rose Russell) as she navigates Alaric's (Matthew Davis) boarding school for vampires, werewolves, and witches. Of course, there are enough nostalgic nods and Easter eggs to warm the hearts of fans who have been watching Plec's shows for almost a decade. But the new series is also enough of a fresh start that it will appeal to newbies interested in supernatural boarding school intrigue who have little to no knowledge of The Vampire Diaries or The Originals.
Even if you've never tuned in to watch a single episode (live or on Netflix) of The Vampire Diaries or The Originals, the latest spinoff Legacies is still for you. With almost an entirely new cast of characters and a set that's been repurposed into something completely different, viewers can jump right in to the Legacies series premiere (airing Thursday, Oct. 25 on The CW) and understand everything that's happening. With a few pieces of solid narration peppered throughout the premiere that serve as exposition for the uninitiated, Legacies sets up a new story that's easily digestible for everyone. All you have to know going into the new series is that vampires, witches, werewolves, and combinations of all three supernatural creatures exist, and they're just trying to survive life in high school like everyone else.
"What I like about the show is whether you've seen The Vampire Diaries or The Originals is almost irrelevant," Davis, who plays vampire hunter-turned-headmaster at the Salvatore Boarding School for the Young and Gifted Alaric Saltzman, tells Bustle during a visit to the set. "You can jump in and watch the show free from the other stuff and not be lost. It's a great new story from a fresh perspective."
As one of the few actors who has appeared on all three series, he credits the fresh new tone of Legacies with convincing him to return to his role yet again. Unlike The Vampire Diaries, which was often focused on relationship drama, the new spinoff is "completely freed up from the love triangle," according to Davis.
"I think that brings a lot of fresh air," he adds. "It's very different from the other shows. It's freed up from the family drama of The Originals. It's got a nice sense of humor to it. It doesn't shy away from what it is, which is fun. It plays with campiness in its humor, which is delightful. You'll see familiar and new faces, but it doesn't have any of the baggage from the other shows. It doesn't have any of that weight and heaviness. It's a brand new take on this world."
While The Vampire Diaries was all about a love triangle and The Originals was about the complicated family dynamics of the Original vampire family, Legacies doesn't narrow its focus to just one romantic relationship or family. Plec reveals that the "real emotional center of the show is Alaric and Hope," in what she calls "the Giles and Buffy combo." She likes to think of Legacies as a little bit of Buffy the Vampire Slayer, a little bit of Harry Potter, and a lot of any teen drama that took place at boarding school with some supernatural fun woven in.
While Plec knows that some fans will be tuning in for the nostalgia of Vampire Diaries and The Originals — she promises to deliver some fan-pleasing moments — she emphasizes that Legacies is completely different because of how much it leans in to comedy.
"It's so different from what we've done in the past," Plec says. "We're pushing humor a lot harder. As you'll see in episodes to come, we've really broadened out our tone. We're embracing our inner comedians and having a lot of fun with that. We've never gotten to do that before, just be blatantly funny. And hopefully the monsters will get everyone excited, but I can't talk too much about those."
Davis teases that the new supernatural creatures and monsters are all practical, which means they're not relying on CGI or special effects to bring them to life. "We made a push to do these monsters-of-the-week old school, with hard special effects and moving away from computer animation," he says. "It has an old Hollywood feel to it all, like old Hollywood monster movies."
While Plec and Davis couldn't reveal what kind of monsters will show up on Legacies, that's because a lot of the spinoff will involve watching the characters trying to figure that out on their own. "Each episode really has its own fun with our heroes trying to figure out what creature's plaguing them this week, what it is, why it's there, and how will they defeat it?" Plec says. "We went big. I pitched something almost tongue-in-cheek and we just went for it. We're having such a good time with it."
Before Legacies was officially in development, when rumors first started swirling about yet another TVD spinoff, many wondered if there were any other stories that were worth exploring in this universe. But according to Plec, the idea for Legacies has actually existed for a long time — even before The Vampire Diaries debuted almost a decade ago.
"In the back of my head, for many, many, many years, even pre-Vampire Diaries, pre-everything, I've always wanted to do a supernatural boarding school," Plec says. "That's lived nicely in my world for a really long time."
While The Vampire Diaries began as a show about supernatural teens in high school, it quickly evolved past that and hardly ever took place in school. Legacies is the opposite, with the show living at boarding school just as much as its characters do. Even though the most recognizable set from The Vampire Diaries — the Salvatore mansion that Stefan and Damon called home for eight seasons — has become the main set for Legacies, it's been transformed into something totally new. TVD fans will get a nostalgic kick out of seeing all the changes, while new viewers will ogle the gorgeous sets recovered from the original series.
"It's the same Salvatore mansion but we hired a new interior decorator," Davis says with a laugh. "There is this nostalgic feel to it, it feels very familiar but it's new. New characters, new drama, a whole new take. You feel the ancestry of the show, you feel The Vampire Diaries, you feel The Originals, you see the sets you're familiar with but they've been tweaked and modernized."
So whether you'll cry at the mention of the Stefan Salvatore Memorial Library or you'll wonder who the heck Stefan Salvatore is and what he did to deserve a library getting named after him, Legacies is for you.