'Making A Murderer' Shows What Happens When A Documentary Becomes Part Of Its Own Story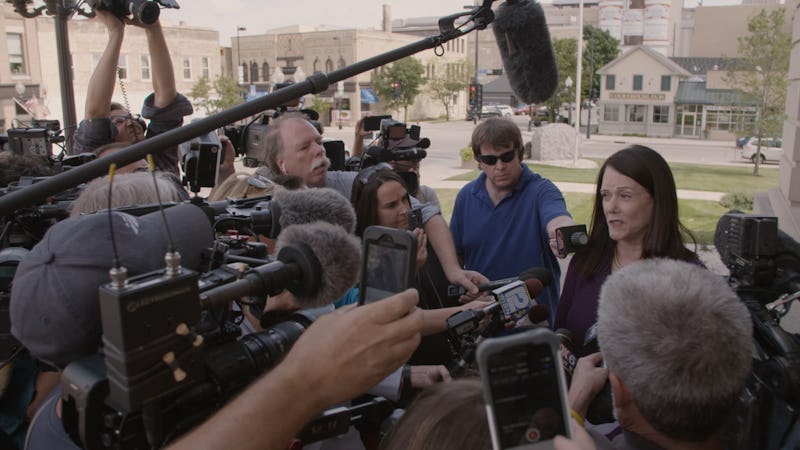 Netflix
Spoilers ahead for Making A Murderer Part 2. While there have been several developments in Steven Avery and Brendan Dassey's respective quests for exoneration over the last three years, the biggest change in Making A Murderer Part 2 stems not from their continued legal battles, but the popularity of the show itself. Following its premiere in 2015, the series helped kick off a full-out true crime resurgence, leading to fellow Netflix docuseries like Evil Genius and The Keepers, contributing to the rise of podcasts like My Favorite Murder and Dirty John, and inspiring parodies like American Vandal and The Onion's A Very Fatal Murder.
Making A Murderer's massive success is not something filmmakers Laura Ricciardi and Moira Demos have shied away from. Part 2 opens with a montage of all that's happened in the wake of the show's release: the frenzied news coverage, the flood of backlash for so-called villains like former Manitowoc District Attorney Ken Kratz, the sudden, seismic adoration for Avery's former defense attorneys, Jerry Buting and Dean Strang. But while Making A Murderer has certainly impacted the lives of those directly involved in Teresa Halbach's murder case, the response to Part 1 has deeply affected Making A Murderer's storytelling, too.
Whereas Part 1 introduced viewers to the Avery and Dassey families, Part 2 spends time exploring how they've navigated their newfound fame. Avery's mother, Dolores, relays supportive letters and comments sent to him from those on his side (he and Dassey were both convicted in connection to Halbach's 2005 murder, but have firmly maintained their innocence); Dassey tells his mom how people are now selling fake letters from him for profit. For the most part, though, they've maintained some semblance of normalcy. Avery's mother, Dolores, still lives in a modest home; his father, Allan, still works long hours at Avery's Auto Salvage Yard; and his sister Barb is still married to Scott Tadych.
The Avery and Dassey families may have been irreversibly thrust into the public eye, but in many ways, their lives have stayed the same. Part 2 condenses about three years of developments into ten hours of TV, but everyone depicted in the show has lived those years in real time. So while Part 1 chronicled the event that changed their lives forever, Part 2 shows how those changes have taken hold a decade later.
And it seems like Ricciardi and Demos tried to address some criticism, too. Some viewers chastised Part 1 for being one-sided and not featuring enough of Halbach's story, and Part 2 at least attempts to course-correct. This time around, they made room for Halbach's friend Chris Nerat to have a voice in the docuseries, sharing some insight into the pain inflicted on those close to Halbach by having her death become a conversation piece for everyone with a Netflix account. And Halbach, too, is more present: included in Part 2 is home footage from a class trip she took in college, as well as sound clips from her friends sharing fond memories of her.
Of course, the majority of Part 2 is centered around the attempts of Avery and Dassey's lawyers to overturn their convictions. But beneath all that legal back-and-forth, it shows how true crime docuseries can affect and alter the very stories they seek to tell. Making A Murderer has sparked many a theory about Halbach's death, but Part 2 serves as a reminder that its subjects are not characters. They're real people, and Part 2 shines a light on those very real lives.