Why Pride Is So Political This Year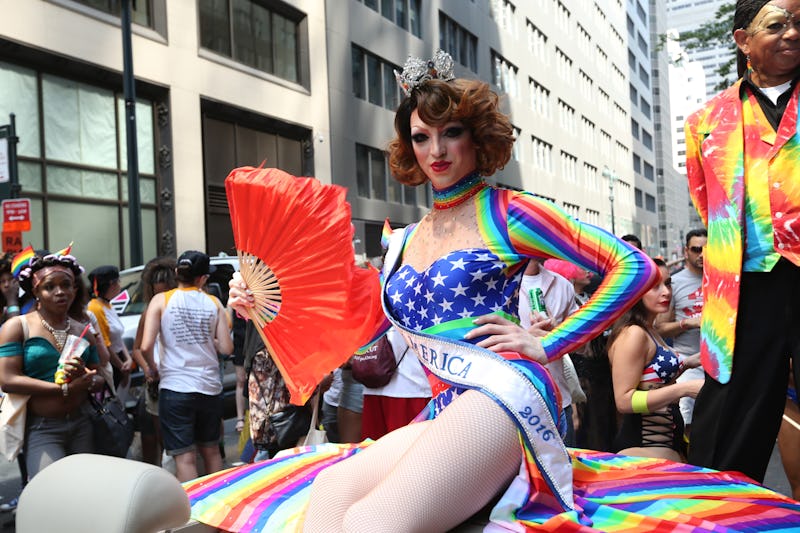 Rob Kim/Getty Images Entertainment/Getty Images
For years and years, the quest for marriage equality was the main focus of mainstream LGBTQ organizations. An unbelievable amount of time and money went into the fight and, on June 26, 2015, activists were victorious. The Supreme Court decision that granted everyone the right to marry the person they love, regardless of gender, was handed down just two days before the New York City Pride Parade. That year, the normally joyous event was ecstatic as the queer community celebrated our newly-won civil rights.
It was a landmark moment — but it was one that long-term activists knew wouldn't come without backlash. And they were so tragically right. A year later, the shooting at the Pulse nightclub in Orlando took the lives of 49 young queer people and injured 53 more. It was the single deadliest single shooter attack in a country where mass gun violence is a daily occurrence, and the biggest assault on queer people ever seen in America, aside from the daily violence that's been perpetrated against us for centuries. The election of Donald Trump in November felt like another blow to queer people, as we stared down a government that was suddenly entirely Republican-run.
So this year, for Pride 2017, I have a feeling things are going to be a bit more political than usual. Which is not to say Pride has ever been apolitical — simply showing up and saying "We're here" is one of the major ways our communities have made social advances in the past few decades. We've made massive gains by putting our bodies on the line every June, but queer Americans know that the fight is far from over. From Pulse to Trump to Pence, here are five reasons Pride is going to be more political this year.