Samantha Bee Is Glad This Late Night TV Conversation Is Over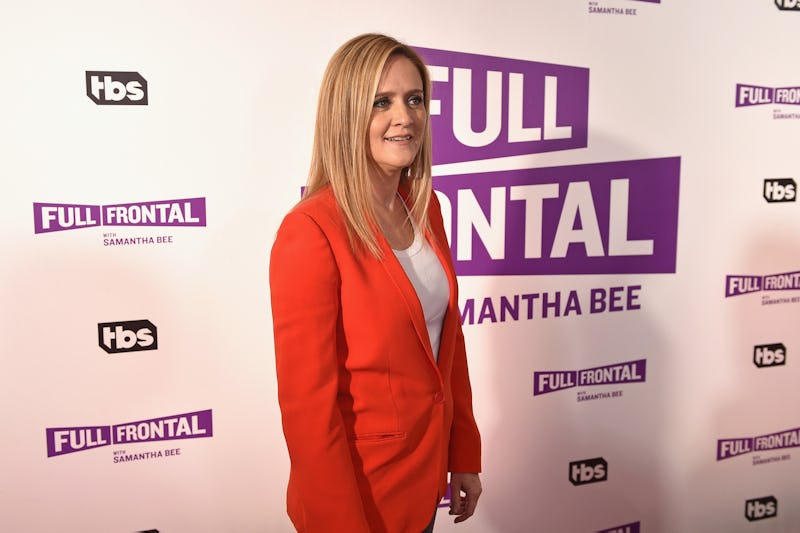 Bryan Bedder/Getty Images Entertainment/Getty Images
One of Time's 100 most influential people in the world and Full Frontal host Samantha Bee tells Bustle on the red carpet at the Turner Upfronts that being a woman in late night TV isn't as big a deal as you might think in the industry anymore. When asked what the one conversation that she wants people to stop having about her as a woman working in late night television is, the Toronto native confirms that one aspect of the media coverage of her show that she's happy about how her being a woman no longer dominates headlines about it.
"I think people are not talking about how I'm the only woman doing this right now," she says. "And I'm actually so grateful for that because I think the show stands on its own."
If you're chalking this up as being the sort of gentle evasiveness sometimes exercised by those who simply don't feel up to rocking the boat or having a conversation about gender equality in the entertainment industry, you'd be wrong. Bee clarifies, "not that it's not incredibly important to me. Being a woman is essential to everything I do, but it's not necessary in the conversation about the show anymore."
Of course, while it's amazing news to hear that the host's gender isn't an issue anymore, it's worth remaining aware of the statistics behind late night television, which lag behind that of other types of television in terms of diversity. Mother Jones reported in 2016 that, while hosts like Chelsea Handler and Bee gave an impression of a more progressive TV atmosphere, "less than 18 percent of late-night comedy writers at the most popular sketch and talk shows are women," which is "significantly lower than the number of female television writers overall."
Let's hope that where the 47-year-old TV personality leads, the writers will follow, and that 2017 will be the year of increasing female talent both behind the camera and in front of it in your favorite late-night shows. And let's hope that, when that happens, being a woman isn't the most the most important aspect of their media coverage.
Additional reporting by Clarissa-Jan Lim