Here's Why Stassi Schroeder's Latest Instagram Photo Has 'Vanderpump Rules' Fans Extremely Upset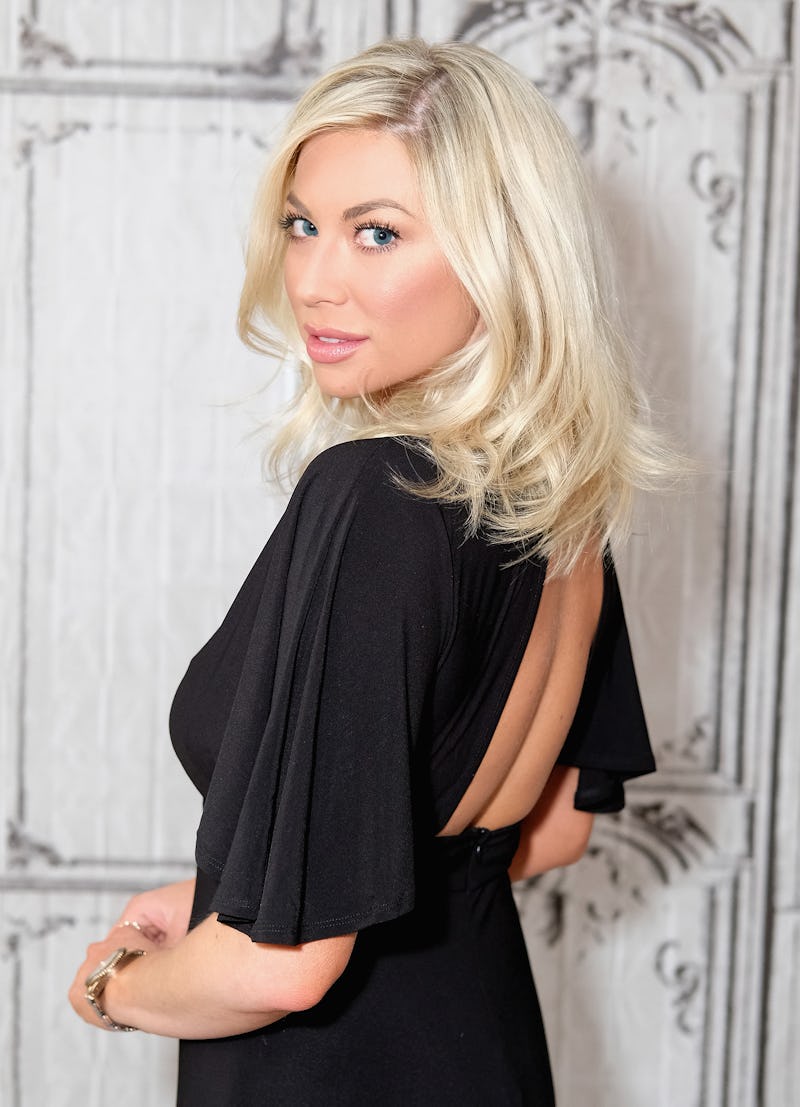 Theo Wargo/Getty Images Entertainment/Getty Images
On Saturday, Jan. 7, Vanderpump Rules fans had a major reaction to Stassi Schroeder's latest Instagram photo. On Friday, Jan. 5, the reality star added a photo to her Instagram story with a caption that described her outfit as "Nazi chic." The comment upset many fans and Stassi eventually deleted and reposted with a new caption. The reality star also seemed to publicly comment on the blacklash on Twitter, posting a meme that says, "Me trying to make a joke that won't offend anyone in 2017." Bustle reached out to Stassi's representative for further comment on the Instagram story photo and its deletion, but did not receive a response by the time of publication.
In the original Instagram story photo, Stassi also captioned that Vanderpump Rules co-star Kristen Doute as sporting "Tupac chic." According to several sources, Stassi deleted the photo, replacing it with the caption with "Elsa — Indiana Jones chic" and adding the text, "Appropriate redo". She removed the offensive term, but it's possible the reference lingers. It appears she's likening her outfit to that of fictional character Elsa Schneider, an archaeologist and Nazi agent from 1989's Indiana Jones and The Last Crusade. The argument could be made that her blonde look was also a reference to Disney's Frozen. If not, then it seems her new photo was an attempt at clarifying her reference to a specific fictional Nazi from a film. It is important to note that her S.S. key chain is on full display in both photos; S.S. are Stassi's initials, but they are also happen to be the well-known abbreviation for the Schutzstaffel, a Nazi military organization that operated during World War II. She did not make any adjustments to the "Criminal chic" or "Tupac chic" captions on her friends.
After the post received massive fan reaction, Doute tweeted the following on Twitter, which may have been referring to Stassi's post.
Stassi has not issued any other formal response or apology for the photo caption, but fans have not been shy about letting her know how they felt about the use of the caption via Twitter.
Some fans thought Stassi using the caption in a humorous manner was insensitive.
Other fans felt that Stassi's Instagram caption was completely unacceptable and they were very direct about it.
Other fans reached out to Andy Cohen, who runs the Bravo network, and called for Stassi's immediate dismissal from Vanderpump Rules. The series was created by network president Andy Cohen, who is Jewish.
Longtime Vanderpump Rules fans also wanted a response from Stassi's former boss, costar Lisa Vanderpump.
Vanderpump Rules was created by Bravo's network president as a spinoff of Real Housewives of Beverly Hills, from which restaurant mogul Lisa Vanderpump emerged as the breakout star. While she's not involved with the show's production, she used to employ Stassi, and the two have maintained a close relationship in the years since.
The caption also caused the #DumpStassi hashtag to resurface in many tweets.
#DumpStassi first emerged on Twitter in Nov. 2017, when Stassi's comments about #MeToo sparked a protest of podcast "Straight Up With Stassi". Listeners reached out to advertisers like Rent the Runway and MVMT watches, imploring them to pull advertising from her podcast. She eventually deleted the episode and offered an explanation on her blog. Her apology statement read:
My intentions with this latest episode got lost with some of the comments I made that were insensitive and thoughtless. Before I explain my intent, I want to WHOLLY apologize for the flippant remarks where I said that no one could make me go down on someone, where I said it is easy to say no, and where I said it's easy to not go to someone's hotel room alone. I don't know what each individual woman was being put through in each instance. That was inexcusable and reckless of me.
Prior to the response on Nov. 27, Stassi also issued an apology on Twitter.
Stassi is yet to issue a formal statement regarding the Instagram story and its caption on social media or otherwise.