Stassi From 'Pump Rules' Says She's Not Letting Her Podcast Controversy Hold Her Back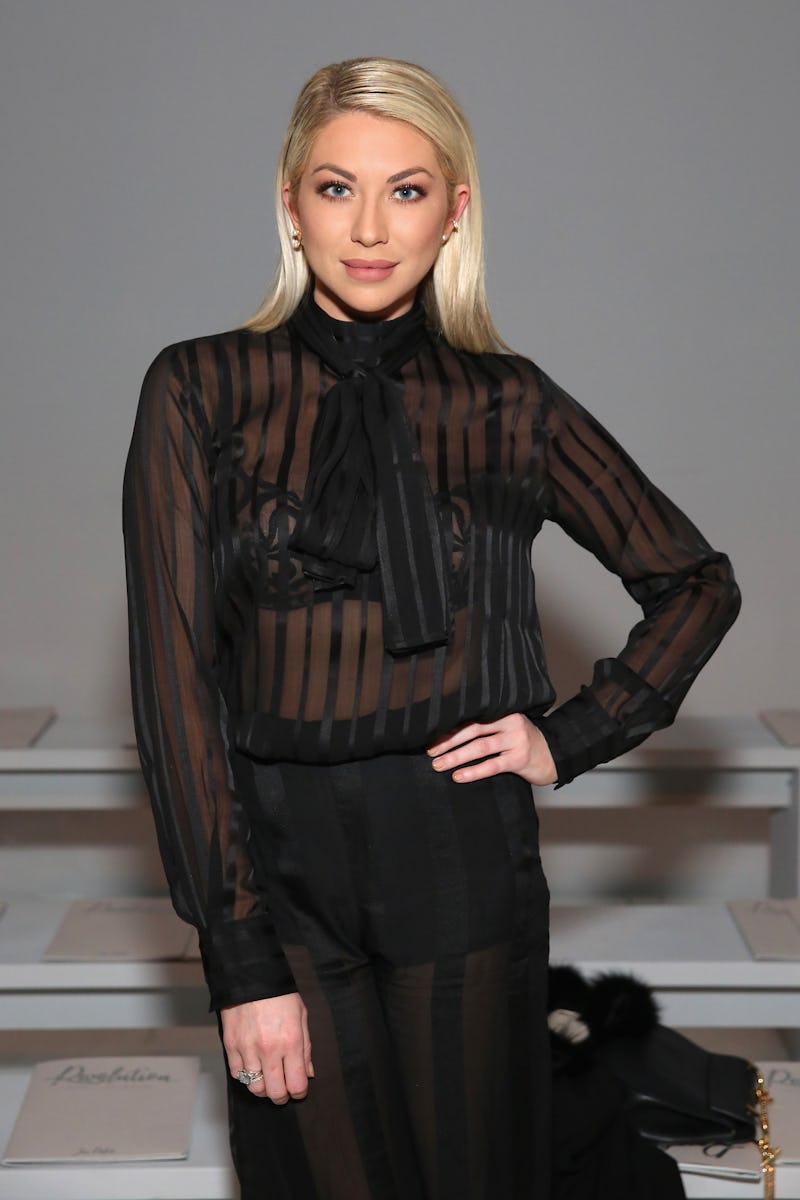 Monica Schipper/Getty Images Entertainment/Getty Images
Vanderpump Rules star Stassi Schroeder is no stranger to causing controversy. It's something she does weekly on the Bravo series and on her podcast, Straight Up With Stassi. But when Schroeder discussed the #MeToo movement in a now deleted podcast, titled "Are We On A Male Witch Hunt?" and originally posted on Nov. 24, the 29-year-old reality star received criticism like she's never seen before. Now, Schroeder tells Bustle that all she can do is move forward and continue to express herself as honestly as she always has.
After being asked if she's nervous about the reception she'll receive about her first podcast back since the controversial #MeToo segment, Schroeder says, "No, because there's nothing I can do now." (That episode was titled "Just two lil hustlers: Stassi & Taylor" and aired on Tuesday, Dec. 5.)
She continues, "I've done everything that I can to express myself to apologize for where I feel I went wrong but then also defend and explain what I was trying to say. So, you know, there are gonna be a lot of people that hate things and are not gonna like my podcast today, too. I can't make everyone happy. And I can't get in my head too much."
And if she were to get in her "head too much," then her podcast would be pointless. As the Bravolebrity says, "It would f*ck up the whole point of it."
As for how the situation involving her contentious podcast has affected her and her future episodes as a podcaster, Schroeder says, "What it's really done is just made me more aware of, more thoughtful of everyone else's own stories." She adds, "And you never know who or what somebody else who is listening has been through and that's what's made me, that's really what I think I've learned from that. I can't censor myself all the time. I am who I am and that's what my podcast is about. I just need to be more mindful of other people's personal experiences."
The seeming lack of mindfulness is something many people found fault with after her Nov. 24 podcast was released. She even lost advertisers. Schroeder was judged for reportedly criticizing the #MeToo movement, which has since claimed TIME's Person of the Year title. On Saturday, Nov. 25, she tweeted the following in response to the backlash:
She also wrote a lengthy letter on her website on Nov. 27, in which she addressed the comments she made during the podcast. Part of the letter reads:
My intentions with this latest episode got lost with some of the comments I made that were insensitive and thoughtless. Before I explain my intent, I want to WHOLLY apologize for the flippant remarks where I said that no one could make me go down on someone, where I said it is easy to say no, and where I said it's easy to not go to someone's hotel room alone. I don't know what each individual woman was being put through in each instance. That was inexcusable and reckless of me.
As for the comments she made during her "Are We On A Male Witch Hunt?" podcast, she tells Bustle, "I addressed that in my letter. I've talked about it so much now that I feel like I said everything I had to say."
She continues, "I spent two days in my apartment not showering, not brushing my teeth, just reading e-mails from people, because I tweeted out asking for people's stories, and once I read so many of them, I was like, I can't possibly put into words in a statement or three sentences how I feel and what I'm so sorry for, so that's why I wrote that letter and put it out there. And I stand by all of that."
In her letter, she also commented on the multiple sexual misconduct allegations made against former Senator Al Franken (which he has disputed), who announced his resignation from the Senate on Thursday, Dec. 7. "The attack on Al Franken is one of the stories that really inspired me to bring up this sensitive topic. A man, who I believe has been doing great things, might see his life/work/family go down in flames," she wrote.
In regards to that particular statement, Schroeder tells Bustle, "I'm not getting into it. No. I've learnt my lesson to not talk about it."
Even though Schroeder is trying her best to move past the controversy, she is going to do another podcast involving #MeToo. "I have a guest on who has a very poignant story and educates me a lot on everything," Schroeder told Australia's News Corp on Monday. She added, "I realized I couldn't just read people's long emails on a podcast, I had to have somebody there for me to talk to and interview, so I have somebody on and we spend the first half talking about normal things and then the last half really getting into that."
Despite everything she's faced over the past couple weeks, Schroeder isn't looking to uplift everyone along the way. She says she is here for anyone who wants to listen to her and if they don't want to, she's OK with that. "I am who I am and that's it. And if I can inspire someone in a good way, then that makes me happy," she notes before adding, "But no one's forced to look up to me."
Additional reporting by Kerensa Cadenas