Why The 'American Idol' Group Rounds Were BEYOND Stressful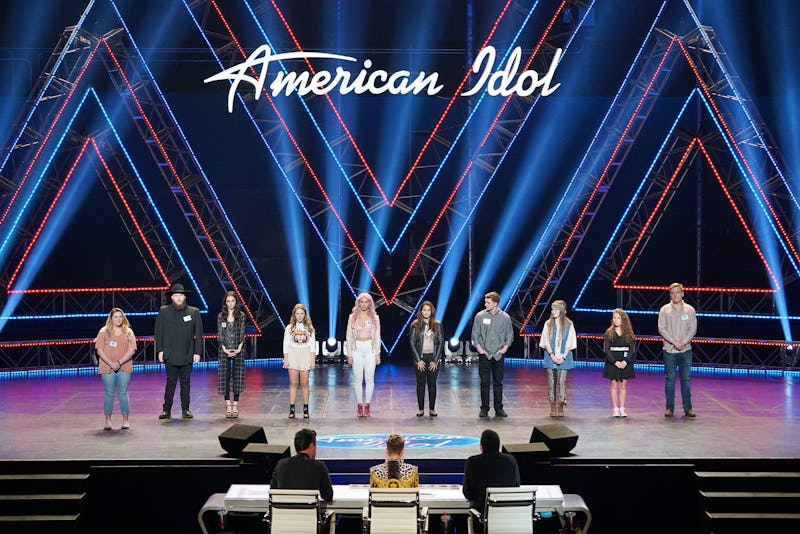 ABC/Eric McCandless
The Hollywood rounds of American Idol are notoriously stressful for the singing competition's contestants. Throughout the years, viewers have seen jet-lagged and exhausted wannabe stars sprawled around a hotel lobby as they attempt to conjure the energy and wherewithal to rehearse a snappy number that'll knock the judges socks off. The most dramatic and jarring of the initial Hollywood tasks is the group round, and this year was no exception. American Idol's group round was a hot mess, for so many reasons. A lot of big personalities are forced to mesh their attitudes and genres together into a cohesive group, and sometimes, things are bound to go awry.
Spoilers ahead for American Idol's March 26 eliminations. The first time things get dicey for a group is when Cesley Parrish, Samuel James, Maddie Zahm and Marcio Donaldson all have trouble trying to remember the words to the Bee Gees' "Staying Alive." The foursome rehearse and rehearse, but are simply not on the same page. "Right now, none of us are speaking. I have not seen any of my groupmates," Donaldson says. "They're all hiding. It's a big mess. It's a fiasco right now."
They come together for a bit of a final rehearsal in the end, but it's still a pretty questionable situation in which to walk onstage and sing for their lives. It, unsurprisingly, doesn't exactly go as planned — several of them completely blank. "I forget some of the words but I'm gonna keep doing it just like a bird," James croons, while Zahm throws in some melodic lines about trying her best to make it to the solo round.
Twitter loves it, and as it turns out, so do the judges. "I can only tell you that in your career, you will have so many nights like right now," Lionel Richie tells them after they wrap the performance. "When you can make up a song on the spot, that's a great try. That was your worst nightmare right there in front of you and you pulled it together with a smile." Ultimately, Parrish, Zahm and Donaldson head through to the next round, while James is sent home.
That is far from the last blunder of the group round, and it's apparent that the stress of the circumstances is taking its toll on contestants. Water and energy supplements are tossed around frantically like life jackets, which, in a sense, they are. And, amidst all the chaos, there is an opinionated mother, making things just a little more complicated for one group. Milo Sposato's mom, Shante, watches as he rehearses with his group, and deems their practice "underwhelming."
Sposato's brother had been sent home the day before, not making it to group rounds, and it seems that their mother is ready be as vocal as she needs to be to keep her other son in the game. Perhaps as a result of his mom's skepticism, Sposato changes up the arrangement at the last minute, adding an a cappella verse, and his fellow group members are not feeling it.
And when I say last minute, I mean the change is so sudden that the pianist onstage is literally shouting questions about this section of the song as the group takes its place onstage. In the end, Sposato's spontaneous a cappella turn pays off, as all members of his group make it through, but he's lucky that the gamble goes his way.
The last group to show a real struggle in working as a team is comprised of Laine Hardy, Juliana Madrid, Mia Desaris and Kaitlann Runnels. The girls of the group are self-proclaimed "Beliebers," and are overjoyed to be performing "Love Yourself" by Justin Beiber. Hardy, on the other hand, is less enthused about both the song and the dance number that is meant to accompany it. "Hopefully I can get through this," he says. "They said they're Beliebers — I don't listen to Justin Beiber." Ultimately he stumbles on some notes and lyrics — his nerves and discomfort surrounding the number are palpable — but he and Runnels scrape by into the next round.
Plenty of other groups have their moments during this infamous round, both low and high — but it ultimately makes for the drama of classic American Idol that plenty of viewers crave. Though these artists aren't signing up to be a part of a band or singing group, the round really shines a spotlight on who works well with others and can pull through in less than ideal situations. Next week, though, Idol moves on to the solo rounds to determine the top 24 contestants, likely much to the relief of those remaining. The freedom of total creative control moving forward is both an asset and a liability, depending on how each of these singers handle it, and they'll have to work it out under the watchful eyes of the thousands of viewers who have welcomed American Idol back to TV.