Why The Women Of 'Star Wars' Are The Fandom's New Hope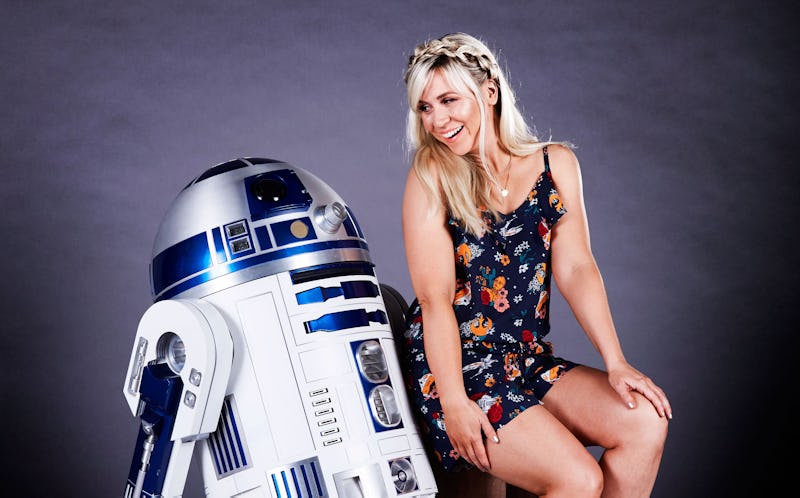 Courtesy of Her Universe
Every year on May the Fourth, I ride the subway from Brooklyn to Manhattan in some form of Star Wars gear to celebrate my fandom and become suddenly sheepish. Despite the fact that The Force Awakens and Rogue One made over three billion dollars worldwide combined, there's still a bit of a stigma in being a grown woman wearing a shirt that professes love for a sci-fi franchise. Every year at Star Wars Celebration, I allow my previously unstoppable fan theories about Rey's parentage and Luke Skywalker's fate in the new episodes to be quelled when dudes tell me I'm out of my depth. But every year, at any given moment, I seem to get more and more ladies in my corner — on screen and in our universe.
"It's a very exciting time when the lead character in The Force Awakens and coming up in Episode VIII is a female, it's Rey. In Rogue One, it was Jyn, and so we live in a time where there's leads in these films that are women," says Ashley Eckstein via phone just days after Star Wars Celebration 2017. The entrepreneur and actor runs Her Universe (a site that offers gear for women in all walks of nerdery). She also voiced the first female Jedi with an actual storyline in the canonical Star Wars universe: Ahsoka Tano of The Clone Wars and Star Wars Rebels. And while Eckstein says things have really come a long way (she's just been on a big-ticket Star Wars Celebration panel held in the convention's largest theater with two other Star Wars actresses in support of Forces of Destiny, a micro-series focused on three female protagonists), the Star Wars fandom hasn't always felt so inclusive.
"Through my research [before starting Her Universe], I found out that female fans and fangirls were being bullied terribly for liking this genre, so for so long, it was typically just for the men and the boys. But numbers proved otherwise," she says, offering that she found concrete proof that the fandom was just as much a woman's universe as it was a man's world (hence, Her Universe). Eckstein also points out numerous times during our conversations that what she's really seen from the fandom recently is an even split between men and women (and girls and boys). "It speaks to the fact that these are just strong characters that both genders and the entire family love and celebrate," she says.
And it's true. One look at the floor of the yearly convention makes it clear that the women in this realm aren't wives and girlfriends dragged to this gathering of sweaty dudes — the old-world understanding of sci-fi fandom. Star Wars Celebration is teeming with Reys, Leias, and Ahsokas, and on the show floor, Her Universe is far from the only retailer cashing in on female fandom. There is everything from purses and makeup cases to cosplay gear to art to avant garde shoes that double as cosplay gear and works of art. The female fandom has come to play at Celebration... and pretty much everywhere else.
And Eckstein has, in many ways, become the face of female fandom in the Star Wars universe — whether or not she'd give herself that title. Her character tread new ground back in 2008, before the name Rey was even a whisper on Jakku's winds. "It was shocking to people when they announced Ahsoka, when they announced that Anakin Skywalker had a Padawan and oh, by the way, it was a 14-year-old girl," she says. We'd certainly encountered an amazing female character in Carrie Fisher's Leia Organa and Padme Amidala had her moments (be honest, her "how liberty dies" line still gives you chills even if Revenge of the Sith did not), but at no point in canonical Star Wars storylines had we met a fully formed female character who also happens to be a Jedi warrior — until Ahsoka.
Star Wars, to me, is a story of hope. It's a story of good overcoming evil, and you can't put a gender on that. That's not gender-specific.
But when you look at the Star Wars landscape in 2017, Ahsoka doesn't stand out quite so much anymore — and there's actually something kind of magical about that. In the films, we've got Jyn Erso, Rey, and General Leia Organa. In the TV world, we have Jedi warrior Ahsoka and Mandalorian warrior (and Dark Saber wielder) Sabine Wren — both of whom will join Rey in the new lady-centric cartoon micro-series Forces of Destiny. In the video game world, we have Battlefront II protagonist (whose story is also canon) Iden Versio. This universe is practically bursting with complex female characters, and there's a lot more at stake here than just having tons of thinkpieces written about how it's about damn time.
"It's all about awareness and visibility, so the more that you see female characters in lead roles, in prominent positions, it becomes expected that they're supposed to be there," says Eckstein. While there are still detractors (go ahead and troll some subreddits if you want to see what it looks like when fanboys whine about Star Wars giving too much voice to people who don't look like them), the visibility is working. "When kids would play Star Wars on the playground before Ahsoka... yes, there were some smaller supporting characters from the films, but aside from Padme or Princess Leia, there were no other roles for the girls to be. Now, with more characters like this, [girls] are expected to be there. So when kids are playing Star Wars on the playground, there's characters for everyone to play."
Beyond the playground, of course, grown women are finding confidence in Star Wars' female protagonists, too. Leia has become one of the many faces of resistance during protests in 2017 — take one look at the Women's March on Washington and you'll find more than a handful of "A Woman's Place Is In The Resistance" banners bearing Carrie Fisher's likeness. On the business side, ambitious young women are watching as Lucasfilm is led by a largely female team (notably company president Kathleen Kennedy and head of story development Kiri Hart) guiding the future of Star Wars. On the screen, Rogue One's Jyn Erso offered a new kind of heroine in the sci-fi/fantasy film: a gruff, messy, aggressive soldier who (spoiler) sacrifices herself for a cause she believes in.
And while all this progress can't stop the haters from rearing their heads (just ask that new Battlefront II protagonist how her first week after Celebration went), Eckstein is still working to make sure that no one succeeds in excluding female fans, or any fans, from this rich universe.
"Star Wars, to me, is a story of hope. It's a story of good overcoming evil, and you can't put a gender on that. That's not gender-specific. I just wanted to say that this world is for everyone," she says.
And luckily, the folks behind these Star Wars stories continue to offer up that representation not just to female characters, but to characters who represent different walks of life and ethnicities, and hopefully someday people from the LGBTQ community too. And that sounds a lot like hope to me.