Why Trump Welcoming The Philippines President Is Controversial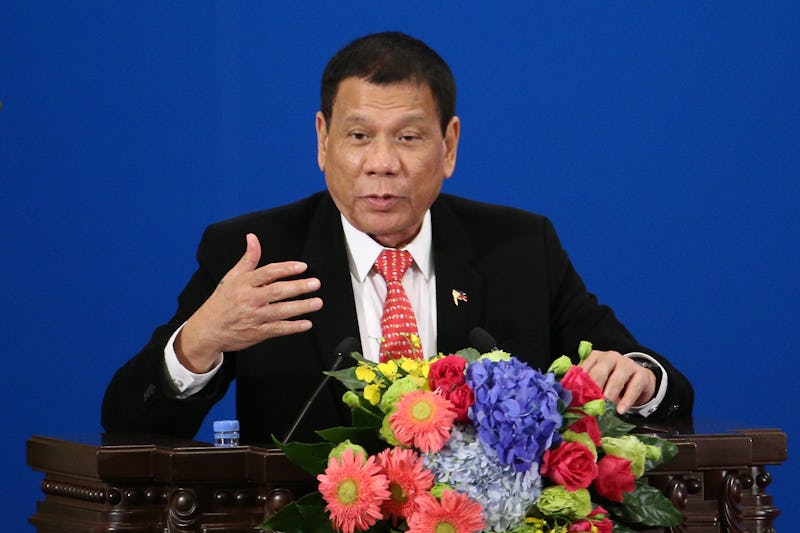 Pool/Getty Images News/Getty Images
Donald Trump was never going to be a president who followed the rules, but the full extent of that unpredictability is still shocking sometimes. This week, the Trump administration announced that a controversial world leader would be coming to Washington, D.C., and it's become a cause for concern among both the national and international political community. Trump invited Philippines president Rodrigo Duterte to the White House, and many are saying it's an extremely controversial call because of how Duterte has ruled the Philippines during his short presidency.
Since his election in 2016, Duterte has been harshly criticized for his treatment of the drug trade in the Philippines, which is abetted by the country's extreme poverty. Over 7,000 people have allegedly been killed by Duterte's government for being accused or known drug dealers, according to the LA Times, and several human rights organizations have officially condemned the actions of his government. Duterte even once compared himself to Hitler by saying that there were 3 million addicts in his country and he'd be "happy to slaughter them," and pointing to himself when he said, "If Germany had Hitler, the Philippines would have ..."
Trump's invitation to Duterte is also a bit of a slap in the face to his predecessor. Last year, Duterte allegedly called President Obama a "son of a whore" and told him to "go to hell" during a press conference, after which Obama canceled a scheduled meeting with the Filipino president.
Trump and Duterte seem to have similar management styles, and are both known for their brash and surprising rise in politics. Duterte and Trump also drew parallels to one another last year for their off-color public comments about women. Last year during his presidential campaign, Duterte "joked" about wishing he had participated in a gang rape in 1989. Regarding a rape and murder of an Australian missionary decades ago, Duterte said, "I was angry she was raped, yes that was one thing. But she was so beautiful, I think the mayor should have been first. What a waste." Trump, after having been accused of forcibly kissing a reporter, once said, "Take a look. You take a look. Look at her, look at her words, you tell me what you think. I don't think so."
Ultimately, though, Trump's invitation is in line with Trump's foreign policy of unrelenting militarism. The Philippines and the U.S. have a long and complicated history of colonialism that's led to some key military holdings there, and with the situation in North Korea ratcheting up, securing bases in Pacific could be crucial to maintaining world peace. It doesn't make the thought of an alliance with a president with authoritarian tendencies any more palatable, but it could be a real, legitimate reason for the men's meeting.
Whatever the reason may be, it's concerning to many that men like Duterte are allowed in America's most hallowed halls. The international political community be keeping an extremely close eye on this meeting in case it could broach dangerous territory.