There's One Line From Melania's "Be Best" Announcement People Just Can't Get Over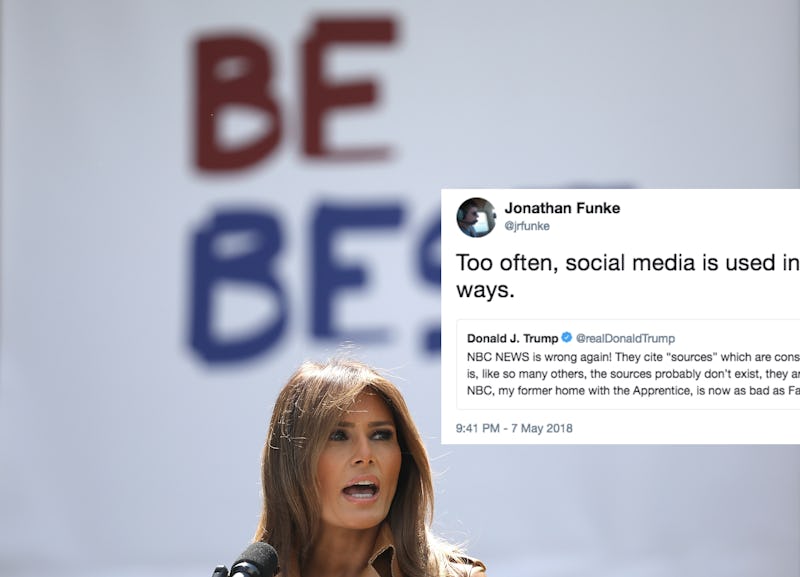 Standing in the White House Rose Garden on Monday, First Lady Melania Trump announced "Be Best," her formal platform to improve children's well-being. The campaign has three pillars: emotional well-being, combating social media abuse and ending the opioid epidemic.
"Social media can be both positively and negatively effect on our children, but too often it is used in negative ways," Melania said at the announcement. Her campaign aims to teach kids how to use social media as a force for good in the world.
Melania said she wants children to develop healthy use of social media, so they won't feel pressured to engaged in risky behavior. "As a mother and as first lady, it concerns me that in today's fast-paced and ever-connected world, children can be less prepared to express or manage their emotions and oftentimes turn to forms of destructive or addictive behavior such as bullying, drug addiction or even suicide," she said.
The internet immediately seized on the phrase "used in negative ways" because of her husband's penchant for cyberbullying lawmakers, journalists, and celebrities alike.
The First Lady hosted executives from social media companies like Twitter in March to discuss cyberbullying. During the summit, Melania acknowledged her skeptics but said the criticism of her choice to focus on cyberbullying and internet safety will not deter her.
"It will not stop me from doing what I know is right," she said, according to New York magazine's The Cut. "I'm here with one goal: helping children in our next generation."
She emphasized the crucial role adults can play in setting example for young people online. "Adults can provide them the support and tools they need to grow up to be happy and productive adults who contribute positively to society and their global communities," Melania said during her speech on Monday.
President Trump was on hand during the announcement, and did not seem to notice any shade — intended or otherwise.
Trump was at the Rose Garden to support Melania, and gave brief remarks afterward. "Your care and compassion for our nation's children inspires us all," he said. Afterward he signed a proclamation declaring May 7 to be Be Best Day.
Some thought her word and abject choice might be coincidence: "Maybe or maybe not throwing shade at @realDonald Trump". While other's created fun historical fiction about the phrase. And the meme staple, the American remake of The Office, also showed up for a couple jokes.
These jokes are similar vein on jokes about Melania Trump's "Be Best" campaign, which rolled onto timelines near you at the same time as "used in negative ways." Regardless of both joke formats, Melania's approval rating is 57 percent, which is the highest it's been since CNN started tracking the First Lady's approval among voters.
Only time will tell if Melania Trump gives into the critics this time around — and how successful her initiatives to improve childhood well-being will be. Until then, enjoy these tweets!