The Guy Trump Just Fired Apparently Has No Idea Why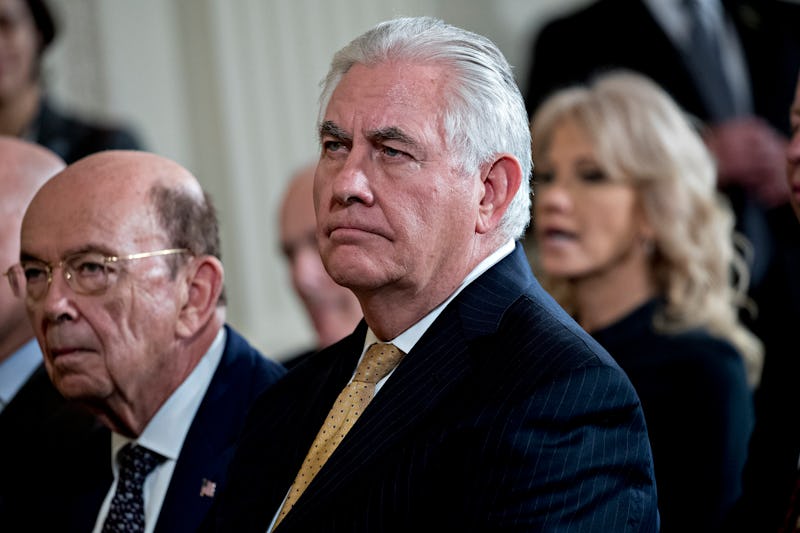 Pool/Getty Images News/Getty Images
High turnover within the Trump administration continues — but this time, the reason for a top Cabinet member's ousting is somewhat unclear. The Washington Post reported Tuesday that Trump booted his secretary of state, but why was Rex Tillerson fired? He apparently doesn't know.
UPDATE: The White House also fired a top Tillerson aide who broke from its official account of Tillerson's ousting, the Associated Press reports. The aide was reportedly Steve Goldstein, the undersecretary of public diplomacy for the State Department, who told reporters Tillerson was "unaware of the reason" for his firing.
"Rex and I have been talking about this for a long time. [The two of us] got along actually quite well, but we disagreed on things," President Trump said Tuesday morning. However, the State Department said in a statement that Tillerson "had every intention of staying" and "did not speak to the President and is unaware of the reason" for his sudden departure.
"He will miss his colleagues at the Department of State and the foreign ministers he has worked with throughout the world," said Steve Goldstein, undersecretary of public diplomacy for the State Department, in the statement.
Although Trump didn't explicitly say why Tillerson was out, he hinted that it had something to do with the Iran deal when announcing that CIA director Mike Pompeo will replace Tillerson Tuesday morning. The president said he thought the deal limiting Iran's nuclear program was terrible, while Tillerson wanted to keep it for now.
"We were not really thinking the same," Trump said. "With Mike Pompeo, we have a very similar thought process. I think it's going to go very well."
The timing of Tillerson's firing raises questions, though. The day before his ousting was made public, the Associated Press reported that Tillerson disagreed with the White House's evaluation of the poisoning of Sergei Skripal, a former Russian spy, and his daughter in Britain. While Tillerson called the incident a "certain unleashing of activity" by Russia that warranted a response, the White House wouldn't say whether or not Russia was behind the attack. Trump didn't mention Skripal on Tuesday, but firing his secretary of state for suggesting the U.S. take action against Russia would be bad optics for an administration currently under federal investigation for potential collusion with the Kremlin.
In a Monday phone call with British Foreign Secretary Boris Johnson, Tillerson said he's grown "extremely concerned" about Russia, AP reported. Tillerson apparently said he spent his first year in the White House trying to better America's diplomatic relations with Russia, but added that "we didn't get very far."
"Instead what we've seen is a pivot on their part to be more aggressive," Tillerson said. "And this is very, very concerning to me and others that there seems to be a certain unleashing of activity that we don't fully understand what the objective behind that is."
President Trump thanked Tillerson for his service in a tweet Tuesday morning, also announcing that the current CIA director will fill Tillerson's spot and Gina Haspel will head the CIA. Haspel will be the first female CIA director, stepping up from her current role as deputy director of the agency. There are some skeletons in her closet, as The New York Times reported last year that Haspel previously "oversaw" the torture of two terrorism suspects. Both Haspel and Pompeo must be confirmed by the Senate before officially accepting their new roles.
It's unclear where Tillerson will head next, considering he wasn't aware he would be fired. Though Trump said he "likes Rex a lot" and will "be speaking direct over a long period of time," rumors that he would replace Tillerson with Pompeo began months ago. The initial plan was reportedly devised by White House chief of staff John Kelly with support from others close to Trump.
The president had yet to sign off on the plan until this week, firing the secretary of state with no notice and without giving a clear reason.