Why 'The Last Jedi' Didn't Get Any Love From The SAG Awards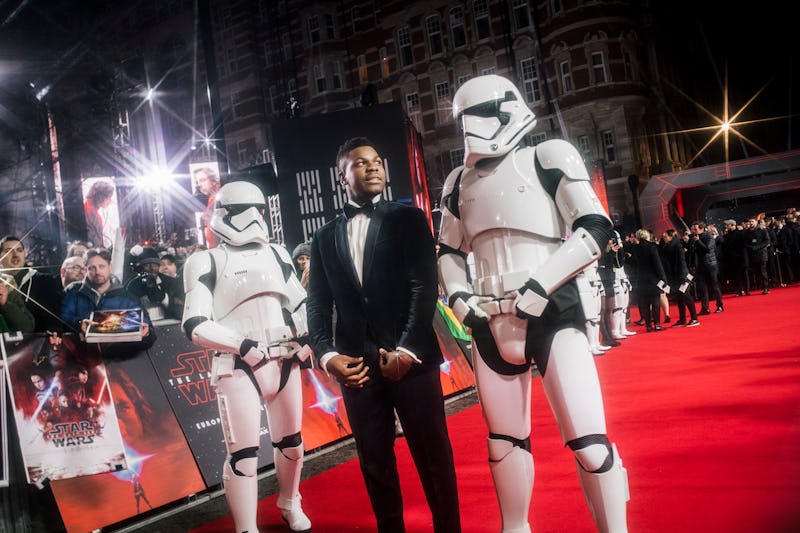 Gareth Cattermole/Getty Images Entertainment/Getty Images
Awards seasons is in full swing, and there's not an entertainment lover among us who doesn't like to see his or her faves on the nomination screen. (And it's even better when they win.) The 2018 Screen Actors Guild Awards are next, on Jan. 21, and notably, one of the biggest movies of the year is missing from its nomination list:Star Wars: The Last Jedi (co-producer: Pippa Anderson) Why wasn't Star Wars: The Last Jedi nominated for the 2018 SAG awards?
Let's start off by saying that Star Wars: The Last Jedi (casting: Nina Gold and Mary Vernieu) is not hurting in any way. The movie has made over a billion dollars since its premiere in December 2017, so everyone has made their money back and all that. But no love from its peers? The SAG Awards are voted on by actors in the Screen Actors Guild, so winning one is like winning prom queen or something. You're being judged by people you know and not the Hollywood Foreign Press (like for the Golden Globes), so winning a SAG award means something different. It's all actors, voting on actors.
I scoured the eligibility guidelines for 2018 SAG Award consideration, and the only real parameters are that — if it's a movie we're talking about — the movie had to be released in 2017, run for at least a week in theaters, and be of feature length. Star Wars: The Last Jedi did all of those things, so this isn't a matter of not being qualified because of a technicality. Unfortunately, the majority of the Screen Actors Guild didn't felt strongly enough about Star Wars: The Last Jedi to give it a statue. Sad.
That being said, the aforementioned entertainment lovers should know that those blast-off, big-box-office-number films aren't usually the ones who snag nominations. The arthouse movies, the ones where actors have to transform themselves physically, the ones where an actor has to play a historical figure — those are the ones that seem to rack in the statuettes and the acceptance speeches. Star Wars: The Last Jedi was pure fun, and I guess that's not recognized as frequently.
But before you hang your head in shame, Star Wars fans, let's look on the bright side. Star Wars: The Last Jedi has been nominated for a whopping nine Empire Awards, including Best Film; Best Director (Rian Johnson); Best Female Newcomer (Kelly Marie Tran); Best Actor (John Boyega); Best Sci-Fi/Fantasy Film; and Best Visual Effects, among others. The Empire Awards are voted on by the fans, so winning one of those will probably mean more than any other award. They like you. They really like you. And on the special effects side, Star Wars: The Last Jedi production designer Rick Heinrichs was nominated for an Art Directors Guild award for Best Fantasy Film.
Arguably, Star Wars: The Last Jedi could have probably gained some more nominations and awards if the producers had chosen to screen the film to critics before December 9, 2017. By that late in the year, many awards show submission deadlines had passed, so Star Wars: The Last Jedi never had a chance. Disney certainly believes in the film, as, according to Screenrant, the film is being given a full-fledged Oscar campaign. They're looking for Best Picture, Best Director, Best Actress, Best Actor, and a bunch of awards for visual effects and editing — all of the categories that make your skin prick up and your body tingle while you're sitting in the theater.
Will Star Wars: The Last Jedi scoop up the Oscar nominations it so desires? It's hard to say. The nominations will be announced on Tuesday, January 23 beginning at 8:22 a.m. ET on television and on Oscar.com, so fans won't have to wait for long to find out. That being said, there's only one opinion that matters when you're making a movie, and that's pleasing fans. Suffice to say that Star Wars: The Last Jedi has done just that.