Why You Need To Protest The AHCA Right Now More Than Ever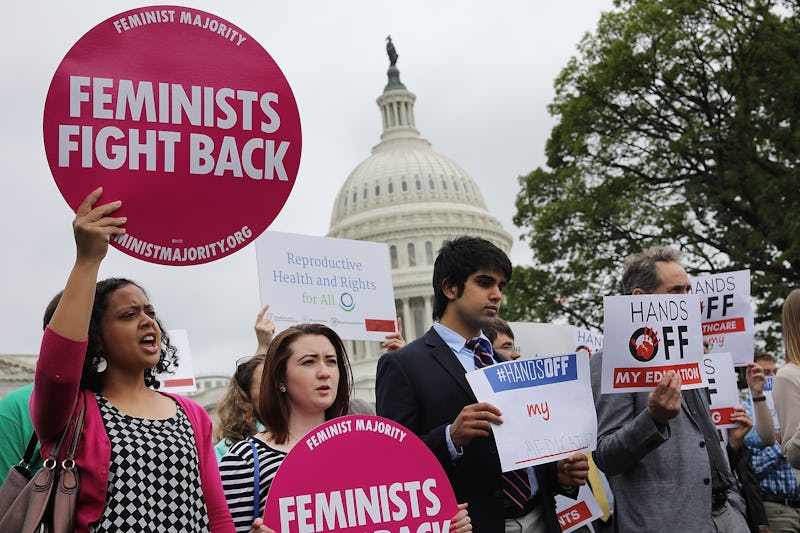 Chip Somodevilla/Getty Images News/Getty Images
The barrage of phone calls that lawmakers were receiving have reportedly petered out in recent weeks. But it's now more important than ever to call your representatives because, as Center for American Progress Vice President Katie Hamm suggests, Republicans may use a drop-off in calls as a reason to justify the passage of their Obamacare replacement bill, the American Health Care Act.
Hamm tweeted on Tuesday that "Senate says they are not getting flooded with phone calls on health care." After Donald Trump was elected president in November, congressional phone lines were called so frequently that they began giving busy signals, according to The New Yorker. However, according to at least two activists, phone calls to U.S. senators have dropped off to pre-Trump levels.
While the AHCA has passed through the House of Representatives, its sister bill has yet to see the floor of the Senate. In fact, top Senate Republicans are writing their version of the AHCA right now, and doing so rather secretively — even some of their GOP colleagues don't know what's in the bill. "I want to know exactly what's going to be in the Senate bill, I don't know it yet," Wisconsin Republican Sen. Ron Johnson said, according to USA Today. "It's not a good process."
Some of this secrecy may be in part due to the fact that Republicans are trying to get a bill to the floor as soon as possible. "We're getting close to having a proposal to whip and to take to the floor," McConnell said last week. According to Axios, Senate Republicans are almost done with the draft, but have no plans to release it publicly any time soon. "We aren't stupid," said a top GOP Senate aide told Axios. "We are still in discussions about what will be in the final product so it is premature to release any draft absent further member conversations and consensus."
So while we may not yet know what's going to be in the Senate's health care bill, if it's at all like the House legislation, it will, according to the Congressional Budget Office, strip an estimated 23 million Americans of health care in the next decade. If this upsets you, call your senator before it's too late.
There are some ways to prepare yourself for the phone call — an obvious one is to make sure they represent your state! — but if you doubt your senator they'll actually listen to you, stop right there. In January, according to a Washington Post reporter who spoke to House representatives, Congress members changed their minds about a bill that would eliminate the Office of Congressional Ethics due to a deluge of angry callers.
Luckily, if the GOP senators' process in drafting the AHCA makes your blood boil, the Daily Kos has collected the phone numbers of Republican senators so you can call to urge them to stop this bill.