Producer Mandy Teefey Has An Open Mind About '13 Reasons Why' Season 2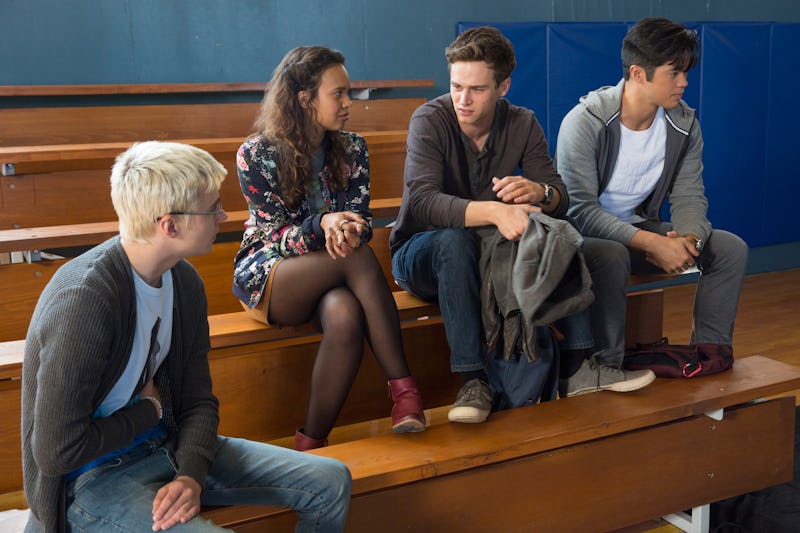 Beth Dubber/Netflix
If you haven't yet recovered from watching Netflix's original series 13 Reasons Why, you have plenty of company. Jay Asher's book of the same name was an emotional, painful read — but the TV series adjusted certain details in a manner that made the show even more brutal and heartbreaking. By providing an unflinching, realistic depiction of bullying, sexual assault, mental illness, and suicide, the show shed light on issues that don't get nearly enough attention. The book depicted all events solely through Hannah's eyes, but the TV series provided backstories and depth to the show's other characters. Many aspects of their storylines were left unresolved — so is there a chance that 13 Reasons Why will return for Season 2? Spoilers for 13 Reasons Why ahead.
In an interview with Bustle, Mandy Teefey, who co-produced the series with her daughter Selena Gomez, says she would consider it — but she wants to be careful to honor the series' inspiration. "It's an internal battle with myself and Selena as well, because it's always been a miniseries and I always wanted to honor Jay's work and really make him proud," Teefey says.
She also notes that everyone involved would need to think carefully about how a potential Season 2 would be approached. "To go that step, how do we top it? We've put so much work and heart and research and everybody gave their all," Teefey says. "Do we end on that note or do we expand on another issue? And how do we just honor the original material?" But, despite her concerns, Teefey is keeping an open mind.
"I'm on the fence, so, it's just gonna have to be how it comes back," Teefey adds. "I mean, I would totally support anything that can help people."
In an interview with The Hollywood Reporter, Gomez and Katherine Langford (who plays Hannah) also weighed in a possible Season 2 — and both women emphasized that there are more stories to tell. "We don't know what is going to go beyond it, but we know there are so many stories that lie beneath each character," Gomez told the outlet. "That's why it became a series in the first place. So we'll see."
Langford said that after the finale, her first thought was, "Oh my God, that's the story that needed to be told." However, she agrees that the stories of supporting characters could use elaboration. "There's definitely more story to tell. It would be cool to continue the dialogue of this story," Langford said in the same interview. "There are so many cliffhangers at the end of the season."
Because of the book's format, it was difficult to feel connected to any characters other than Hannah and Clay. The focus was on how their actions had impacted Hannah, so these characters were depicted solely from her perspective and were thereby fairly one-dimensional. The same isn't true of the show — although they're certainly flawed (some far more than others), viewers are privy to the struggles of characters other than Hannah.
Of course, one major cliffhanger is whether or not Bryce will be brought to justice — Mr. Porter failed Hannah in a major way when she sought help after her rape, but Clay provides him with a recorded confession from Bryce. I sincerely hope that the school counselor takes immediate action, and a potential storyline could be how Bryce's case is handled — and how it will impact Jessica, his other victim who is still alive and suffering.
There's also the matter of Hannah's parents, who played a very small role in the book — Tony hands them the tapes in the season finale because he feels they deserve to know the truth. They've filed a lawsuit against the school, and the tapes certainly prove that the school didn't do their job of protecting Hannah — the tape of Mr. Porter victim blaming Hannah and telling her to "move on" is damning evidence of that. But winning a lawsuit will be cold comfort, and rebuilding a life after losing their only child could also make an interesting story — especially because Kate Walsh and Brian d'Arcy James gave such amazing performances.
And, of course, will Alex survive his own suicide attempt? There are ample storylines to pursue, but it's totally understandable that neither Teefey nor Gomez wants to commit to a second season just yet. One of the things that makes 13 Reasons Why such incredible TV is its refusal to provide neat, tidy explanations and resolutions for everything — because that's not how life works. We're always left with unanswered questions, including the backstories and secrets of the people we see on a daily basis.
The cliffhanger aspect, in my mind, made the show even more compelling. But, if Season 2 does happen, it's clear that everyone involved is committed to honoring the original material — and they'll only film more episodes if they feel completely confident that the scripts contain important stories that could potentially help viewers of all ages.
Additional reporting by Samantha Rullo.