'AHS: Apocalypse' Star Leslie Grossman Just Debunked A Major Season 8 Theory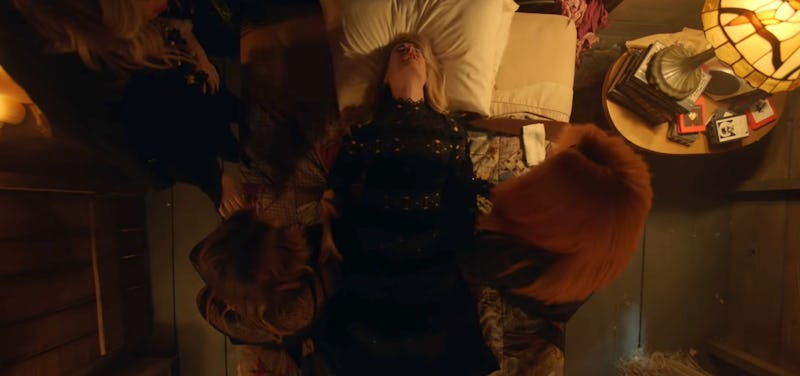 FX
American Horror Story: Apocalypse started amid the aftermath of a world-ending nuclear attack, but halfway through, shifted to a sequence of flashbacks that have now lasted half the season. The penultimate episode, "Fire and Reign," still focused on the events leading up to the destruction, leaving a a lot of ground left to cover in the extended-length finale. So much so, in fact, that fans have begun to wonder if AHS Season 9 will be an Apocalypse sequel.
However, Leslie Grossman (aka calorie-counting witch Coco St. Pierre Vanderbilt) confirms to Bustle that Apocalypse will tie up its loose ends. "A lot of people have said, 'How are you going to wrap this up in only two episodes?! There's still so much to go,'" Grossman says. "We wrap it up! But you better pay attention cause every minute is jam-packed. Episodes 9 and 10 are the least boring things you're ever going to watch. There's so much going on."
And she's not wrong. In "Fire and Reign," Michael enlists Voodoo Queen Dinah Stevens to break the protection spell surrounding Miss Robichaux's Academy, allowing the robot version of Ms. Mead to kill most of the Coven's witches. Only Cordelia, Myrtle, Madison, and witches-in-training Coco and Mallory make it out alive. (Misty Day misses the massacre, probably because she's off somewhere with Stevie Nicks.)
Afterward, Cordelia and Myrtle try to devise a plan to reincarnate their fallen sisters. It seems Michael, as he did at Murder House, erased their souls from existence, but the witches believe that Mallory can do the "tempus infinitum" spell to go back in time and stop him. However, as Mallory's trip to 1918 Russia to save Anastasia Romanov proves, she's not yet powerful enough to defeat Michael in this way. So, the witches must buy some time.
Only in the world of American Horror Story could a new Anastasia storyline be introduced with less than an episode and a half to go. And as fans were already thinking this season couldn't possibly be wrapped up in 10 episodes, "Fire and Reign" may have cemented the sequel theory in some people's minds. But don't fret; Grossman says viewers will be happy with how things conclude.
"I think it's going to be a really satisfying ending for the fans — a really satisfying ending," she says before teasing, "I promise you, there are surprises up until the very, very end."
Based on the preview for Episode 10, "Apocalypse Then," that will mean finally explaining how Cordelia plans to take down Michael. We've already learned that the Cooperative, who are really the Illuminati, helped orchestrate the nuclear attack that began the season, and that Michael built the outposts for the families of these elite people. Apparently, letting him follow through with this scheme is all part of Cordelia's big picture. "In order to save the world, we will have to watch it burn," she says in the preview clip. And then it hints at how the witches will use their identity spell to plant Coco, Mallory, and even Dinah in Outpost 3.
Cordelia, Madison, and Myrtle already resurrected these three witches-in-hiding back in Episode 3, "Forbidden Fruit." So the finale will need to take viewers back to the present to see how they come together to defeat Michael. That's a pretty almighty task, especially since it should mean seeing the ascending Supreme Mallory in the past, the present, and time traveling to fix the future.
In short, things will have to get much worse before the witches can attempt to save the day. But, as the season finale's title suggests, it's very possible that Mallory and the rest of the coven will be able to go back in time to stop Michael, changing this season from Apocalypse Now to Apocalypse Then.