This New Netflix Show About Female Friendships Will Make You Tear Up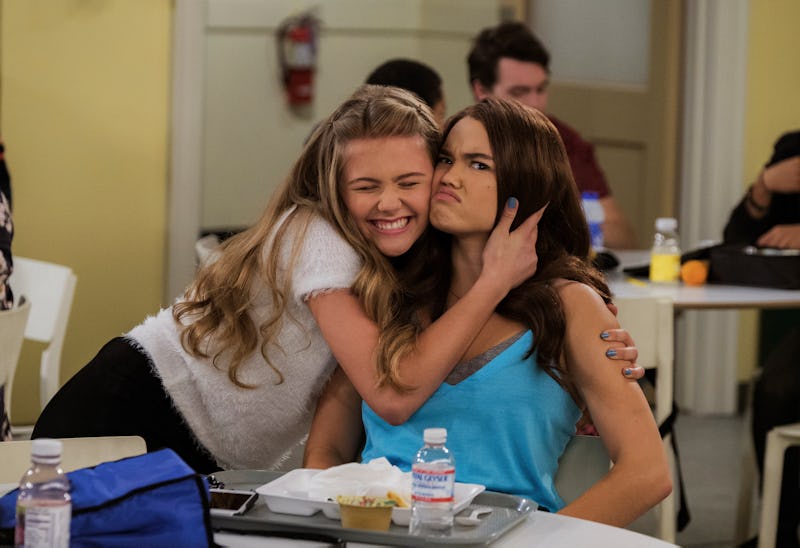 Courtesy of Nicole Wilder / Netflix
As we all know, Netflix is killing the TV game right now. The streaming service has had a ton of originals hitting the site recently, from the latest season of One Day at a Time to a must-see documentary series about a cult, Wild Wild Country. And now there's a new original sitcom, Alexa & Katie, to add to the list. Already, Netflix has ordered 13 episodes for the show, all being released on Friday, March 23. While there unfortunately isn't word on Netflix's Alexa & Katie Season 2 just yet, audiences shouldn't wait on checking out the heartwarming, emotional show as soon as possible.
The new series stars Paris Berelc as Alexa and Isabel May as Katie, two best friends starting high school together while dealing with intense personal trauma. Alexa has been diagnosed with cancer, and the show follows her as she works through the pain of that experience with Katie by her side as her support system. In addition to her pal, Alexa has a pretty great family, which includes her mom, played by Tiffani Thiessen of Saved By the Bell fame. Alexa's dad, meanwhile, is played by Eddie Shin, known to Gilmore Girls fans as Henry Cho.
On paper, Alexa & Katie might seem like it's meant to be in the same vein as a series like Best Friends Whenever or Girl Meets World. However, in actuality, the new show is very different in many ways. Sure, it follows the general Netflix sitcom formula of featuring a loving family and containing a lot of laughs for viewers, but the fact that it deals with serious content matter that's oftentimes tragic and upsetting makes it stand apart from its peers. In fact, the show Alexa & Katie is truly most like is One Day at a Time, a series that uses both comedy and drama to bring the audience in and fill viewers with emotion. You can be that Alexia & Katie will do the same in its first season.
It won't be long before audiences watching Alexa & Katie become attached to the show, something that tends to happen with Netflix series. Just look at 13 Reasons Why, which, despite being very controversial, was also one of the most tweeted about shows of 2017 and is coming back for a second season later this year. Then there's the beloved Jessica Jones, whose Season 2 features only female directors; the Marvel superhero series causes fans to lose their minds every episode, whether it's due to the action-packed drama or heartbreaking conversations between characters. Alexa & Katie is very different than both those shows, of course, but you can bet that viewers will be drawn in just as much.
While you're waiting for Alexa & Katie to premiere on March 23, there are plenty of other shows you can marathon in the meantime, all of which are luckily available on Netflix). You should check out the similarly-themed One Day at a Time, of course, but there are also heartwarming series like Jane the Virgin and Queer Eye to watch, as well. And if you want something focused on friendship, check out New Girl or Everything Sucks. You won't be disappointed.
Alexa & Katie may get depressing at times, due to its cancer-focused storyline. It'd be understandable if it's too much for some viewers, who might prefer to spend their Netflix time watching shows that are all happiness and no drama. But if you're willing to give it a shot, check out the new series, which features a positive take on female friendships and supporting one another through life's most challenging times.