Why Netflix's New Sci-Fi Drama Could Theoretically Go On Forever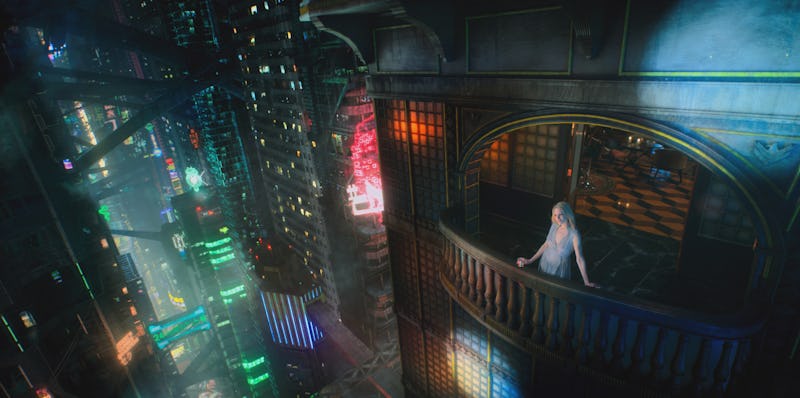 Netflix
Netflix loves its science fiction, but Altered Carbon (assistant director: D. Joanne Malo) is the streaming platform's most visually ambitious sci-fi series yet. The series is set in a painstakingly created futuristic metropolis to tell a gritty, violent story about identity and the nature of humanity. But will that be enough for Netflix to order Season 2 of Altered Carbon? The platform has yet to announce if the series, premiering Feb. 2, will return, but sci-fi fans have plenty of reason to be excited that Altered Carbon will continue.
UPDATE: According to Netflix, Altered Carbon has been renewed for a second season with Anthony Mackie playing Takeshi Kovacs. The premiere date hasn't been announced yet.
Based on a 2002 novel by Richard K. Morgan, Altered Carbon (writer: Laeta Kalogridis) introduces audiences to the futuristic ideas of "stacks" and "sleeves." Stacks are storage devices that have become the new home for a person's consciousness, and sleeves are physical bodies that stacks can be placed into, thus allowing the stacks to move from body to body after their sleeve has died or become inoperable. Actor James Purefoy plays Laurens Bancroft, and explained to reporters at a recent press event how that storyline could affect production of Season 2.
"It's a producer's wet dream," Purefoy says, "because of none of us have to appear in the next season. Our characters may appear, but our bodies can be left in the unemployment line."
Basically, characters aren't tied to physical appearance in the series. If audiences are interested in Altered Carbon, Netflix could theoretically keep the story going forever by having new actors play recognizable characters.
While the streaming giant's previous sci-fi shows, including Sense8 (creators: Lana and Lily Wachowski), Stranger Things (associate producer: Emily Morris), and Black Mirror (Executive Producer: Annabel Jones) have placed science-fiction elements in the recognizable world, Altered Carbon is adapting a whole society from the novel. And that society proves to be a far cry from the world as it exists in 2018. Star Joel Kinnaman, who plays Takeshi Kovacs, told Yahoo! Entertainment that Altered Carbon is "pretty much Netflix's biggest endeavor." He continued, "They're really going to be able to create a world that's got a bigger budget than the first three seasons of Game of Thrones."
However, with the difficulties that come with creating a futuristic world from scratch, also comes the benefits of being able to swap out the cast if necessary. But that conversation is still to come. When asked about a second season, Joel Kinnaman told NME, "Netflix policy, the way that they work, is they never discuss a second season until they have released the first one." Though he wasn't able to confirm the story's continuation, Kinnaman expressed, "I don't know if I would be in a second season. I think there's a big chance that Kovacs would be re-sleeved if there was a second season…"
While Netflix has yet to confirm that the show has been renewed for a second season, the fact that two of the show's stars have hinted that their characters could come back without the actor returning seems to be setting up an entire list of Doctor Who-type roles, where the character lives on through an ever-changing roster of actors. This is especially useful for the lead role of Takeshi Kovacs. The story told in the novels that follow Kovacs after Altered Carbon (Broken Angels and Woken Furies, also by Richard P. Morgan) can continue to be adapted even if another actor is playing the character.
Altered Carbon has the chance to be one of Netflix's most exciting and surprising original releases of 2018 so far, and the plot arranges it so that the show can continue, even if the cast completely transforms.
Additional Reporting by Dana Getz.