Why 'Big Mouth' Doesn't Just Deserve A Season 3 — It Demands One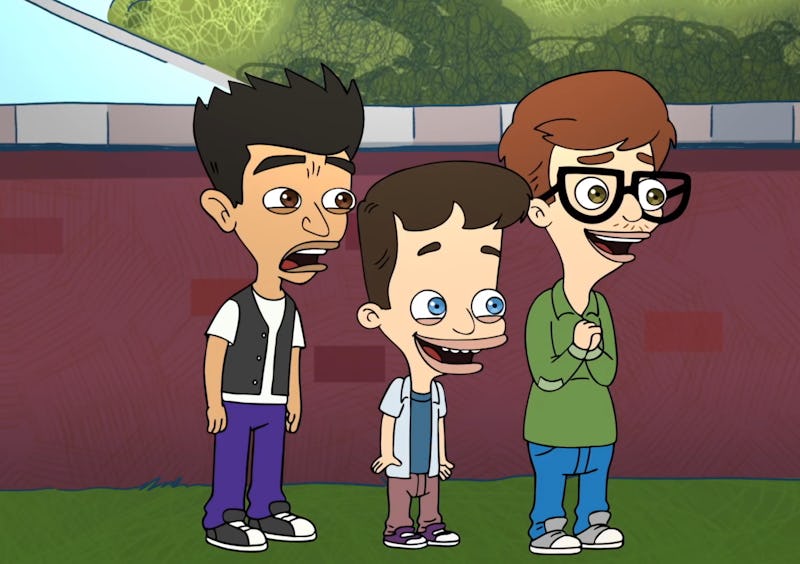 Netflix
Puberty, R-rated musical numbers, and gross-out humor all came together in a melting pot of perfection last year for Netflix's animated sitcom, Big Mouth. Co-creator Nick Kroll voices the main character of Nick, and he along with a host of other superstar actors, writers, and producers put a raunchy, stomach-churning twist on what it's like to be a kid first confronting adolescence. All of which is to say that, after its Season 2 release on Friday, it's very likely that Big Mouth will return for Season 3.
Update: Per a press press release, Big Mouth has been renewed through Season 6.
Earlier: While there's no word yet on an official renewal, Netflix didn't announce an order for Season 2 until late October last year, nearly a full month after Season 1 began to stream. So, a confirmation could be just around the corner — especially since, based on Season 1's reception alone, continued success seems like a strong probability for Big Mouth. The initial episodes currently hold a coveted 100 percent positive, "Certified Fresh" rating on Rotten Tomatoes among critics, and fans on Twitter are already waiting anxiously for the new episodes to drop.
Early buzz for Season 2 has also been largely positive. Alan Sepinwall wrote for Rolling Stone that "for a show with so many dumb characters... Big Mouth is whip smart about so much." And Kayla Cobb wrote in her review for Decider that the show's second effort is just as funny, but perhaps even more resonant than its first.
"Whereas Big Mouth's first season often drifted between random shock humor and its more effective, character-driven through lines, Season 2 leans more on its strengths," she said. "Yes, the jokes are still gross, and yes most of the show would be illegal if it was performed with real children. But the end result is also more biting and, as a result, more laugh-out-loud funny than the show used to be."
Given Big Mouth's all-star cast, its success isn't surprising — if that many of your faves are involved, it has to be good, right? And this time around, they're expanding the universe. In addition to his main role as Andrew, Kroll's longtime collaborator and Oh, Hello costar John Mulaney voices another character this season, as do fellow regulars Maya Rudolph, Fred Armisen, Jason Mantzoukas, Jordan Peele, Jenny Slate, Andrew Rannells, Jason Mantzoukas, and more. Plus, Gina Rodriguez (Jane the Virgin) and David Thewlis (Harry Potter) have joined the roster this time around. Needless to say, Big Mouth's end credits are stacked, and it only adds to the sense of fun the show brings along with it.
Moreover, the show nails the balance between being comedic and real. Kroll told Time magazine last year that he knows the series can touch on taboo subjects that come along with puberty and changing bodies, but that those are the conversations he wanted to be having. "As open as society is, there are still certain things that we feel like are too awkward to talk about," he said. "And those are the things that we wanted to zero in on specifically."
He also explained that he wanted Big Mouth to reflect issues real kids are facing as they grow up, without coming off as hokey or preachy. "Our goal was to address the real things that kids are feeling, but do it in a way that would ultimately feel funny," he continued. "So maybe there's a lesson in there, but hopefully you're going to enjoy yourself and laugh through the pain and awkwardness."
Big Mouth is definitely something much different than a cheesy after-school special — truly, some of the dirtier jokes they get away with are astonishing — but it does launch into topics our society often won't touch with a ten-foot pole. It's a refreshingly honest journey through embarrassing moments nearly everyone has faced, and one with sidesplitting humor to boot. Hopefully, it has many more seasons to come.
This post was updated on July 26, 2019.