What Could Potentially Happen To Bill Cosby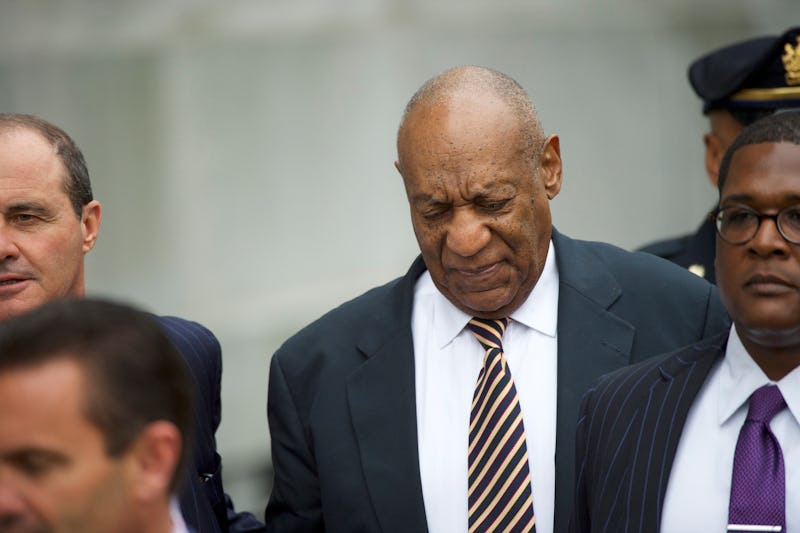 Mark Makela/Getty Images News/Getty Images
On Monday, Bill Cosby entered the courtroom for the first day of what could be a weeks-long trial against him for sexual misconduct. While over 50 women have come forward with allegations against Cosby, he is only being charged for his alleged actions with one woman: Andrea Constand, a former mentee of his who claims that he drugged and took advantage of her in 2004. Cosby claims that the sexual encounter was consensual. But if he is found guilty, the Bill Cosby verdict could send him to prison — although, at this point in the trial, it's unclear if this will be the case.
UPDATE: During his 2018 retrial, Bill Cosby was found guilty on three counts for drugging and sexually assaulting Andrea Constand.
EARLIER STORY:
Cosby is being charged with three counts of aggravated indecent assault, which is defined as a victim being forcefully penetrated without his or her consent. Each of these counts carries a maximum prison sentence of up to ten years, meaning that, if the 79-year old cultural icon is found guilty of all counts, he could spend the rest of his life behind bars.
This sentence could also be significantly reduced. According to CNN, the judge overseeing the trial has the option to have Cosby serve all of the prison terms concurrently, meaning that he would only serve 10 years in prison for all three counts.
There is a real possibility that Cosby could be found guilty. Constance's allegations seem to fit with a pattern of behavior that multiple other women have alleged, including encouraging them to take sedatives with wine. While Cosby denies any inappropriate conduct, he did admit in a 2006 deposition to giving Quaaludes to women in an attempt to have sex with them.
Still, only one other Cosby accuser is being allowed to testify in court, meaning that the jury will not be allowed to take the full scope of the multiple allegations into account when rendering their verdict. In the end, given that there is little physical evidence of assault and multiple allegations will not be heard in the courtroom, there is also a possibility that Cosby will not be found guilty and acquitted of all charges.
One of the challenges of most sexual assault cases is that the trial often comes down to "he said, she said," with both the defendant and accuser given vastly different version of events as jurors have little to no way of confirming the details of either. Given that Constand first made her accusations against Cosby in 2004, this makes her case even more difficult.
The Cosby trial is expected to last two weeks, and regardless of the verdict, the allegations against the former Cosby Show star have already challenged the public's image of "America's Dad."