Why Blake Could Be On 'Bachelor In Paradise' No Matter What Happens With Becca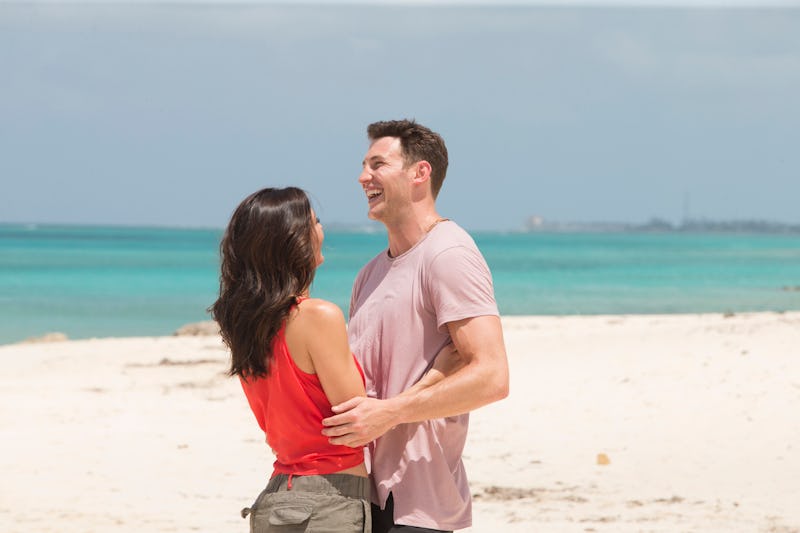 Paul Hebert/ABC
We're down to the final two men of this season's The Bachelorette, and it's still unclear who will sweep Becca off her feet once and for all. Either Garrett or Blake will be revealed as the winner during this week's season finale, and whoever goes home will be heartbroken, but not without more opportunities for TV romance in the future. So will Blake be on Bachelor In Paradise? We still don't really know, but if Becca ends up giving Garrett the final rose, it certainly has the potential to send a mourning Blake into the arms of someone on Paradise.
Of course, as it stands now, he seems really into Becca — he's been emotional all season every time he's been passed up for a date, or Becca's gone out with the other guys, and it seems like he genuinely has fallen in love with her. So if he isn't Becca's final choice, it would make sense if he wouldn't be too keen on rebounding so soon, especially on national television. Paradise would also throw him back in with a bunch of random contestants — it wouldn't be the same as coming back strong as the actual Bachelor, which would give him way more control over how the experience played out.
But still, maybe if he's not picked as the next Bachelor, he'll give Paradise a chance and show up late to filming, even if it's just to relax on the beach with some cocktails and friends. There are definitely worse ways to lick your wounds after a breakup and new cast members are introduced every week down in Mexico, so he could always change his mind.
Even if Blake is the one who ends up engaged to Becca, there's a good shot he'll at least be watching Paradise — Becca herself told Us Weekly at the Men Tell All taping that she's gearing up to see what happens on the franchise's spin-off. "I will a thousand percent watch," she said. "You know, all of my girlfriends are on it, so, of course, I need to watch and support them and cheer them on. And if [Tia and Colton] got back together and found love, then I would be happy for them because they both deserve that." ABC's website also teases an appearance by Becca sometime this season, along with other former Bachelor Nation personalities. If Blake and Becca are together after the finale, maybe he'll tag along with her.
One thing is for sure, though — Blake has piqued the interest of Bachelor Nation, particularly since Garrett became Becca's only other alternative this season.
Fans Want Becca To #PickBlake
There are several men with unsavory pasts on Becca's season of The Bachelorette — and that unfortunately includes Garrett, the other half of Becca's final two. Garrett was discovered earlier this year to have reportedly liked several homophobic, transphobic and racist memes on Instagram (he has since apologized, but as evidenced by the above tweets, some fans remain skeptical). With that skeleton in his closet revealed, a portion of the fanbase was much less supportive of Garrett than they otherwise may have been, and it's made Blake look, to some, like Becca's obvious choice.
Regardless of what happens, Blake has so many Bachelorette fans behind him. And thanks to them, he will have no shortage of excitement surrounding him if he does make his way to Paradise, or even better, if he becomes the next Bachelor. He's been a lovely, seemingly genuine breath of fresh air this season, and it's always nice to feel like you're seeing true love blossom onscreen. Now it's just time to wait and see if that love will be reciprocated.