Will's Date With A Younger Guy On 'Will & Grace' Will Remind You How Far LGBTQ TV Has Come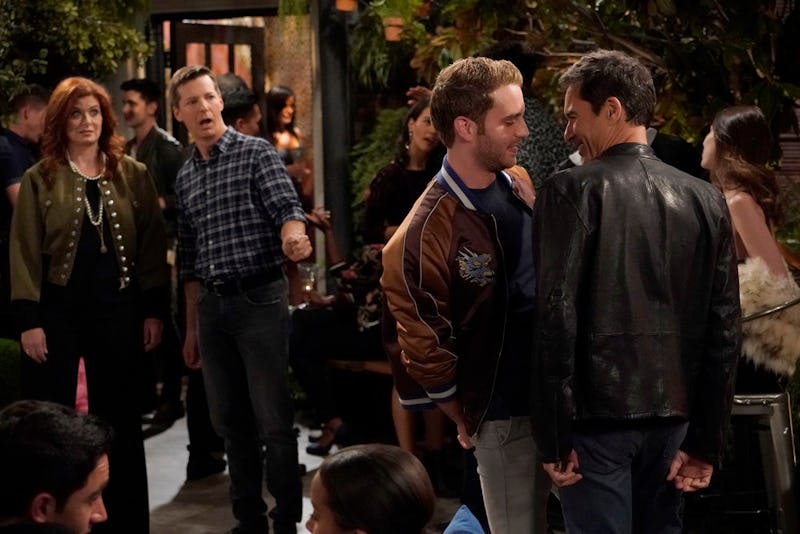 Chris Haston/NBC
When Will & Grace premiered in 1998, the world was a vastly different place for the LGBTQ community, including how and how often they were portrayed on TV. Will & Grace is proud of its influence, as is evident in the Oct. 5 episode. And it should be, because though Ellen DeGeneres and her character had come out a year prior to its debut, the representation otherwise wasn't there. Will & Grace blazed a trail and, in the revival, the show makes a case for why trailblazers should be remembered.
This episode tackles something that we all have to deal with in some way: aging. Jack and Will are older but single, and dating in New York City ain't what it used to be when they were young. Jack is sad because, when Jack and Will were cruising some young'uns at the local gay watering hole (The Cock Pit, natch), Jack got called a "daddy." This is not good for Jack's ego. Will, on the other hand, is enamored with a twenty-something, Blake (Tony winner Ben Platt), who wants to know his "Behind The Music, his Unsolved Mysteries, his E! True Hollywood Story." Jack gets a complex, and Will gets a date! Such is dating.
The disparities between Will and Blake are apparent from the beginning of their attempted relationship — Blake is FaceTiming his female best friend as he gets to Will's place, and he doesn't like Madonna. (I know.) Those moments could be chalked up to generational differences, but when Will and Blake are sharing their coming out stories, Will talks about how his "mother cried," and Blake says, "I told my parents I was gay when I was 8. They were divorced, and they both threw me a coming out party on the same weekend, and that was hard."
Will is shocked at Blake's nonchalance, and when Blake is all, "Why wouldn't you want life to be good always," Will responds, "How's it supposed to get better if it was always fine?" Then, Blake calls older guys "dramatic" and says they "make a big deal out of everything." Kid doesn't know Stonehenge from Stonewall (no, really), and Will, well, Will kisses sex goodbye in order to spread some education. He talks allies and Madonna and why it's important to remember the struggle. "The minute we forget what we went through to get here is the moment it can all be taken away," Will exclaims.
In 2012, then-Vice President Joe Biden gave Will & Grace credit for changing social attitudes about homosexuality. On Meet The Press, he told host David Gregory, "When things really began to change is when the social culture changes. I think Will & Grace probably did more to educate the American public than almost anybody's ever done so far." Will & Grace creators Max Mutchnick and David Kohan were honored at Logo's Trailblazer Honors in 2017 for their work in promoting LGBTQ equality onscreen. Will & Grace did much to advance gay representation on television, and Will's diatribe seems like it could also serve as a plea not to forget how hard it was for gay characters to thrive on TV when the show began. Ellen's coming out was the only big gay moment on television at the time, and Laura Dern, who played the object of Ellen's affections, told Entertainment Weekly she couldn't work for a year after the episode came out in 1997.
In today's television landscape, the vast list of streaming and cable and premium channels has allowed makers and writers to create the stories that they wish they saw growing up. That means that in the golden age of television, there are plenty (though, still not enough) LGBTQ stories to choose from. But that wasn't the case in 1998. Will & Grace broke that ground, and they are pleading, begging, it seems, that people remember what it was like when it wasn't easy to get a gay character on television, let alone build a story around them, let alone one that didn't end in tragedy. When it wasn't the norm to have homosexual characters share their stories. When lesbian characters couldn't be richly textured and interesting instead of the butt of a lame, played-out stereotype.
Knowing where you're going is just as important as knowing where you came from, and here, Will isn't just encouraging Blake to remember his history butWill & Grace is begging its viewers not to take for granted the visibility that took forever to build.