BTS May Not Be At The 2018 PCAs, But For A Pretty Important Reason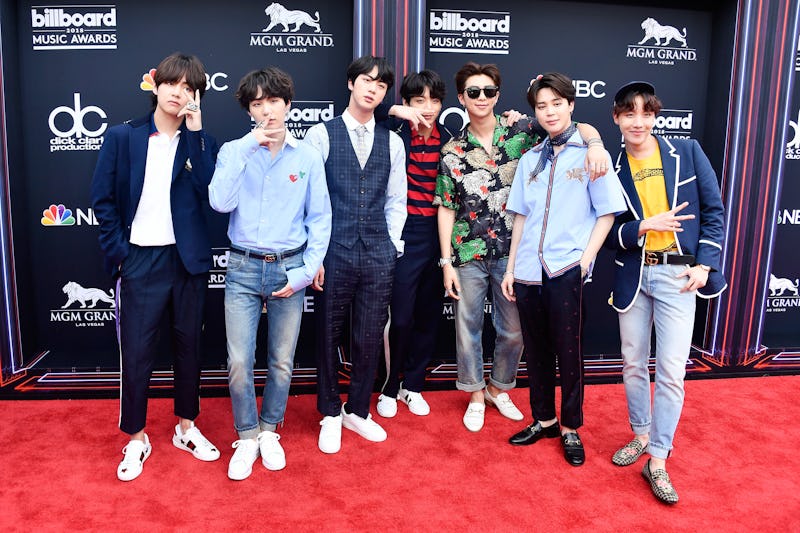 Frazer Harrison/Getty Images Entertainment/Getty Images
As BTS' star continues to rise, they've been popping up at more and more American awards shows. And considering the K-Pop group has four nominations at this year's People's Choice Awards, fans tuning in will likely be wondering if BTS will be at the 2018 PCAs to accept an award should they win. They're not listed among the evening's performers — which includes John Legend, Nicki Minaj, and Rita Ora —so unless they're planning a surprise, they definitely won't be onstage to sing. They also haven't made any official announcements about attending (or not attending, for that matter), so at this point, it's anyone's guess as to whether or not they'll be around to watch everything unfold.
What is clear, however, is that the septet probably, definitely won't be going home empty-handed. After all, the PCAs are decided by fans, and BTS' fan base is one of the biggest around. They have over 12 million Twitter followers and 14 million Instagram followers. To put that in perspective, the population of Los Angeles is 4 million people — which means BTS' Twitter following is three times the size of the entire city of L.A. With so many supporters who could cast a vote for the People's Choice Awards, it's hard to imagine that the wouldn't end the year coming out on top. Besides, the group has already won a number of fan-based awards, so it seems likely they'll do it again.
BTS are nominated in four categories at the People Choice Awards: Song of the Year and Music Video of the Year for "Idol," a single from their record-breaking August album Love Yourself: Answer, as well as Group of the Year and Social Celebrity of the Year. However, while their chances of winning seem to be pretty good, the prospect of an award may not be enough to get them to the PCAs. The US BTS Army, a website dedicated to staying aware of BTS events, has not reported any planned public appearances from the group on Nov. 11, the date of the People's Choice Awards — likely because they'll be busy prepping for something else.
The 2018 PCAs land just a few days before BTS kicks off the final, sold-out leg of BTS World Tour: Love Yourself, which begins in Tokyo on Nov. 13. With such a small window of time before their two-night run at the massive Tokyo Dome, it may not be physically possible for the group to take a break from rehearsing, fly to America to accept a trophy (or trophies, as the case may be), and then fly back to Japan and resume preparation for their shows.
It won't be known whether or not BTS will be present at the 2018 PCAs until they either personally confirm it or the ceremony airs, allowing fans to see for themselves if they're there. If they do win an award, however, there's no doubt who they'll be dedicating it to — the fans that made it all possible.