Grey's Anatomy Could Welcome Back A Fan Favorite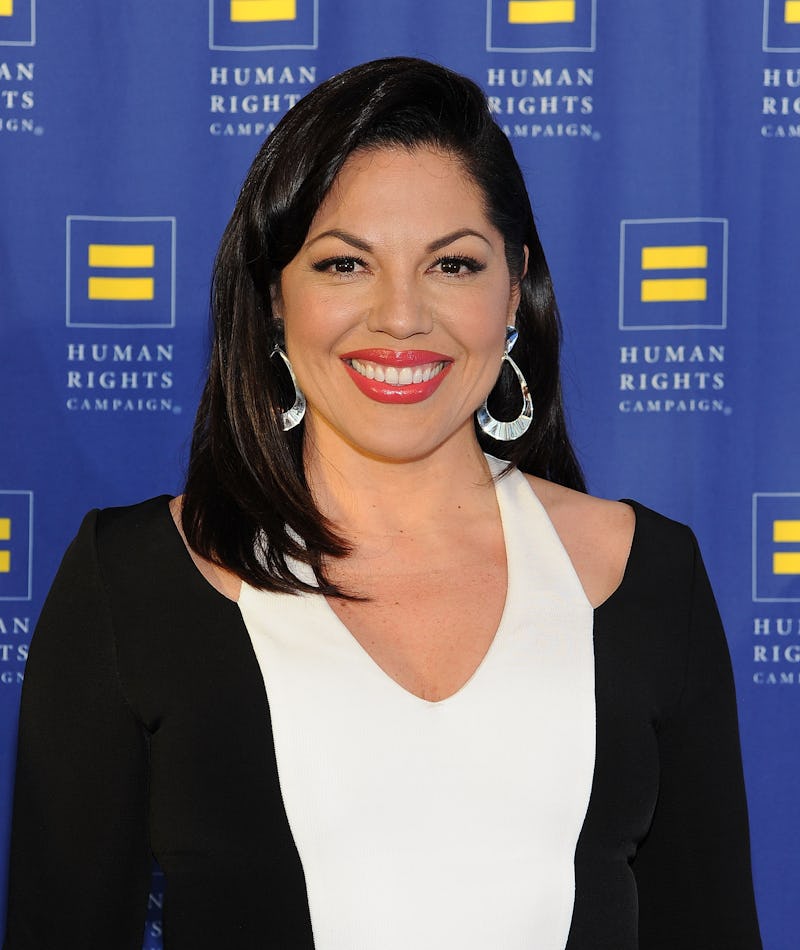 Angela Weiss/Getty Images Entertainment/Getty Images
Get ready, Grey's Anatomy fans, because Shonda is going to pull another fast one on you. While canoodling in bed with her new Italian lover (aka Deluca's sister, which is just a little awkward), Arizona got a text from her daughter, Sofia, who said she wants to move home. Hooray! But will Callie, Arizona's ex-wife, come back? Will Callie return to Grey's Anatomy Season 14? I wouldn't hold your breath, especially if you're pro-Calzona.
Just to refresh your memory, Callie and Arizona were already split up, after a long, sad uncoupling, when Callie said she wanted to move to New York City at the end of Season 12. Penny, Callie's girlfriend, got a special grant, and since Callie didn't really want to be in Seattle and look at her ex-wife all day anyway, Callie opted to go with her. This didn't go over well, and it led to a big court battle, with all of the doctors at Grey Sloan choosing sides. Meredith and Owen testified for Callie, and it was hard. It was hard for the doctors, and it was hard for the viewers, too. In the end, Arizona was given custody of Sofia because she did a King Solomon-esque thing in which she gave up Sofia so that she could better care for patients. Callie was devastated, and Arizona opted to let Sofia live with Callie in New York for alternating school years and the big holidays.
And with that, Sofia was gone. We haven't heard much about Callie or Sofia in the year-and-then-some since, but how old is Sofia now that she can ask to come back to Seattle? The kids on Grey's Anatomy are hardly referenced and never seen, so there's a good chance that Sofia is like 32 years old and we've forgotten about her already. With Sofia, though, probably won't come Callie.
While Calzona fans would love to see Callie and Arizona fall back in love, it's not going to happen anytime soon. Executive producer Debbie Allen told TVLine that "there are no plans at the moment" to have Sara Ramirez, who played Callie, to return for Season 14. "We love her and we miss her," Allen said, "[But] there's been no discussion of it." Bummer! Of leaving the show after Season 12, Ramirez said, "I'm deeply grateful to have spent the last 10 years with my family at Grey's Anatomy and ABC, but for now, I'm taking some welcome time off. Shonda has been so incredible to work for, and we will definitely continue our conversations." While that's not a "never again," it doesn't seem like it's a "let's do this again soon."
Instead, Ramirez has been focusing her efforts on other projects. She's the voice of Queen Miranda on Sofia The First and Elena Of Avalor, which is nice for all the little fans out there. Mostly, though, Ramirez has focused her efforts on activism, and she's championing causes that are dear to her own heart. Ramirez, who came out as bisexual in 2016, is a staunch advocate of LGBT rights, especially in regards to LGBT youth. She's also on the board of directors at the True Colors Fund, a non-profit that works "to end homelessness among lesbian, gay, bisexual, and transgender youth, creating a world in which young people can be their true selves."
After working on Grey's Anatomy for the better part of a decade, it seems as though Ramirez is both taking time for herself and her family while trying to make the world a better place for those around her. For now, Ramirez is busy and Callie Torres will stay in New York City. The door is always open for her on Grey's Anatomy, but she'll knock when she's ready to come back.