'Castlevania' Stars Have Reportedly Already Recorded Some Of Season 3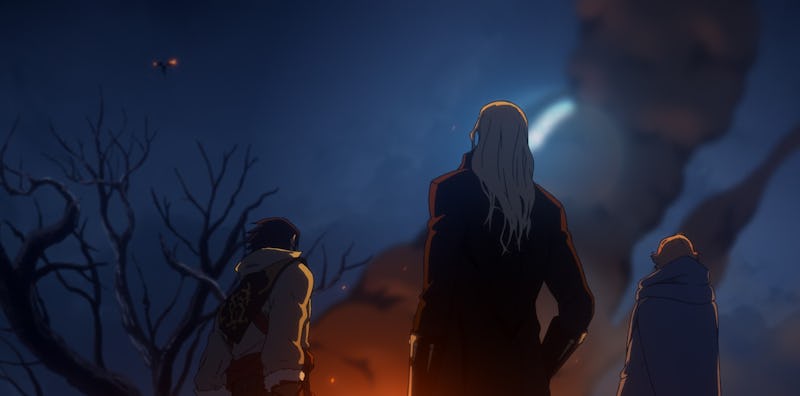 Netflix
The battle against Dracula and his cohorts resumes with Castlevania Season 2, which premieres on Oct. 26. The series, which is based on the Japanese video game of the same name, barely scratched the surface of protagonist Trevor Belmont's epic quest to defeat Dracula in its 94-minute first season. It was enough to show the backstory behind the main characters and allow them to cross paths in just four episodes. This season will pick up when the finale left off with Trevor, powerful magician Sypha Belnades, and Dracula's dhampir (half-human, half-vampire) son Alucard teaming up to end Dracula's rage of terror for good. But, will Castlevania return for Season 3 or does the drama end this season?
There's no official confirmation from the streaming service but actor Richard Armitage, who voices Trevor, told Digital Spy that he has already recorded audio for Season 3. So, it looks like this epic adventure to defend Wallachia is just starting to heat up.
It wouldn't be surprising if Netflix quickly announces Season 3 considering their Season 2 renewal came one day after Season 1 episodes dropped in July 2017, per US Gamer. The creators are likely wanting to run full steam ahead after Castlevania spent nearly 10 years stuck in development before it finally found a home with Netflix.
Thankfully, IGN revealed that this season will double its episode count to 8, which gives Castlevania's creative team more time to develop characters and build towards an epic battle against the vengeful vampire. It remains to be seen if the upcoming episodes will be longer, but either way fans will be happy with a full season.
And, it's definitely going to take a ridiculously powerful squad to get things under control. In the Castlevania Season 2 trailer, Alucard, Trevor, and Sypha engage in a tense battle with Dracula's murderous beasts to protect people. Meanwhile, Dracula is still furious about his wife being unjustly burned at the stake over witchcraft accusations. He addresses his demonic generals and says that his wife's death prove that humans do not deserve to live, so they will kill everyone on Earth. Well, that's a bit extreme, but Dracula has a flair for the drama, right?
Alucard, who looks like a blond Lestat, laments about his father's mission and the trio agree that he must be stopped at all costs. The clip is backed with graphic violence, fire, tears, and some pretty epic physical and magical skills by Sypha and Alucard. And, the tagline "It takes a monster to fight a monster" suggests a father-son fight in the works. But, don't expect it to happen anytime soon.
It's obviously going to take some research and fighting a ton of mini bosses before they get to the big boss because that's how video games work. This season will probably be a slow yet steady paced journey that establishes a bond between the main trio. And, perhaps the show will introduce Grant Dynasty, a fourth character who has yet to be seen. The good news is, they will have Season 3 to deliver the inevitable showdown.