Here's Why Chef Adam Won't Be On 'Below Deck' This Season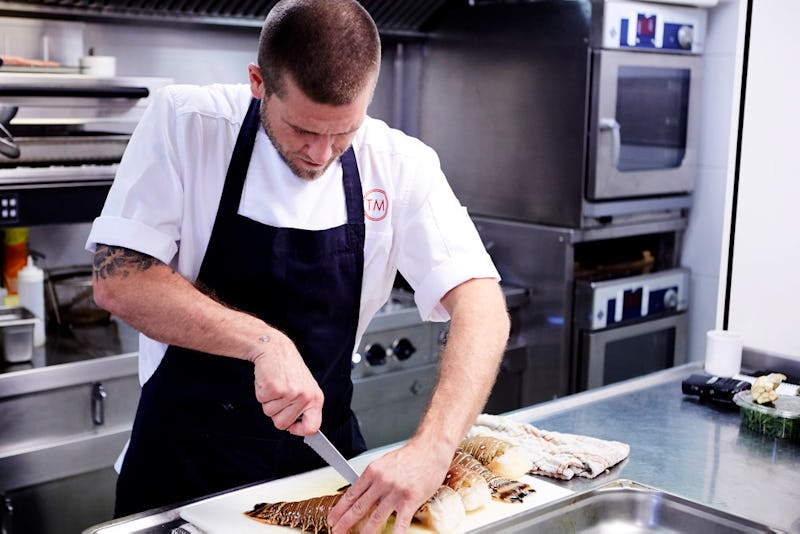 Zev Schmitz/Bravo
Bravo's reality TV series Below Deck is coming back for more peeks into the lives of crew members who keep fancy yachts pristine. Season 6 pulls into port on October 2 and there will be some returning cast members as well as a few new faces, which always makes for an interesting season as the latter group learns the ropes from the veterans. But, any fans who are wondering why Chef Adam isn't on this season has to remember that he's all about that Mediterranean life.
In the past, chefs like Ben Robinson have made a crossover from Below Deck to its spin-off series Below Deck Mediterranean. So, it wouldn't be too far-fetched to hope that the Adam Glick, who has been on Below Deck Mediterranean since Season 2, would decide to hop over to the original series for more kitchen action.
This isn't likely to happen based on his biography on Bravo's website, which lists him solely as a Below Deck Mediterranean cast member. He was also recently seen at last month's Mediterranean crew reunion, which aired shortly after the Season 3 finale. It would have been a big rush to wrap up that story and hop onto yet another yacht for another show.
And, the Below Deck Season 6 cast list confirms that Parisian trained newcomer Adrian Martin will be serving up delectable meals for this season's guests. So, there is no hope of Adam on the show this season.
In the meantime, Adam is spending his "off-season" enjoying the trappings of Fall. The nomad lives in his camper van with his dog Tex and they are currently on the road roughing it in the best way possible with breathtaking scenery. Of course, he's whipping up mouthwatering dishes over open fires that put most kitchen recipes to shame. How is this even possible?!
Adam posted a photo of a banana apple streusel and told his fans to keep an eye on his IG stories for more cooking tips and gorgeous scenery. And, according to his Bravo post-season interview, he is also busy channeling his inner Johnny Appleseed by giving away jazz apples to random people on his trips. So, never fear, there will be plenty of Adam updates in the midst of Below Deck episodes.
Right now, there's no word if there will be a fourth season of Below Deck Mediterranean, but it seems like Adam would be down for another season. He told Bravo that he has kept in contact with everyone from last season's crew (which is shocking because he's mostly off the grid) and he has years of experience working on yachts, so why wouldn't he keep doing what he loves and collecting reality TV checks? It sounds like a dream gig come true, even with the major responsibility of being a top-notch chef for rich people.
Below Deck may not include Adam Glick, but there are plenty of new faces to keep fans entertained for weeks to come. The surefire fights, romantic connections, staff meltdowns, and constant pressure to maintain a high standard is the perfect way to add some spice to a typical Tuesday night.