Why Chris Would Be The Perfect Fit For 'Bachelor in Paradise'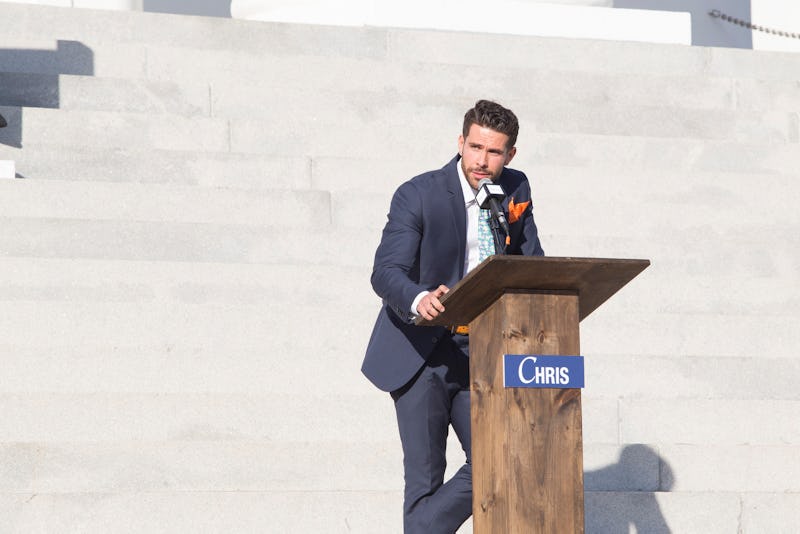 Paul Hebert/ABC
Ah, The Bachelorette — the show that never fails to elicit heartbreak, tears, drama, and complete lapses in judgement from all those participating. Episode 5 was no exception, as more than one of the men competing for Becca's heart began to act strangely as the pressure to be a frontrunner increased. One of the contestants who seemed to have a personality switch in Vegas was Chris, an initial standout who has since given Becca reason to doubt him. But will he be able to win back her trust, or will Chris be on Bachelor in Paradise after being eliminated from the show?
Though Chris was given a rose at the end of the June 25 episode, it's clear that his relationship with Becca is currently on shaky ground. The trouble all started during a group date. Chris emerged from the day portion of the date riding a high, after his performance of Wayne Newton's "Danke Schoen" brought the house down, relatively speaking. But he quickly self-sabotaged during the cocktail party, deciding that if Becca really wanted to talk to him, she would come seek him out. Dude, we all know that's not how The Bachelorette works. Chris didn't talk to Becca all night, leaving the Bachelorette confused as to why he hadn't come to "steal her for a second," and leaving Chris convinced that he should just go home.
The drama only escalated at the cocktail party before the rose ceremony. First, Chris started off his conversation with Becca by insisting that she owed him "50,000 kisses" for not seeking him out during the group date. No. Just no. Then, when Becca confronted Chris for saying he wanted to go home so quickly after what was really only a small bit of miscommunication, Chris didn't seem to have an adequate answer. Chris left that conversation feeling almost positive he was going home.
But the drama was not over yet — this is The Bachelorette, after all. Chris was so upset about his conversation with Becca that he tried to interrupt Wills, who had just sat down with the Bachelorette. Wills was politely but firmly having none of this BS, and though he gave Chris an extra two minutes of time, he refused to extend it, leading to an incredibly awkward standoff between the two guys.
Even after all of this, Becca still gave Chris a rose at the end of the night, sending home Venmo John instead (#JusticeForVenmoJohn). But even though Becca has decided to give Chris a second chance, it doesn't seem likely that he'll be around to compete for Becca's heart much longer. So will Chris be on Bachelor in Paradise after being eliminated on this season?
Chris isn't among the cast members for Season 5 of Bachelor in Paradise who have already been announced. But David and Jordan from this season of The Bachelorette are confirmed, as are Krystal and Bibiana from Arie's Bachelor season. And what do they each have in common? They were a bit notorious on their seasons: Jordan and Krystal for being the villains, David and Bibiana for stirring the pot. The producers love to create the perfect conditions for as much drama as possible in Paradise, and considering that Chris is now a controversial figure on Becca's season, it wouldn't be at all surprising if he makes an appearance.
There's also the fact that despite Chris' strange behavior last week, he does seem to be genuinely looking for love. That might make him even more likely to join the Paradise cast, since the show seems to have an even better track record at creating lasting relationships than The Bachelor or The Bachelorette. So if Chris fails to find his happily ever after with Becca, maybe he'll have better luck finding that perfect partner under the tropical sun.
Or maybe he'll take advantage of all those newfound songwriting skills and pen the next great breakup anthem.