Danny Dyer Could Be Getting A Kardashian-Style Reality Show & I'm So Here For It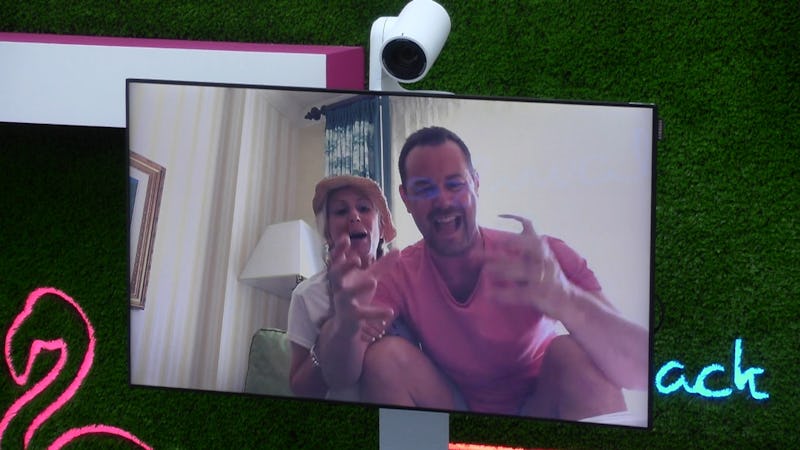 ITV/Love Island
He hasn't even set foot into the Love Island villa, but Danny Dyer is arguably one of the biggest stars of this season's show. Thanks to the stellar performance of his daughter Dani, who has proved herself not only kind, thoughtful, and good fun, but a great friend, Dyer has locked himself in the hearts of the nation. So could a Danny Dyer reality TV show like the Kardashians be in the offing? Twitter is certainly hoping so.
The Eastenders actor video called into the villa with wife Joanne Mas on Sunday evening as part of the "Meet The Parents" segment on the show. While some Twitter users were disappointed not to see the actor in person, the phone dialogue was more than revealing of the family's cute dynamic. "No listen, I will say, I got it wrong baby," Danny told his daughter. "I told you not to do it. We're so proud of you, you are incredible. You're an absolute hero babe."
He went on to meet Dani's partner Jack, who he gave the seal of approval with his signature wit after first joking that he wasn't a fan. "Do you know what Jack, listen. Proper geezer, gotta say," he told the stationery salesman. "I'll tell you what I love about you, I love the fact you got a little Derby. You got so much charisma. Takes a brave man to bowl into that gaff, them all 'abbed up', proper geezer. Honestly mate, we're so over the moon." I feel like "proper geezer" is the highest possible form of praise open to Jack, so no doubt Jani were thrilled at the news.
The exchange had plenty of Twitter users calling out for a Dyer family reality TV show.
So could a show be on the cards? Well, actually, yes. It turns out Joanne Mas, the family matriarch, told The Sun that, "We've been offered a reality show, but Danny is contracted at the BBC." Hold on, so this could actually be a thing? "We have always joked about it. People do say we need a show in our house because there's always a drama," Mas continued. "One day we might do it."
Yikes. If the show were to happen, you can be sure there would be guaranteed opinions and drama galore. In a recent appearance on Good Evening Britain, Danny Dyer spoke out on Brexit in an interview with Piers Morgan and Susanna Reid, calling it a "mad riddle" and arguing that "no one knows what it is." His opinion earned plaudits across social media and in the Guardian alike.
Dyer and his wife Mas have two other children in addition to daughter Dani — Sunnie, 11, and Artie, five — according to The Sun. The family reportedly live in Epping Forest, Essex, with daughter Dani sharing numerous pictures of what appears to be their home on social media, reports the Daily Mail. Well if Twitter has its way, you could be seeing a lot more of it.