This Theory About Richard Madden's 'Bodyguard' Character Could Change Everything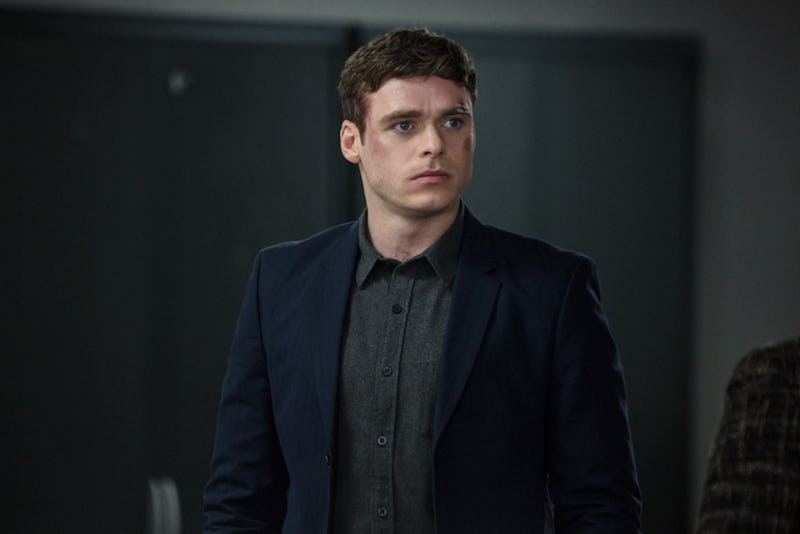 BBC/World Productions/Sophie Mutevelian
Get ready to be shocked: there's only one more episode left of Bodyguard Season 1. I know, I want to cry too. Not because it's ending — well, partly — but because my brain cannot handle all the drama that has happened over the course of five weeks. After the sudden death of Julia Montague (Keely Hawes) only three episodes into the series, pretty much everything is at stake. And now thanks to the most recent episode, it's got me wondering — will David Budd will die in Bodyguard?
And I'm not the only one either. After attempting to take his own life in the fourth episode following the death of Home Secretary, it's kind of hard not to think that David (Richard Madden) has limited time left on this earth. Thankfully — and rather mystifyingly — someone broke into his apartment and changed the bullets in his gun to blanks. But that's not to say he's safe for the finale.
With a new lease of life — and after finding out that the bomb wasn't in the briefcase but under the stage — Budd has now gone rogue to unravel the conspiracy regarding Montague's murder. If that wasn't enough to do he's also trying to dodge the leaked information about his affair with the Home Secretary.
It's a lot to take in and a week is certainly not long enough time to recover from all the drama. There are so many theories circling regarding the fates of both David and Julia, but there's one in particular that's caught my eye.
While I was scrolling fervently down the Bodyguard hashtag during Sunday's episode, I kept coming across viewers likening David and Julia's relationship to Romeo & Juliet.
Straight off the bat I saw the connection everyone was seeing with Julia's name — Juli[et] and Montague — Julia "faking" her death and David nearly killing himself, and how ultimately the couple are star-crossed, forbidden lovers and I was immediately sold.
And even though Bodyguard creator Jed Mercurio told the Radio Times that he'd "already written [Julia] to die after three episodes," and there are no such things as "can't-die characters", I would not put it past him to resurrect her for the final episode somehow, which would follow along with the Romeo & Juliet theory.
If you're familiar with the Shakespearean story, then you'll know it ends in tragedy. And if you stick with Mercurio's belief that characters are not invincible, David could very well try to kill himself again and succeed, with Julia then revealing that she survived the entire goddamn thing.
The prospect of David dying isn't that much of a stretch either as, in the short teaser for the final episode, he's seen with blood on his face seemingly in the midst of a police stand-off. His superior Lorraine Craddock (Pippa Haywood) tells David to stand down, as his estranged wife Vicky (Sophie Rundle) looks on, to which David replies, "It's over".
While that could be some clever editing, it's definitely suspicious. Unfortunately no one's gonna know until next Sunday. And in the meantime, I could do with a cuddle.
Bodyguard continues on Sunday at 9 p.m. on BBC One.