If 'The Sinner' Returns With A New Case, Here's How It Will Connect To Season 2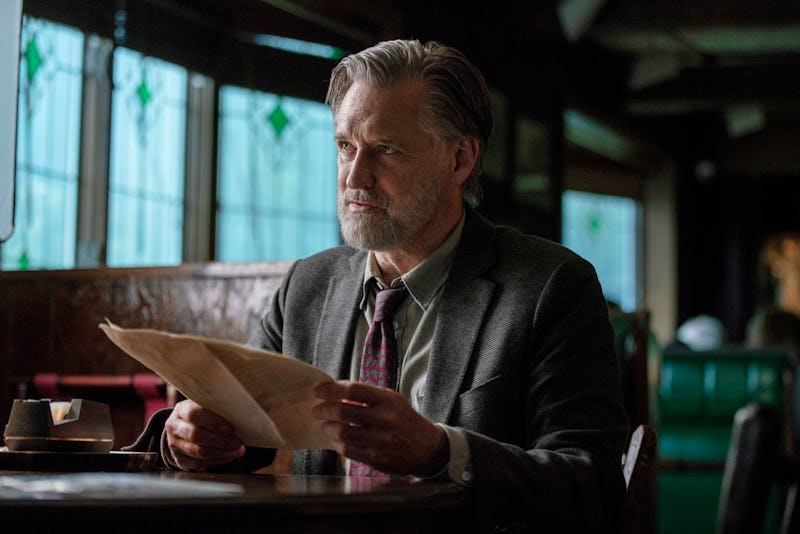 Zach Dilgard/USA Network
As the Season 2 finale of The Sinner draws near, audiences feel simultaneously closer and yet oh-so-far away from discovering the full truth behind Julian's murder of Bess and Adam, along with the real situation behind the sketchy happenings at Mosswood Grove. Hopefully The Sinner finale, airing on USA on Sept. 19, at 10 p.m. ET, will help answer these final questions. But if anyone will get to the bottom of this case, it's Detective Ambrose (Bill Pullman), the common thread between Season 1 and 2 of the show and the reason that so many of Mosswood Grove's secrets have been uncovered thus far. When this case inevitably wraps up in the season finale, it will be time for Ambrose to finally leave his hometown, and hopefully his demons, behind him. But is this the last audiences will see of him? Will Ambrose be in Season 3 of The Sinner, if the show returns?
Ambrose's fate in the rest of the series remains to be seen, because the fate of The Sinner itself has yet to be decided. TVSeriesFinale reports that The Sinner has yet to be cancelled or renewed for a third season, leaving the limited series currently in limbo. Maybe Jessica Biel and her fellow producers are still busy working on a great story idea for the third installation. But if The Sinner does return, it seems likely that Ambrose will once again take the lead on the case. After all, he was the thread that connected Season 1 to Season 2, and the reason that these cases, which on the surface look open and shut, don't just get rammed quickly through court. Without Detective Ambrose, there isn't really a show.
Each series has revealed a little more about the determined detective at the center of each investigation, and a third season would likely be no different. In Season 1, audiences got a front row seat to the drama playing out in Ambrose's personal life, from his struggles to save and rekindle his marriage, to his magnetic attraction to another woman who played the dominant to his submissive. In Season 2, the show has delved deeper into Ambrose's childhood, and his relationship with his sick and troubled mother. It would be an odd choice to spend this much time developing Ambrose's character and backstory, only to ditch him if a third season comes about.
But will The Sinner even return for a third season? And if it does, will Pullman be game for another installment? The actor's recent interview with Variety hinted that there is good reason to suspect that both The Sinner and Detective Ambrose will be back for another chapter. Pullman spoke about his enthusiasm for a third season, saying:
"Derek [Simonds, executive producer] and I have talked about different things that he's thinking about, and he does have a kind of trilogy idea so far, and the idea of going to a third season would be very tempting, particularly with what scale he's talking about going to. I would be interested, for sure. It's really intriguing, and I have to tell you I had not expected to come to a project like this at this stage in the game. I've done a lot of movies, I've done a lot of things, but being my age [and playing a character] in crisis and in a situation that really evolves a lot — it's basically noir to me, which I think is one of the core genres that I'm interested in in all different projects, but this is more detailed and there's a level of refinement of character that I find. It's a real gift to get at this point."
So if a third season of The Sinner does receive the green light, it's safe to say that Ambrose will be back for another crack at a mind-boggling case. And armchair detectives everywhere will get another chance to try and solve it before he does.