The 'Dietland' Showrunner Has The Next Two Seasons Planned Out, So Stay Angry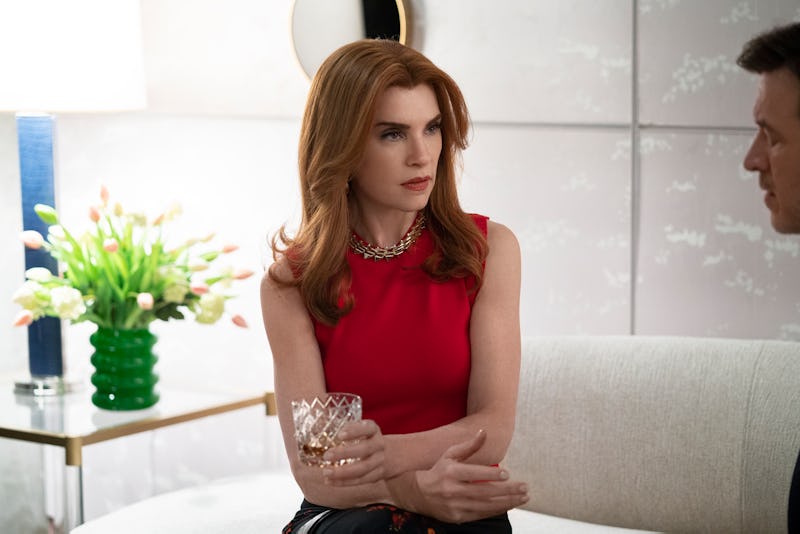 Patrick Harbron / AMC
Still hungry for more Dietland? The Marti Noxon-helmed series premiered in early June on AMC, and will reach the end of its 10-episode Season 1 on July 30. Based on the book by Sarai Walker, this technicolor feminist call-to-arms stars Joy Nash as Plum Kettle, a fat woman who's fed up with the constant abuse society forces on her. But where will the stories of Plum, Kitty, Verena, Leeta, and Soledad go after the final episode of this season? More importantly — will they even get a chance to continue? Will Dietland return for Season 2?
Update: According to Vulture, AMC cancelled Dietland on September 20, 2018.
As of the season finale, there has been no official news from AMC of either confirmation or cancellation. According to TVSeriesFinale.com, the show is currently rated in the bottom half of AMC's 2018 lineup, coming in ninth out of 13 series. Up through Episode 9, Dietland held a rating of .11 in the 18 – 49 demographic. That's pretty weak in comparison to AMC's heavyweight leader, The Walking Dead, which boasts a whopping 3.39 in the same demo. These numbers aren't the best news for Dietland fans, but that doesn't mean the cause is totally lost, either.
In lieu of high ratings, sometimes glowing reviews can prolong a show's longevity, like CW's Crazy Ex-Girlfriend. But alas, reviews for Dietland have been pretty mixed, too. While most critics applaud the show for its bold move to tell an unapologetically feminist, fat-positive story, as well as the performance of lead actor Joy Nash, they seem to disapprove of just about everything else. Many reviewers, like Variety's Caroline Framke or Vanity Fair's Sonia Saraiya, didn't care for the disjointed and bizarre storytelling style, and thought Dietland fell short of its ambitious but ambiguous goal. Others, like Jen Chaney of Vulture, dub the series intriguing and important, if not 100 percent successful in making a statement. Still, other critics, like Lucy Mangan of the Guardian, raved about Dietland. Mangan heaped praise on the series, calling it, "All in all, a delicious, satisfying and moreish meal."
It shouldn't be all that surprising that critics can't seem to agree on exactly what to make of Dietland, given that the material itself is so divisive. But in order to tell the kind of narrative that isn't often — or ever — seen on TV, it makes sense that creator Marti Noxon needs to push the envelope of what's considered normal. And luckily, she's planning on continuing to do so for a while.
Noxon revealed in an interview with Indie Wire that back when she was first pitching Dietland, she conceptualized the show as having five seasons. Now, however, things have shifted slightly. "I'm already pulling up some ideas that I had for Season 3 into Season 2," she explained, "because we went a little further in Season 1 than I thought we were going to. I think, right now, I could say I have solid ideas for three seasons."
As for what a potential Dietland Season 2 might contain, in a June interview with The Hollywood Reporter, actor Julianna Margulies (Kitty Montgomery) explained that Noxon was hoping to dive more into Kitty Montgomery's backstory in Dietland Season 2. She described her as "a girl from upstate New York who never grew up in the city and had a bad childhood.," which definitely explains Kitty's cutthroat drive to remain significant at Austen Media — and in general.
And what's in store for Plum and everyone else? Noxon told The Atlantic that the "revolutionaries" in Dietland are going to have to deal with the fallout of the massive conflict between the sexes that has finally started to implode, but they don't have any idea what that means yet. "[The women of Jennifer] don't really have a long-term plan," Noxon said. "They're right that it's good to make bad people really scared, but they didn't think beyond that. So I have to think that part through."
While Noxon has adjusted her view to accommodate two more potential seasons of Dietland at the moment, that doesn't mean she's limiting herself in any way. Quite the opposite, in fact. Later in the same interview with Indie Wire, she admitted that she was optimistic that the show's rich and important subject matter lent itself to a long lifespan. "This whole idea of women coming into a position of power," she said, "any marginalized community coming into a position of power, that's not going to be done in a year or two. I think it has legs."